Commando 2 – Movie Review
Commando 2 Does Not lack In Action But Has Nothing To Offer In Terms Of substance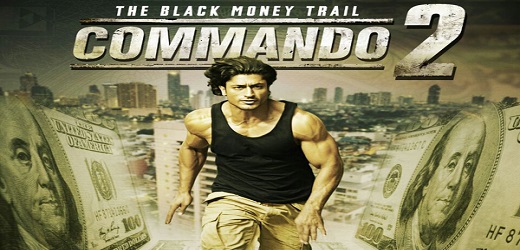 Movie: Commando 2

Cast:  Vidyut Jamwal, Esha Gupta, Adah Sharma, Adil Hussain, Shefali Shah, Satish Kaushik, Freddy Daruwala, Thakur Anoop Singh

Director: Deven Bhojani

Genre: Action

Rank: 2.0
Commando 2 has been one of the much awaited films of 2017 primarily because it promised the return of extremely hot and dashing Vidyut Jamwal to the screen after a couple of years. In addition to starring this handsome hunk in the lead role, the movie also has Esha Gupta, Adah Sharma, Adil Hussain, Shefali Shah, Satish Kaushik, Freddy Daruwala, and Thakur Anoop Singh as part of its star cast. Directed by Deven Bhojani, the movie was released in theatres on 3rd March 2017.
Vicky Chaddha (Thakur Anoop Singh), India's most wanted hawala agent is arrested in Malaysia, along with his wife Maria (Esha Gupta). A team, handpicked by Leela (Shefali Shah), the Indian Home Minister, is sent to bring them back. The team comprises of ACP Bhaktawar (Freddy Daruwala), a government friendly and loyal cop and the leader of the team. The team also comprises of Bhavna Reddy (Adah Sharma), who is an encounter specialist and Zaffar Hussian, who is an expert hacker. A last minute entrant in the team is the ex-commando Karan (Vidyut Jamwal), who does not see eye to eye with Bhaktawar. As the team sets out on its mission, it has to overcome internal trust issues and intra-team contentions before it can taste success.
Sadly, despite being based on a hot topic, the movie does not have anything interesting to offer. While vidyut manages to impress the audiences with his sleek moves and sheer hotness, the film essentially lacks any substance. Even the romance between Vidyut and Adah seems so forecefully made up due to the lack of any chemistry between the two lead actors. Overall, Commando 2 is movie watchable only for enjoying Vidyut Jamwal and some sense of patriotism and IndiaCafe24 gives it a rating of 2.0.