Baaghi – Movie Review
An Action Packed Romantic Tale Backed By A Strong Script And Great Acting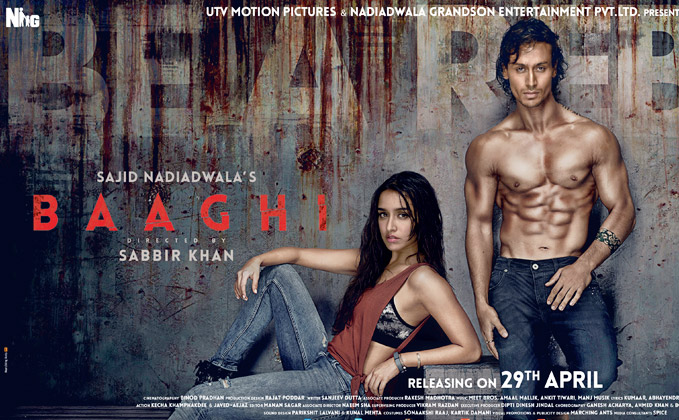 Movie: Baaghi

Cast:  Tiger Shroff, Shraddha Kapoor, Sudheer Babu

Director: Sabbir Khan

Genre: Romance, Action

Rank: 4.0
Baaghi was one of the most awaited releases of 2016 primarily because it was believed to be a remake of the Salman Khan starrer of the same name. However, as it turns out the movie is based on the South Indian remake of an Indonesian film. Directed by Sabbir Khan, the movie stars Tiger Shroff, Shraddha Kapoor and Sudheer Babu in the lead roles and was released in theatres on 29th April 2016.
It is love at first sight for Ronny (Tiger Shroff) and Sia (Shraddha Kapoor) as they bump into each other on a train in Thailand, where Ronny has come to get trained in martial arts. However, he not too enthusiastic about the training and as his romance with Sia blossoms, he further becomes detached from the training. But then, Sia is kidnapped by Raghav (Sudheer Babu), the most ferocious gangster of Thiland, who has fallen in love with her. Rahgahv holds Sia captive in his special headquarters, a multistoried bulding, where each floor is filled with his private army of killers, martial arts experts, skilled swordsmen and other professional experts in various forms of combat. Now the only way for Ronny to get Sia back is by training himself well enough to defeat this army single handedly.
Despite having a simple and straightforward story that one gets to see in every other action movie, Baaghi provides a unique experience to the audiences with its awesome action sequences. Director Sabir Khan needs to be commended for combing the romance and action in the right manner to keep the movie interesting from the very first frame. In terms of performance, all the lead actors shine through and the hard work they have put in is actually visible in the various action sequences.
Overall, Baaghi provides wholesome entertainment and IndiCafe24 gives it a rating of 4.0 stars.