Waseem Fatima – The SHY & SWEET Author
On the auspicious occasion of ID we are happy to introduce you a shy and sweet author who started her journey very recently with short story. Yes, she is Waseem Fatima. Join us to know this young talent of India closely

Welcome to the platform of Indiacafe24.com. Waseem please share something about you as a person and also about your background.
Thank you . I am a common girl from Hyderabad right from birth. Pursuing my post-graduation .
I am a complete into self-person, love peace and a day dreamer.
Little extra sensitive when it comes to relations.
Loved penning down my thoughts ever since my teenage .
How you entered the world of writing and how it happened?
I love books, everyone knows that, but hardly any of the people around me knew I write, few of the close friends who happened to see it, encouraged me to take a step towards it.Thanks to them.

 You first published work got released on the auspicious occasion of fathers day. Say something about it.
That's pretty exciting, as this not only being my first work, but also a surprise for my dad and everyone .Awaiting the reactions to this surprise  🙂
"Dad's darling daughter " will be the most special thing happened to me forever .
Thanks to Raindrops for such a lovely theme, that is going to be special for me and my Dad as well.
We came to know that you are very close to your father. Say something about your father that inspired you to work hard and create a niche place for you.
Yes, I haven't seen daughters who aren't closed to their fathers. Mine is same case. He is the dearest man in my life , who have done always much beyond his reach to get me and my family to where we are today.
Whom you consider as an inspiration in your life apart from your Father?
It has always been my dad! I have a family where each one inspires me towards some or the other aspect of life, be it my mom or my choti amma , that's my sister.
What are your other passions in life?
Computers and software around it has always been my first love. Love learning new things always.
Waseem what as per you are the basic qualities of a good author?
I feel being good at heart , is just enough to be a good author and touch the souls of the readers. Putting up something that you are not or you don't do yourself is of no use .Because I myself have learnt a lot through books.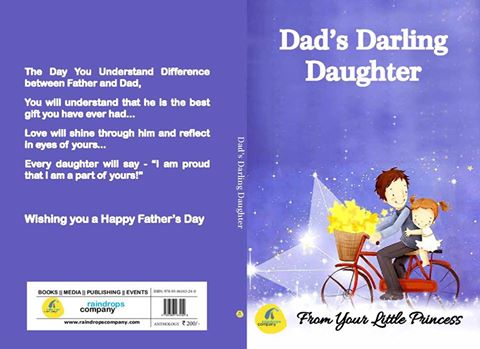 Where you see yourself 5 years down the line.
I am a true believer in "what's written, would get to you", but would be the happiest if my work would get me there, as I am never going to stop writing.
In one line describe the lady behind the name Waseem Fatima.
A sensitive but a strong woman, who wants to achieve a satisfactory and simple life, just by being herself .
  Thank you so much for this  🙂