Club of global poets make the Ganges its muse @Chair Poetry Evenings-an International Poetry festival
Club of global poets make the Ganges its muse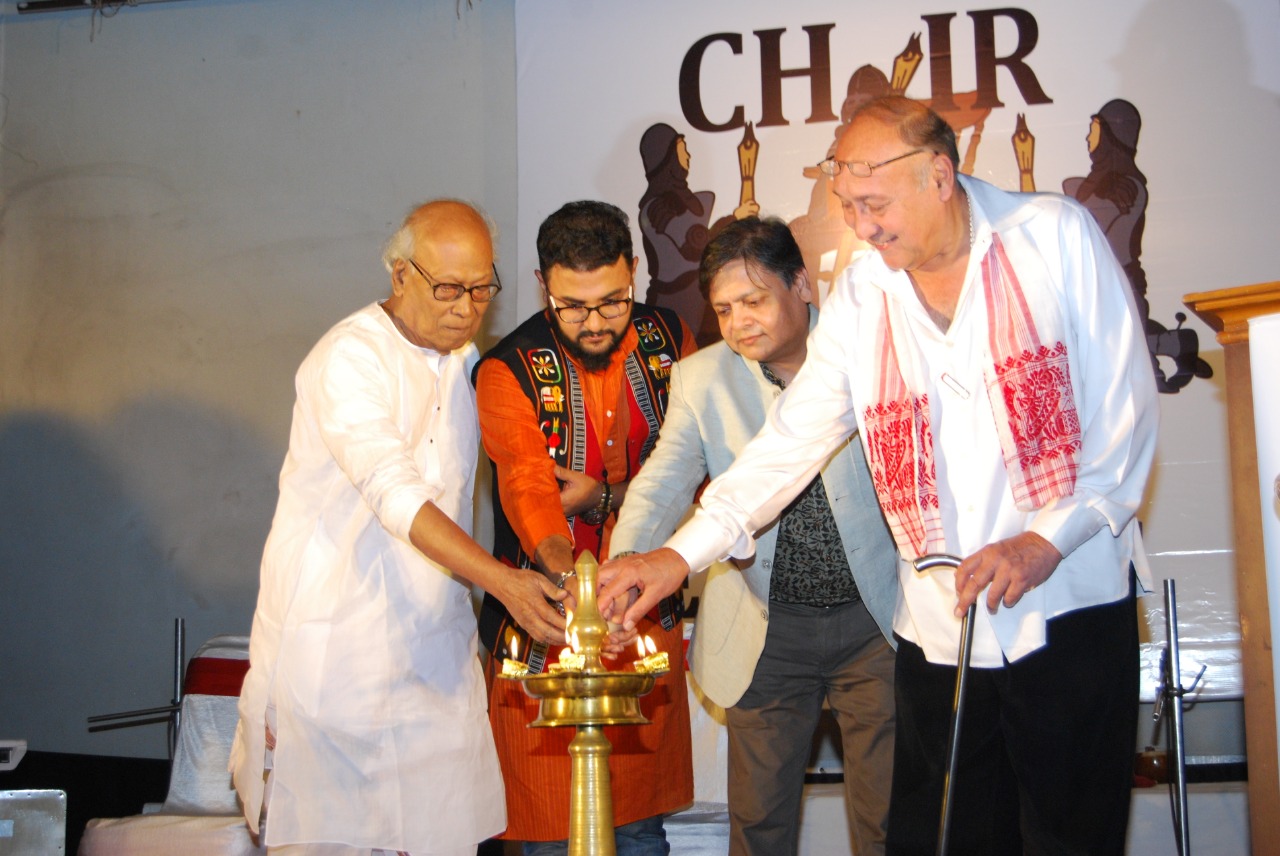 Chair Poetry Evenings-an International Poetry festival was a unique poetic endeavor that made its debut in the cultural capital of India, Kolkata ushering in a feast of poetry penned by local, national and international poets from 23rd to 25th November across different venues of the city.
The inauguration was graced by acclaimed poet Shankha Ghosh and eminent actor Victor Banerjee on 23rd November at Rotary Sadan. The actor described Kolkata as a "city that bleeds art and culture and where poets were always welcome".
The opening day saw a global club of poets that included Vladimir Martinovski (Macedonia), Miriam Van hee (Belgium), Les Wicks (Australia), Barbara Pogacnik (Slovenia), Alfred Schaffer (Netherlands), Yekta (France), Rajesh Joshi (India), Arun Kamal (India), Mangalesh Dabral (India), K. Satchidanandan (India), Nitoo Das (India), Subodh Sarkar (India) and Binayak  Bandyopadhyay (India). The poems of John W Sexton (Ireland) were read, although he could not attend in the final moments.
Chair Literary Trust was formed my Poets and festival Directors Tushar Dhawal Singh and Sonnet Mondal in 2018 who came together in 2017 with the idea to form this initiation over their mutual love of poetry and steer a movement and make poetry relevant in our lives.
"The inaugural Chair Poetry Evenings will always be remembered as the initiation of a new poetic era in the cultural capital of the country," stated Poet and founder director of Chair Poetry Evenings, Tushar Dhawal Singh .
The three day festival was held in different locales to allow visiting poets a glimpse of the rich culture and history of the city. Heritage walk, Poetry talks and recitations were organized in Calcutta Bungalow, a beautiful well preserved heritage property dating back to the British era and Sasha Studio on 24th November. The audience was treated to a wonderful palette of poetic reflections of each poet as they read in their native tongue followed by English versions. The festival saw a grand finale with "Poetry on Cruise" over the Ganges on 25th November where invited guests, organizers and poets spent a beautiful Kolkata early winter evening over poetic rhythms, music under the gentle ripples of the river waters. Many poets chose to recite their compositions based on themes related to water.
The inauguration paid a two minute tribute to the recent and sad demise of well known poets Vishnu Khare , Fahmida Riaz and Meena Alexander.
The Chair Literary Trust declared a 'Poet in residence program' in Kolkata from December to January. Two to three selected poets from across the globe would be offered a stay for a month in the city with a scholarship to cover up their expenses in the city. The poets would be working on their latest manuscript and will be offered an opportunity to present public readings in the city.
"We are overwhelmed by the response of people and poets towards the inaugural Chair Poetry Evenings. We wanted this festival to start in a way that would make Kolkata a pilgrimage for poets across this world and I am happy that the initiation took place in the most appropriate way. I hope poetry would continue to bloom in the city through future endeavors of Chair Poetry Evenings," stated Poet and founder director of Chair Poetry Evenings, Sonnet Mondal.
"The festival was wonderful and it was a great first initiative. This should continue and it feels so nice being on cruise over the river Ganges which I read about in school in my childhood. My experience today just might stir me up to write something new," stated Miriam Van hee one of the visiting poets from Belgium.