Companion Online Tools for Lifetime at Calculator.Me
Companion Online Tools for Lifetime at Calculator.Me
2023 has arrived with its fresh start, and the feeling of freshness is similar in my mind. Like each new year, I have chalked some resolutions I would like to fulfill in the next three hundred-odd days. However, all my goals lose speed and zeal once January ends each year. I am my only tracker, and I do not find any companion who can keep me inspired to continue with my targets.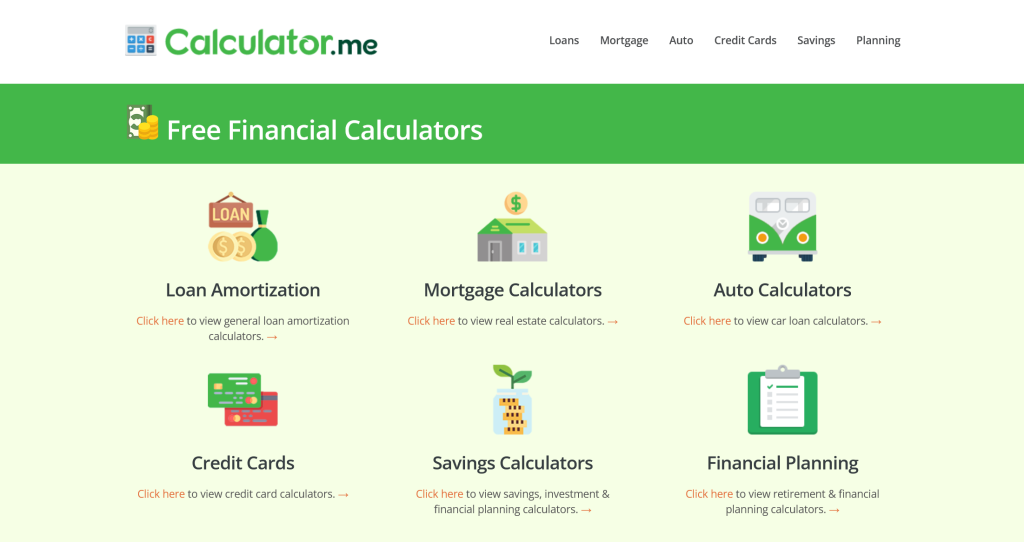 One of these resolutions is to control my weight. I am slightly towards the fatty end and have tried umpteen methods to lose the extra pounds. Though the plans are foolproof, the fault lies in my willpower. Thus, this year, I decided to stick to my resolution throughout the months. But a friend told me that it had to be a daily affair to try and lose weight than monthly.
I wanted to get help from some online tool that could help me with my daily calorie intake check. I was looking for solutions on the Net, and luckily and thankfully, I found a website called Calculator.Me. I cannot thank the creator of this website enough for making the online calculators what I can call companions for a lifetime.
The website is a financial platform comprising various online calculators. These include loan amortization, mortgage, car loan computations, etc. Furthermore, this portal also has calculators related to other aspects, like weight loss, family budget, etc. When I went through the website, I realized it was the perfect destination for me as I was looking for precisely this sort of helping hand.
Moreover, when I thought about controlling calorie intake, one of the significant parameters was controlling the amount of junk food that enters my house. This factor caused me to calculate the money we were spending on necessary and luxury food. When my husband and I discussed these areas, we realized we did not know how much our family budget was. This website helped us create one and keep a note of our calorie consumption under one roof.
Here are the excellent points I liked about each of these calculators.
Weight Loss Calculator
Losing weight can be less of a struggle when one knows the ideal weight per body weight and height. Even with the information, one needs daily checks and routines to reach the target. The weight loss calculator on this website starts with the basic details of gender, age, and height.
Then, the system asks for current daily activity and the weight goal. On entering these particulars, the screen shows the daily calorie intake in three aspects. These are to maintain the current weight, to reach the target weight, and to maintain it after attainment. The page also shows a personalized message corresponding to my details and the goal.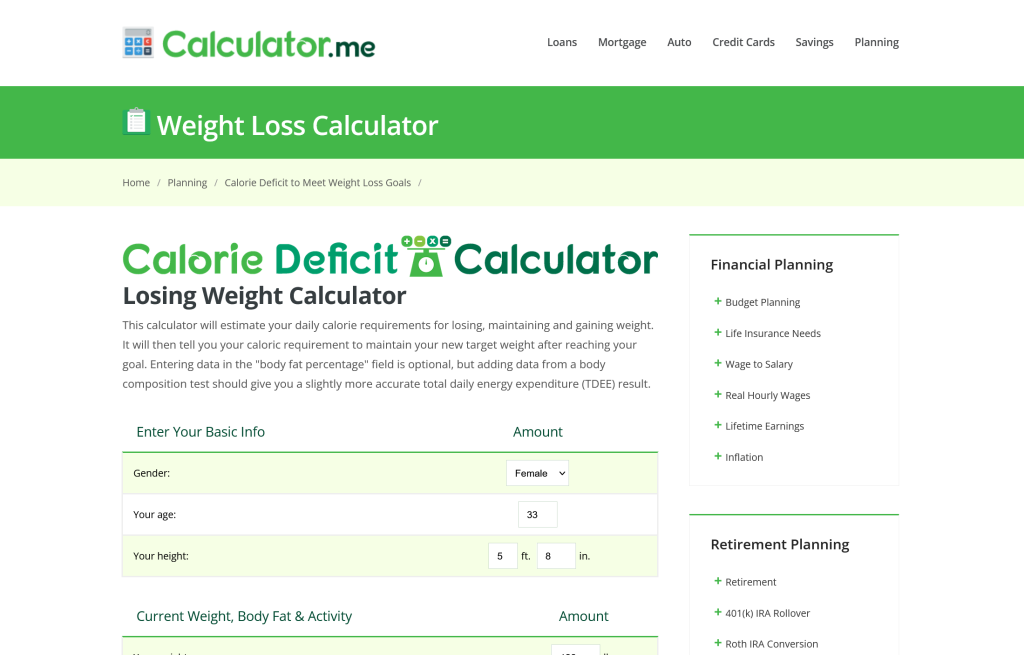 What I liked best about this Weight loss calculator is that it is simple and not as complicated as other similar tools. The details one needs to enter are basic, and one can quickly get the results on the screen without any hassles.
Moreover, it is thoughtful of the designer to mention some interesting facts regarding weight loss on the webpage. An article that discusses all the necessary points one needs to consider before beginning any target.
Budget Planning Calculator
As I mentioned, we were clueless about how much we spent on each aspect of the home. We were equally awestruck that we had never sat to compute such a crucial topic in our marriage of four years. I remember we once searched the Web regarding creating a family budget, but we never found time to conclude the task to date. Thanks to the calculator on this website, our lives will be simpler from today.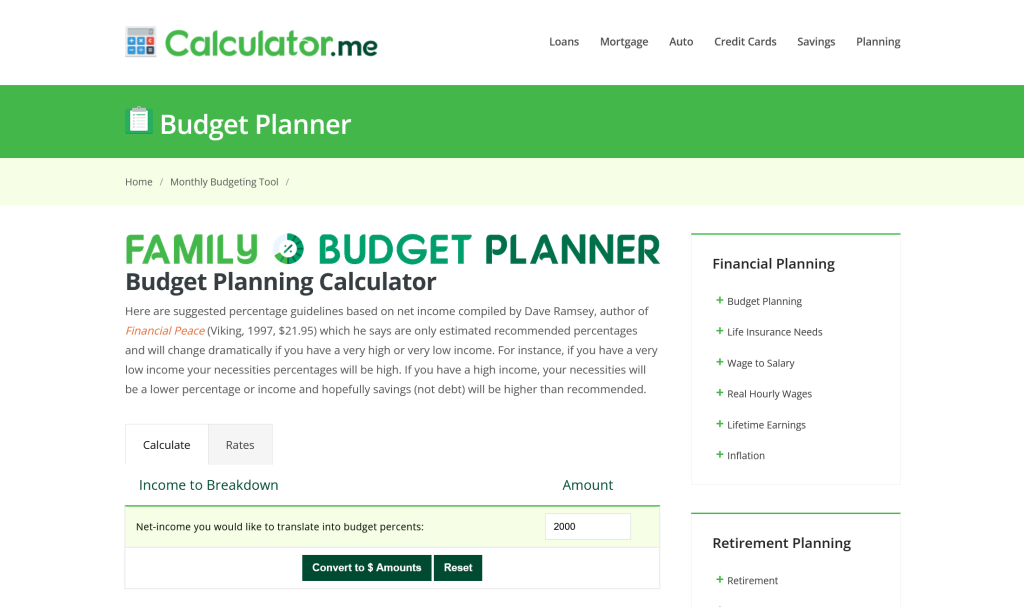 The tool is a pretty straightforward way to calculate one's family budget. It first asks about the net income one wants to include in the budget calculation. Then, there are all the categories that one expends in. These include clothing, saving, food, transportation, recreation, debts, health, etc. I was so glad to see the labels, as it was exhaustive enough to cover all the zones we spent. There was no category on our minds other than the ones already mentioned. Also, the food category linked my weight loss resolution and the budget computation, so win-win for me.
The system showed each area's low and high ends based on a justifiable and feasible range. For instance, the range for transportation is 10 to 15 percent, whereas that for housing is 25 to 35 percent. Similar to the weight loss calculator page, this page also consists of vital information regarding the subject.
It was obvious that these figures and data are the results of well-done research and expertise. We were happy to get all the numbers and set to keep a record from this day onwards.
The Final Takeaway
I do not have words to thank whatever factors made us reach this platform. It is a beneficial website with essential calculators that one needs in daily life. I look forward to exploring the other calculators and updating our listings as our requirements change. I highly recommend this website to all my readers as it can genuinely be your life companion.