The Best Choice for Baby's Sensitive Skin – Cuddables Water Baby Wipes
The Best Choice for Baby's Sensitive Skin – Cuddables Water Baby Wipes
I am a first-time mother of a eight-month-old boy and, naturally, extra cautious about every aspect of my child. The season's chills have begun, so using tap water on my infant for cleaning is not feasible. Thus, wipes are the saviour as they save a lot of hassle, especially this season.
However, the wipes that I have used so far were not satisfactory. Some would cause diaper rashes on my baby's bum, and I would have to apply layers of diaper rash cream to heal them. Some others would make my baby's skin dry and irritable. I found about Cuddables water baby wipes on my social media profile and wanted to try them as they looked different.
When I received the pack and used the first wipe from this brand, I knew this was the best decision I had ever made. Here is my opinion about using this product.
Fragrance-Free
The wipes are absolutely free from artificial fragrances, making them the safest on my baby's sensitive skin. It was now that I realized that the wipes, I was using in the past had fashionable fragrances, but that meant harmful chemicals. The Cuddables wipes are entirely free from such harsh chemicals and have the natural aroma of cotton and water.
100% Cotton Fabric with no plastic traces
The best part about these wipes is that they are made up of cotton and thus are much more absorbent than other brands' products. All mothers prefer the softest fabric for their babies, and mostly, we prefer cotton for their clothes, towels, etc. These wipes serve the purpose accurately as the composition is from plant-derived cotton, nothing synthetic.
Bio-Degradable and Eco-Friendly
Since these wipes are made of 100% cotton fabric, they are wholly bio-degradable. Thus, one does not have to think much while disposing of them.
3X Thicker
When I used other brands' wipes in the past, I had to use many units to clean my baby's bum, as one wipe did not do the job. So, the packets I used would finish very soon, and I would have to keep ordering. However, the Cuddables wipes are good even in this aspect. These are three times thicker than ordinary ones and thus have excellent absorption power. So, one can leverage the product and justify the purchase.
99% Water
Nothing is safer for a baby than pure water, and these wipes have won over my heart in this attribute. Made from 99% pure aqua, these wipes are the best, safest, and purest ones I could ever use on my angel's delicate skin.
Excellent Packaging
These wipes come in flip-top packaging that ensures wetness lock. So, kudos to the packaging designers as well for being so thoughtful.
Convenience for Purchase
The wipes are quite affordable and convenient to buy. You can easily order them from the official website or e-commerce platforms like Amazon, Meesho, Flipkart, and Snapdeal.
My Final Thoughts on Cuddables Baby Wipes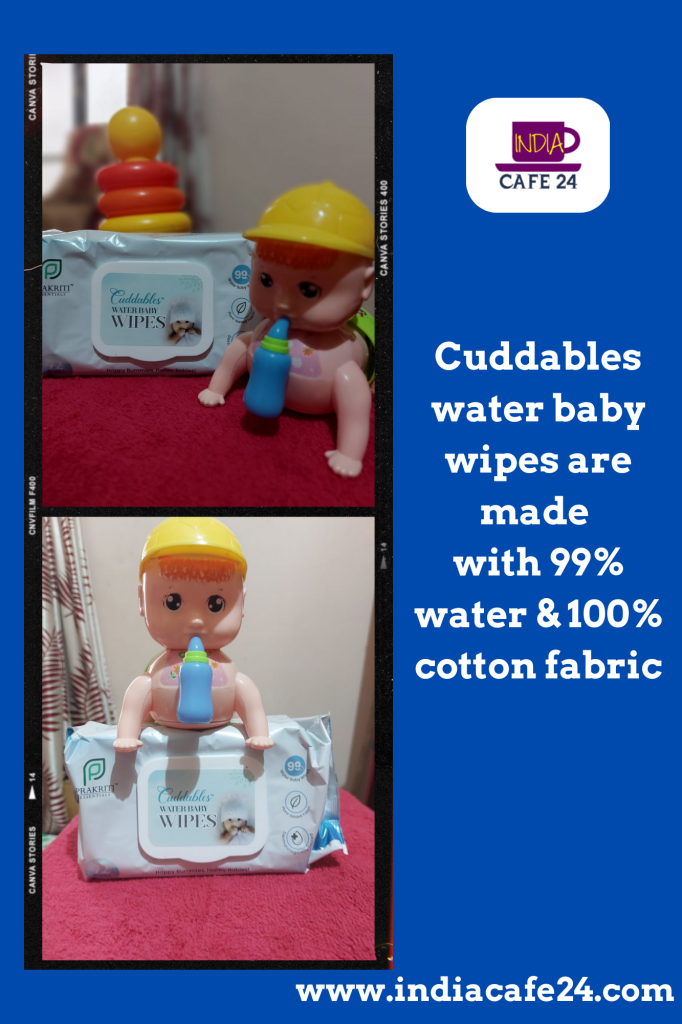 Cleaning messy times is now so easy, thanks to these wipes. Due to the purity and gentleness of this product, I also use the wipes to sponge his body on extra-chilly days. I highly recommend Cuddables water baby wipes to all mothers as these are a class apart. You can also follow the links on YouTube, Instagram, and Facebook.