X – Past is Present – Movie Review
 An excellent film delivered by 11 talented directors with excellent star casts- X Past is present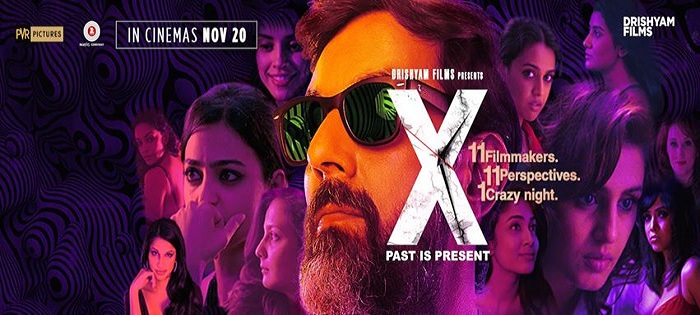 Movie: X – Past is Present
Cast: Rajat Kapoor , Neha Mahajan, Radhika Apte, Pia Bajpai, Huma Qureshi, Bhaskar Swara
Directors: Pratim D Gupta, Suparn Verma , Abhinav S Tiwari, Hemant Gaba, Anu Menon, Nalan Kumaraswamy, Raja Sen, Q, Sandeep Mohan, Rajshree Ojha, Sudhish Kamath
Genre: Suspense, Drama
Rating: 3.5

X – Past is Present is a film on the life of a man Kishen, who is filmmaker by profession and he met many women in this life. The story centers round the impact of all these women in his life. These 2 lines may give the impression that the film is going to be a simple one and follows a known plot. Well you are wrong and it's not at all simple. This film released on 20th Nov, 2015. It's the brain child of 11 talented directors  of the industry.
It's a complete complicated job for the crew to narrate the story of 11 individual women, their feelings, expectations, viewpoints about love and sex in a relationship. The story is itself complicated yet interesting and that what as reviewer I feel will attract the audience more.
Rajat Kapoor played the role of Kishen. He is one of the most successful film makers of the industry who came close to many women in his professional life and each of them became an important episode in his personal life too. One day he managed to realize the fact that all these women played king size roles in shaping his life so far.
It's a one night story and next day morning of Kishen Aka K. He loves to call him K. The complete story is shaped based on this one night in which he met every single woman in this life through flash back. Kishen is one such person who believes and dreams sex as one of the sole medium to get close and connected with any woman in his life. He loves exploring new character as they are the inspiration behind his penning down of every single story as filmmaker. The story is of exposing a crazy mind of a writer. The story comes to an end with K's returning which is just beyond excellence.
Rajat Kapoor is just brilliant in the role of Kishen Aka K. The roles of 11 women are not so big but each of them are highly important and the characters are very well played and commanding among them are Huma Qureshi, Swara Bhaskar, Pia Bajpai , Radhika Apte and Neha Mahajan.
If you are one who loves to watch a movie with different story line then this is for you only. Indiacafe24 rates it 3.5 on 5
Reviewed By Aparna