Home Made lip Balms – DIY
DIY- Home Made lip Balms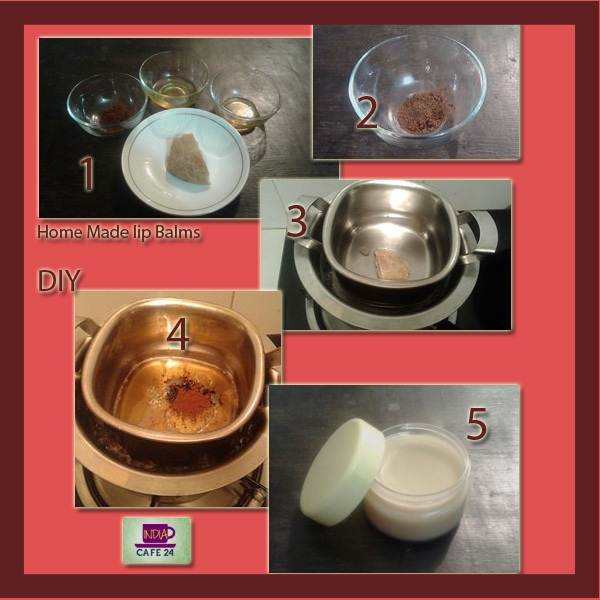 Ingredients:
2 ½ inches Bee Wax (chopped or crushed)
1 tea spoon Olive oil
½ teaspoon coffee powder
1 pinch of cinnamon powder
2-3 drops of honey
How to make:
Take a sauce pan, fill it with water and put it on flame. Let the water boil. Now put another sauce pan inside the first one. Make sure the second sauce pan is smaller than the first one. Put the chopped or crushed bee wax inside the second sauce pan and let it melt. Now add olive oil and mix it well. Now add cinnamon powder and coffee powder. Keep on mixing it because if you will not do this the oil and wax will not mix properly and a layer of oil will float on the surface of the lip balm. In the end add honey drops and mix it properly. Pour the mixture in a small jar before it gets set. Let it cool until it is set in the jar. You can keep this homemade lip balm always in your purse. This is a great one for cracked lips and it helps in maintaining the natural softness of lips. The quantity mentioned above is ample for one small jar of coffee flavored homemade lip balm. If you want to make more, you can increase the quantity. Make sure to try with a small quantity first and once you know the recipe well, you can experiment with more. With the same recipe, you can use many variants in ingredients and enjoy having a collection of quality homemade lip balms.