Udta Punjab – Movie Review
Udta Punjab Depicts The Glorious Mess That The Land Of Five Rivers Has Turned Into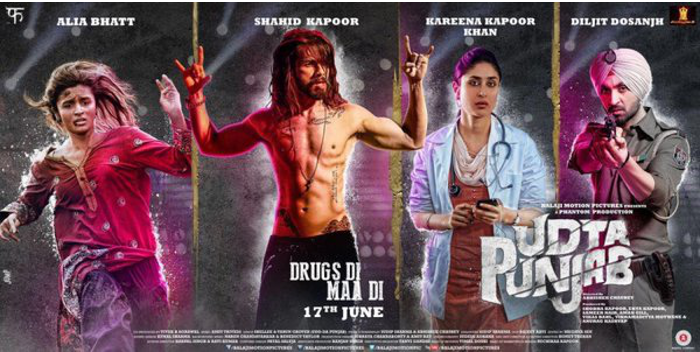 Movie: Udta Punjab

Cast:  Shahid Kapoor, Kareena Kapoor Khan,Alia Bhatt,Diljit Dosanjh

Director: Abhishek Chaubey

Genre: Crime Thriller

Rank: 3.5
After facing much controversy, Udta Punjab has finally made it to the theatres. The movie starring Shahid Kapoor,  Kareena Kapoor Khan, Alia Bhatt,and Diljit Dosanjh in prime roles highlights the ever growing problem of drug abuse that is affecting millions of youth in the state of Punjab. The movie directed by Abhishek Chaubey and co-produced by Balaji Motion Pictures and Phantom Films, was released in theatres on 17th Jun 2016.
Tommy Singh (Shahid Kappor) is a fading rockstar, who needs a dose of cocaine to unleash his creativity. While he is fighting the menace of drug addition, a reformed roguish cop Sartaj Singh (Diljit Dosanjh), seeks the help of a doctor (Kareena Kapoor Khan), who once cured the drug problem of his younger brother, in carrying out a sting operation on the dangerous underworld. At the same time, a migrant laburor (Alia Bhat), addicted to heroin, gets kidnapped by morally depraved hooligans while trying to sell a pack of the drug. When she tries to escape, she finds herself in the company of Tommy Singh. Whether Tommy Singh is able to free her from the clutches of abductors and whether Sartaj and his doctor friend manage to unravel the nexus between the drug lords and the politicians, forms the rest of the story.
Udta Punjab is one movie which deserves all applause for the brilliant performance of its entire lading cast, especially the two women. The director has handled the task of showcasing Punjab's drug menace in a fairly nice manner. However, the film does suffer from some glitches especially when it comes to building Shahid's character. Despite that it is great edge of the seat thriller that will make the hearts of the audiencs bleed and melt at the same time and IndiCafe24 gives it a rating of 3.5 stars.
Reviewed by Meetu