Dhanak – Movie Review
Dhanak Is A Simple And Sweet Tale That Will Restore The Audiences Belief In Miracles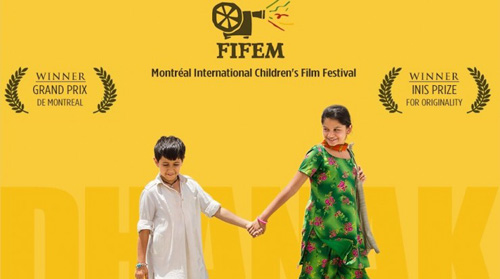 Movie: Dhanak

Cast:  Krrish Chhabria, Hetal Gadda, Gulfam Khan, Vibha Chibber, Vipin Sharma, Vijay Maurya

Director: Nagesh Kukunoor

Genre: Drama

Rank: 3.5
Nagesh Kukunoor is known for his movies that revolve around ordinary people and send across a deep message to the audiences. Dhanak is another such offering from this talented director, and stars Krrish Chhabria, Hetal Gadda, Gulfam Khan, Vibha Chibber, Vipin Sharma and Vijay Maurya playing the main roles. The movie, having impressed the audiences across the globe was finally released in theatres on 17th Jun 2016.
Pari (Hetal Gadda) and Chotu (Krrish Chabbria) are orphaned kids, living a life of poverty in Rajasthan.  Pari cherishes the dream of restoring Chotu's eyesight before his ninth birthday, but are rebuked by her evil aunt, who refuses to pay the money for the child's operation. So Pari and Chotu venture out on a journey to Jaisalmer, where Pari's favorite superstar Shahrukh Khan is shooting for a film. Pari is hopeful that her most favorite star will help her realize the dream and help Chotu in getting back his eyesight. Whether or not Pari's hopes are fulfilled is what the rest of the film is all about.
Even though Dhanak has been touted as a children's film it provides an interesting watch for adult audiences as well. The movie reminds the audiences of the importance of small joys of life and also about the best ways to deal with their sorrows. Unlike other road movies that focus on the inward journey of the lead characters, Dhanak tries to highlight the completely innocent and pure approach that children have towards life as well as the fact that they never let the adversities squash their home of making things alright. Nagesh's deep understanding of human emotions is reflected in the sweet relationship between the siblings. Overall Dhanak is   good movie to watch and IndiCafe24 gives it a rating of 3.5 stars.
Reviewed by M . Nadir