Tevar- Movie Review
'Tevar', Stereotyped, yet Stunning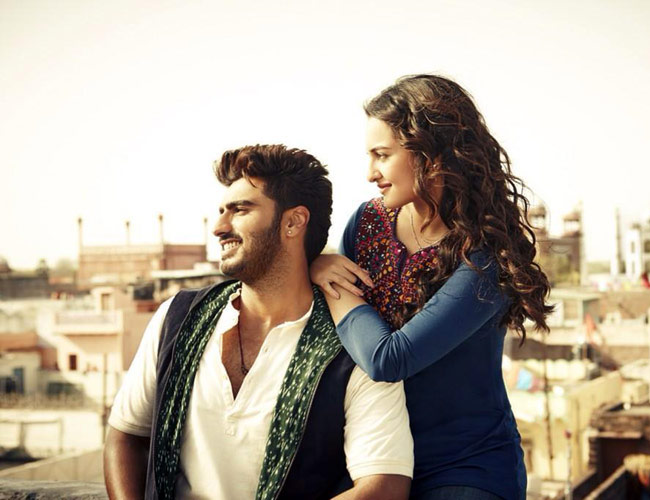 Tevar
Action/Thriller
Cast: Arjun Kapoor, Sonakshi Sinha, Manoj Bajpai, Raj Babbar, Subrat Dutta
Directed by: Amit Sharma
Ratings: 2  Star
             The gradual change in the 'masala movies' or the so called Bollywood commercial movies have led the films to a certain aspect of cinematic brilliance. It ay be so that mot of these films are still dragging with the same stereotypical elements in them, of a boy and a girl and a villain who has no other work but to chase them, yet the technical brilliance, wit in dialogues, cinematography, sound effects, everything make the viewers lose themselves for the whole two hours. This is the goal that every film looks forward to attending. In 'Tevar' Amit Sharma is quite successful in presenting the old wine in a brand new bottle.
The plot of the story is quite simple. The story of Mathura and Agra where the Bahubali Ghajinder Singh falls in love with Radha when he sees her. The role of Ghajinder Singh is played by the versatile Manoj Bajpai and he proved once again here that he can enter any kind of persona. The story actually starts when Ghajinder's love proposal is refused by Radha and an angry Ghajinder chases her. Here comes the hero, Pintu Shukla, who is a Kabaddi champion, who has no tolerance for violence against women. Hence starts the chase and the eternal Bollywood clash of good and evil.
Impressive photography of the Mathura-Agra locale really makes the film interesting in spite of its cliché gimmicks and actions. Arjun Kapoor as a Kabaddi Champion suites well though at some places he is a bit repetitive is his acting skills. Sonakshi also does her best to be attractive, forlorn and feisty. Another interesting character is Radha's dad played by Raj Babbar. On a very interesting role of Kakdi, Subrat Dutta shines well as the right hand man of Ghajinder. End of the day, all of these characters are stock characters, but sudden twists in dialogue and acting make them lively to the viewers. In a nutshell, 'Tevar' welcomes the viewers to be fully entertained.