Session with Shikha Kumar- Post launch of her debute novel
Very recently we had a session with
Shikha  Kumar
post launch her debut Novel "He Fixed the Match She Fixed Him". She is Bubbly, She is Charming, She is Sober and last of all She is Talented. Learn  what she shared with us.
1) Welcome Shikha and congrats on your successful delivery of your baby "He Fixed the Match She Fixed Him". So how you are feeling?
It's a never before feeling for sure. A mix bowl of enthusiasm, palpitation, curiosity and achievement. It feels very elated when I read good words about my work, but that's not even half battle won. It's just an embarkment of long journey of being recognized as author and taking your book to every reader.
2) In very short span of time you completed this novel- Being a regular Job girl how you managed to get time to plan for this storyline?
I'm still regular and being regular is being amazing. And just like every amazing person, if determination is rock-solid then everything follows. Story however is purely work of fiction. A story that kept knocking my mind and then one fine day I decided to take it to the world.
3) Will request you to give a brief on the story?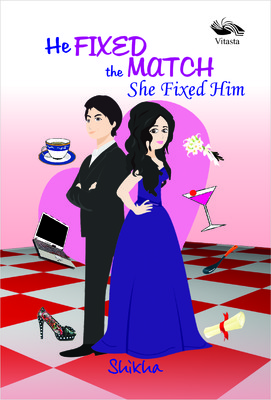 As blurb suggests its a story of two highly qualified charismatic individuals tethered together. Story traverses through many facets of their relationships starting from all-hope-lost.
4) Whats the difference between the life of an author and an engineer? How you are balancing both these roles?
Well they are entirely different roles for sure. Engineer has to be logical and ruled by mind, author on other hand needs to imaginative and follower of heart. So yes, living both roles is like having a split personality. But then again back to one of your previous questions; it's all about passion.
5) What are you plans for the book promotion?
Big-bang promotions are planned. Soon we'll be launching Imperfect-perfect couple contest with trip to Koh Sumui to be won. Stay tuned to my FB page for more details.
6) In which online stores the book are available now?
Flipkart, Amazon, Infibeam, Uread, Rediff books
7) What are you expectations this time from readers?
I'm no one to expect. All I want them to read, enjoy, love and share reviews about my book if they like.
8) Have you targeted a specific age group in this story or people of any group can be the reader?
I've made all efforts to pen a story that attracts interest of all ages. And luckily the book is being appreciated widely, so the efforts doesn't appear wasted.
9) Why you selected such a name " He Fixed the Match She Fixed Him"?
The title was reached after many changes and iteration. Finally this appeared most apt with the story. By the way, it was my husband's suggestion and I think its just WOW.
10) What next is there in Pipeline?
Promotional campaign for the book. I'm writing few articles few famous sites. Trying to build network in publishing world. All this in addition to my my full-time job & family life. And yes of course, I'm trying to steal time to finish my second book these days.
Wishing you the best for He Fixed the Match She Fixed Him–  Surely it will touch the hearts of millions of readers.
Thanks Samata for having me over. It was pleasure connecting with you. And many thanks again for such enthusiastic interest in my book. Means a lot.