Santa Banta Pvt Ltd – Movie Review
Santa Banta Pvt Ltd Is Highly Disappointing Film That Shames This Specific Comedy Brand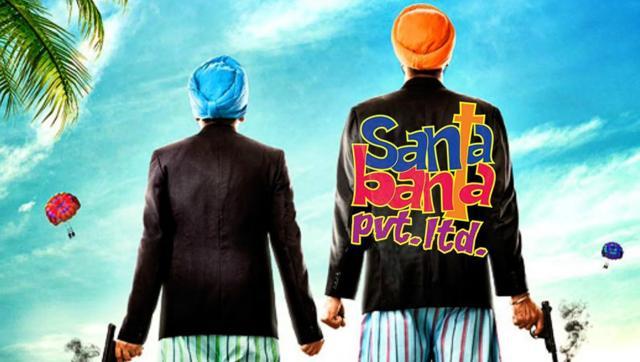 Movie: Santa Banta Pvt Ltd

Cast:  Bhoman Irani, Neha Dhupia, Johhny Lever, Vir Das, Lisa Hayden, Ram Kapoor, Sanjay Mishra, Vijay Raaz

Director: Akashdeep Sabir

Genre: Comedy Suspense

Rank: 2.0
The wait of countless people, who have grown up being entertained by the jokes and one liner featuring the funny characters of Santa and Banta, is finally over. Santa Banta Pvt Ltd, stars Bhoman Irani, Neha Dhupia, Johhny Lever, Vir Das, Lisa Hayden, Ram Kapoor, Sanjay Mishra and Vijay Raaz in the main roles. The movie, produced by Viacom 18 and directed by Akashdeep Sabir was released in theatres across the globe on 22nd April 2016.
Santeshwar Singh Solad who is Santa played by Boman Irani and Banteshwar Singh Bolad who is Banta played by Vir Das are two best friends who live a crazy life which is simple too in Punjab. Unknown to them, Shankar played by Aayub Khan, the Indian High Commisnor to Fiji, gets kidnapped and Indian RAW agent (Vijay Raaz) is assigned the duty of sending two agents named Santa and Banta to Fiji to solve the case. However, Raaz is unable to track down the agents, and he bumps into the real Santa and Banta and sends them to Fiji instead. Upon reaching there, the life of the two friends takes an adventurous turn as they meet Shankar's wife, Kareen Roy played by Neha Dhupia, Sonu Sultan played by Ram Kapoor, their best friend, Cutie the raw agent played by Lisa Hayden and another Raw agent Akbar Illahabadi played by Sanjay Mishra, along with Don No. 1 from Nepal's , charecter played by talented Johhny Lever.
Santa Banta Pvt Ltd fails to reach even the first step of the high pedestal on which the Santa Banta comic brand stands today. Despite the presence of great comic talent, the movie proves to be completely lethargic and unfunny and even makes the actors seem confused. Even the jokes used are stale with the result that the movie, which could easily have become a laugh-riot, turns out to boring and lackluster.
IndiCafe24 gives Santa Banta Pvt Ltd a rating of 2.0 stars.
Reviewed By M Nadir