Nil Battey Sannata – Movie Review
A Realistic Movie That Highlights The Importance Of Education Through A Touching Mother-Daughter Relationship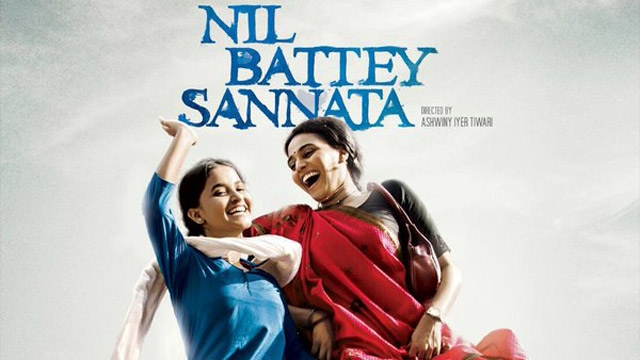 Movie: Nil Battey Sannata

Cast:  Swara Bhaskar, Riya Shukla, Ratna Pathak Shah, Pankaj Tripathi

Director: Ashwiny Iyer Tiwari

Genre: Drama

Rank: 4.0
Despite being the debut film of director, Ahswiny Iyer Tiwari, movie Nil Battey Sannata is a film that is extremely realistic and heartwarming. The movie features Swara Bhaskar, Riya Shukla, Ratna Pathak Shah, and Pankaj Tripathi in the lead roles and is the perfect tale to promote education of the girl child. The movie was released in theatres on 22nd April 2016.
Chanda (Swara Bhaskar), an illiterate woman and a single mother, working as a house maid, harbors the dream of giving a decent education to her only daughter Apeksha (Riya Shukla). Her employer, a kind hearted doctor, (Ratna Pathak Shah) constantly encourages Chanda and guides her regarding the education of Apeksha. However, Apeksha does not feel too inclined to study, primarily because she is completely dull in math. She even goes on to accuse Chanda of forcing her unfulfilled dreams on her despite the fact that she cannot afford to educate her beyond the 10th standard. Realizing that her daughter is academically unambitious, Chanda feels that her years of hard-work will be wasted if Apeksha does not clear her 10th exams. Then on the advice of her employer, Chanda makes a bold decision, which changes her relationship with her daughter.
Nil Battey Sannata is a hardwired movie that narrates a story straight from the heart. At its core lies a very strong script depicting the unique love-hate relationship that every daughter shares with her mother during the growing up years. The beauty and strength of the tale is further enhanced by the strong performances of every single member of the lead cast. The director has not failed to integrate light humor into the serious plot, which ensures that the audiences do not shift from their seats till the very end
IndiCafe24 gives Nil Battey Sannata a rating of 4.0 stars.
Reviewed By Meetu