Pink – Movie Review
Pink Is A Strong Thought Provoking Movie Depicting The Struggles Of Single Working Class Women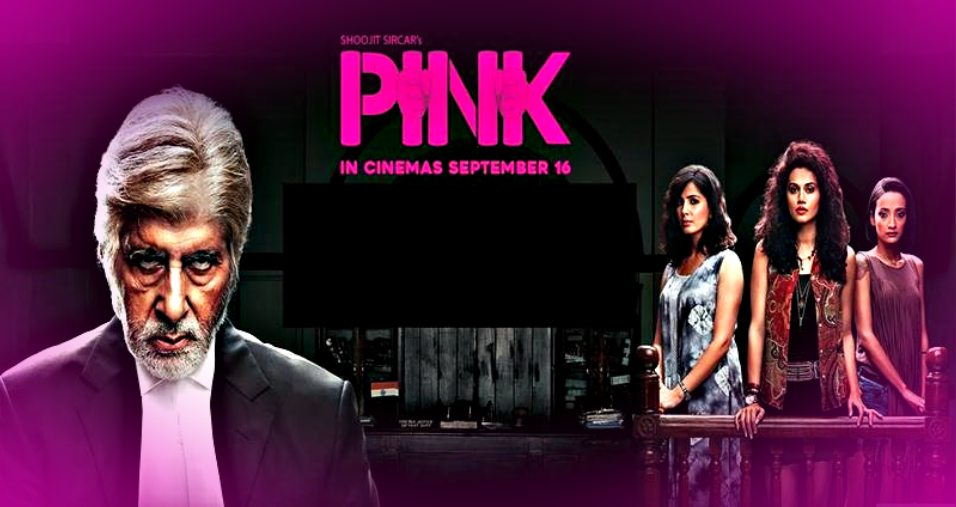 Movie: Pink

Cast:  Amitabh Bachchan, Kirti Kulkarni, Tapsee Pannu, Andrea Tariang, Angad Bedi, Piyush Mishra

Director: Aniruddha Roy Chowdhury

Genre: Drama Thriller

Rank: 4.0
The promos of Pink sadly do not do enough justice to bring out the strong premise of the film. The movie, which stars Amitabh Bachchan, Kirti Kulkarni, Tapsee Pannu, Andrea Tariang, Angad Bedi and Piyush Mishra brings to fore the struggles faced by single young working women in major cities across the country.  This marks the debut of noted Bengali director Aniruddha Roy Chowdhury in Hindi cinema and has been released in theaters across the globe on 16th Sep 2016.
Meenal Arora (Taapsee Pannu), Andrea (Andrea Tariang) and Falak Ali (Kriti Kulhari), are three working women from Delhi who have learned to live in a judgmental South Delhi society. However, their struggling lives turn into a nightmare when a chance encounter with the highly educated, rich and influential Rajveer Singh (Angad Bedi) and his friends, at a rock concert, ends in an accident. With the boys' hell bent on seeking revenge from the girls, a war of the genders ensues in the courtroom with the patriarch  Deepak Sehgal (Amitabh Bachchan) taking up the challenge of defending the girls.
Pink is a movie that is based on realism as it talks about real young women living real lives. But mot importantly it highlights judgment and prejudices they have to face on a daily basis simply because they are working and living alone. The three female protagonists have nailed the essence of the movie in an almost flawless manner. The director needs to be applauded for presenting a tale that most young working women across the globe can easily relate to such a convincing and thought provoking manner. The presence of Amitabh Bachchan as the relentless lawyer, just adds to cinematic value of the movie. Overall, Pink is one movie that everyone must watch and IndiaCafe24 gives it a rating of 4.0 stars.
Reviewed By Meetu