Mubarakan – Movie Review
Mubarakan Sees Anil Kapoor In a Great Comedy Avataar And Giving The Younger Actors a Run For Their Money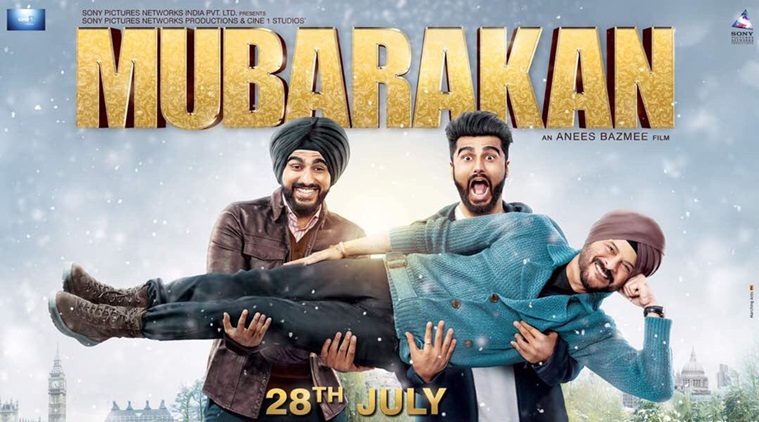 Movie: Mubarakan

Cast:  Anil Kapoor, Arjun Kapoor, Ileana D'Cruz, Athiya Shetty, Ratna Pathak Shah, Pavan Malhotra, Neha Sharma

Director: Anees Bazmi

Genre: Romantic Comedy

Rank: 2.5
Long before its release, Mubarakan created a buzz primarily due to the fact that it features veteran actor Anil Kapoor along with his nephew Arjun Kapoor in a double role for the first time. The movie also stars Ileana D'Cruz, Athiya, Shetty, Ratna Pathak Shah, Pavan Malhotra and Neha Sharma. The film has been directed by renowned director Anees Bazmi and has been released in theatres on 28th Jul 2017.
Twin brothers Karan (Arjun Kapoor) and Charan (Arjun Kapoor) are orphaned and separated at birth. While Karan is adopted by Jeeto (Ratna Pathak Shah) and raised in London, Charan is brought up as a turbaned Sikh in Chandigarh after being adopted by Jeeto's elder brother Baldev (Pavan Malhotra). Years later, young Charan and Karan are in love with Nafisa (Neha Sharma) and Sweety (Ileana D'Cruz) respectively. However, both are being pressurized by their guardians to marry as per the wishes of the elders. Things further get complicated with Charan's engagement to Binkal (Athiya Shetty), the daughter of a London based rich Punjabi. Fueling the confusion is the twin's spinster uncle Kartar (Anil Kapoor) who in his attempts to help the boys, becomes the cause of a major family-fued.
Mubarakan goes on to remind us that a comedy film does not necessarily have to be slapstick or full of vulgar scenes and double meaning dialogues. Despite its ensemble starcast, Anil Kapoor steals the show as the rich and single uncle, and then there is Pavan Malhotra, who shines as the typical loud Punjabi. The music also is good and although the movie lacks a  strong screenplay, it proves to a be a complete family entertainer capable of delivering a decent amount of laughs. IndiaCafe24 gives Mubarakan a rating of 2.5.