Jab Harry Met Sejal – Movie Review
Despite Lacking The Zing, Jab Harry Met Sejal Sizzles Thanks To The Hot Chemistry Between The Lead Pair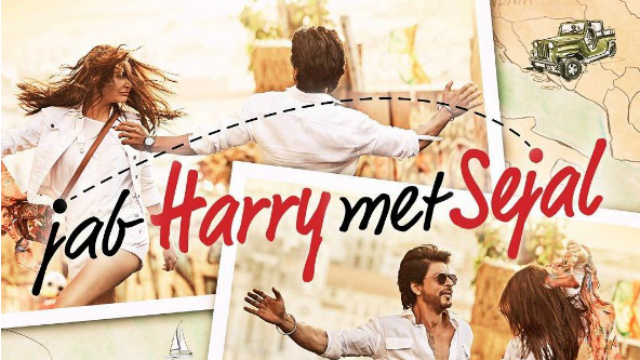 Movie: Jab Harry Met Sejal

Cast:  Shahrukh Khan, Anushka Sharma, Sayani Gupta, Evelyn Sharma, Chandan Roy Sanyal, Paras Arora, Aru Krishansh Verma

Director: Imtiaz Ali

Genre: Romantic Comedy

Rank: 3.0
Jab Harry Met Sejal has definitely been one of the most awaited releases of the year. The movie, produced b Red Chillies Entertainment, features Shahrukh Khan, Anushka Sharma, Sayani Gupta, Evelyn Sharma, Chandan Roy Sanyal, Paras Arora, Aru Krishansh Verma. The movie has been directed by ace filmmaker Imtiaz Ali of Jab We Met fame and was released in theatres on 4th Aug 2017.
Sejal Jhaveri (Anushka Sharma), who has been enjoying a tour of Europe with her family for the past month, realizes that her engagement ring is lost when she is just about to board the plane back to India. Adamant about not leaving without finding the ring, Sejal hires Harry (Shahrukh Khan), the tour guide hired earlier by her family. The two then set out to locate the ring by visiting the exact same places which Sejal visited earlier with her family. However, the trip turns out to be a more about Harry and Sejal finding things about each other that bring them closer. With Harry having already informed Sejal about the habit of sleeping around with his women clients, will this unique search prove to be just another tale of longing and lust or that of true love?
Jab Harry Met Sejal is yet another of those Imtiaz Ali movies, which coax and cajole the viewers to take an inward journey. The best aspect of the movie is the hot sizzling chemistry between Shahrukh and Anushka. Even though the storyline is not too strong and even misses the zing, the superb performance of the lead actors along with the rocking music of the move almost make up for these drawbacks. We at  IndiaCafe24 give Jab Harry Met Sejal a rating of 3.0.