Jagga Jasoos – Movie Review
Jagga Jasoos  Is The Tale of A Boy Detective Whose Search For His Foster Father Takes Him On An Adventurous Journey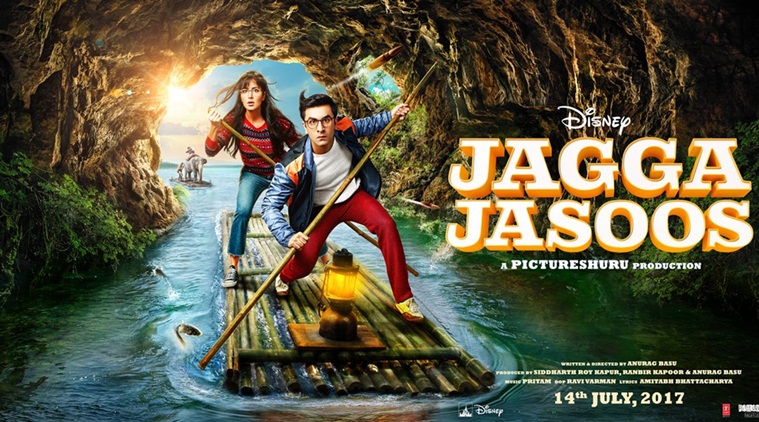 Movie: Jagga Jasoos

Cast: Ranbir Kapoor, Govinda, Katrina Kaif, Adah Sharma, Saurabh Shukla, Sayani Gupta, Saswata Chaterjee, Mukesh Hariawala, Rajatava Dutta

Director: Anurag Basu

Genre: Musical Adventure Romantic Comedy

Rank: 3.0
Jagga Jasoos is only the second venture of Ranbir Kapoor with ace film director Anurag Basu after Barfi. This combined with the fact that the movie marks the debut of Ranbir as a producer has generated a lot of interest in the movie. The movie stars Ranbir Kapoor, Govinda, Katrina Kaif, Adah Sharma, Saurabh Shukla, Sayani Gupta, Saswata Chaterjee, Mukesh Hariawala and Rajatava Dutta. The movie has been released in theatres on 14th Jul 2017.
Orphaned Jagga (Ranbir Kapoor) lives in a hospital until he saves the life of a man named Tooti Frooti (Saswata Chaterjee), who then adopts Jagga and takes him to his home. However, Jagga's happiness is short lived as soon after his foster father enrolls him in a boarding school and is never heard from or seen again. As Jagga grows up in the boarding school, the unsolved mysteries of his own life and those around him start to intrigue him. To satisfy his curiosity he starts helping the local police inspector in solving cases. But his final mission is to find the answer to the mysterious disappearance of his foster father years ago and in this he is assisted by an investigative journalist, Shruti (Katrina Kaif), who incidentally, is prone to mishaps.
Despite its unique and interesting story line, Jagga Jasoos falters in terms of narration and length of the movie. Ranbir as Jagga has once again proven why he is one of the best actors from the current generation, while Katrina appears good in her role. The music is especially good and the movie surely tugs at the hearts of the audiences thanks to its great conception and superb execution. We at IndiaCafe24 give Jagga Jasoos a rating of 3.0.