Kya Kool Ha Hum 3 – Movie Review
Kya Kool Hai Hum 3 Is Nothing More Than A Dirty, Vulgar And Tasteless Adult Comedy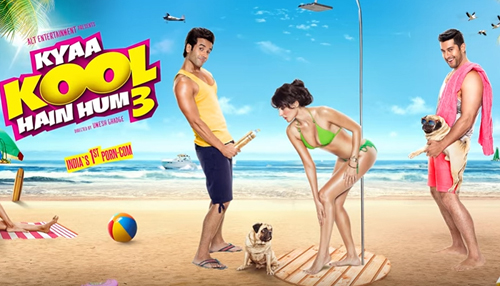 Movie: Kya Kool Hai Hum 3

Cast:  Tusshar Kapoor, Mandana Karimi, Aftab Shivdasani, Gizele Thakral, Shakti Kapoor, Claudia Ciesla, Darshan Jariwala and Krishna Abhishek

Director: Umesh Ghadge

Genre: Adult Comedy

Rank: 1.5

The third installment of the Kya Kool Hai Hum series was released in theaters on 22nd Jan 2016. The film, which was promoted as an adult comedy, stars Tusshar Kapoor, Mandana Karimi and Aftab Shivdasani in the main roles while Gizele Thakral, Shakti Kapoor, Claudia Ciesla, Darshan Jariwala and Krishna Abhishek form the supporting cast. It has been produced by Shoba Kapoor and Exta Kapoor of Balaji Telefilms.
A good-for-nothing guy, Kanhaiya played by Tusshar Kapoor is kicked out from his house by his successful businessman father played by Shakti Kapoor. Kanhaiya and his best friend Rocky played by Aftab Shivdasani then meet up with their Thailand based friend Mickey played by Krishna Abhishek to try their luck in the porn industry. The two earn great success by recreating the popular Bollywood movies as per the needs of porn industry. However, Khanhaiya's life takes an interesting turn when he meets and falls in love with Shaalu played by Mandana Karimi, who is the daughter of Surya Karjatya played by Darshan Jariwala. Whether or not Kanhaiya manages to win the love of Shaalu, while hiding his new identity, is what remains to be seen.
Kya Kool Hia Hum 3 has taken mainstream Bollywood filmmaking to a new low. The film is full of limp jokes and tossing juvenile lines that turn it into a sleaze-fest. In terms of performance, Tusshar and Aftab look utterly confused especially since their characters seem to be simply jumping from one scene to another without any actual connection.
Kya Kool Hai Hum 3 is a complete disaster in the name of sex-comedy and IndiaCafe24 gives it a rating of 1.5 stars.
Reviewed By M. Nadir