Airlift – Movie Review
Akshay Kumar's Airlift Is A Raw And Gripping War Movie Based On True Events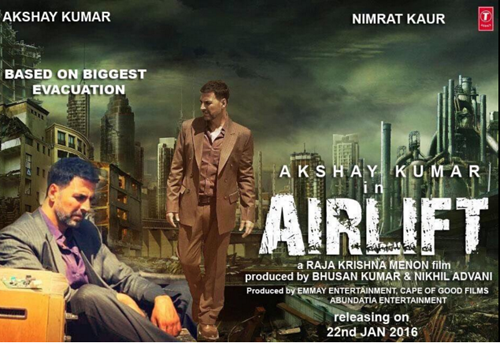 Movie: Airlift

Cast:  Akshay Kumar, Purab Kohli, Nimrat Kaur, Kumud Mishra, Feryna Wazheir, Prakash Belawadi and Lena

Director: Raja Krishna Menon

Genre: History, Drama, Thriller

Rank: 4.5

Airlift is a movie based on the biggest evacuation operation of Indians from the war torn Middle East after Iraq's invasion of Kuwait in the 1990's. The movie featuring Akshay Kumar and Nimrat Kour as the leading pair also has Purab Kohli, Kumud Mishra, Feryna Wazheir, Prakash Belawadi and Lena playing various supporting characters. The flick, directed by Raja Menon was released in theatres across India on 22nd Jan 2016.
Ranjit Katyal played by Akshay Kumar is a powerful businessman in Kuwait and enjoys a luxurios life in the country with wife Amrita played by Nimrat Kour and two kids. Ranjit prefers to be known as a Kuwaiti national rather than an Indian citizen. Things however take a turn for the worst, when Iraq invades Kuwait and Ranjit finds no favor with the new Iraqi military regime.
The crises turn Ranjit from a mean businessman into a generous and kind-hearted leader of over 1, 70,000 fellow Indians stuck in the war-torn country. He even refuses the offer of an Iraqi major to leave Kuwait safely along with his family. How Ranjit and the other Indians survive all odds and cross the border to reach Jordan, from where they are lifted airlifted back to India, form the rest of the story.
Airlift has all the ingredients to make it is truly successful film. It presents the historic facts in aThe plot based on historic facts is simple and well-explained. Both Akshay Kumar and Nimrat have given great performances, which further enhanced the strong screenplay. The edge-of-the-seat thriller offers a perfect combination of realism and entertainment.
Overall, Airlift is one movie that is definitely worth watching in a cinema hall and IndiaCafe24 gives it a rating of 4.5 stars.
Reviewed By Meetu