Kapoor & Sons – Movie Review
Kapoor And Sons Tells The Tale Of A Dysfunctional Family In A Flawless Manner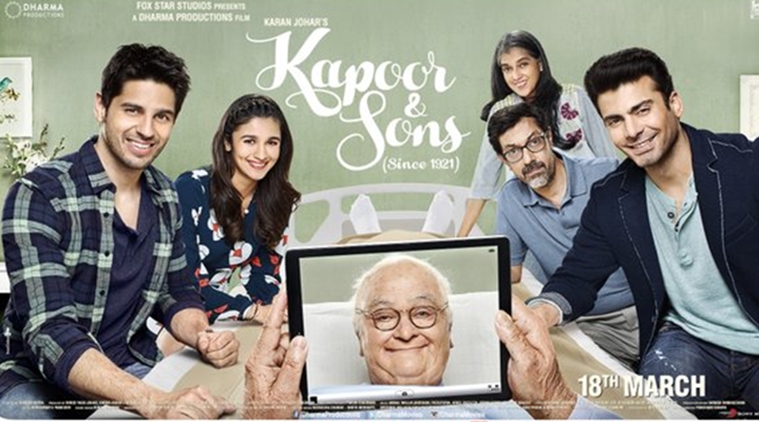 Movie: Kapoor & Sons

Cast:  Rishi Kapoor, Fawad Khan, Siddarth Malhotra, Alia Bhat, Ratna Pathak, Rajat Kapoor

Director: Shakun Batra

Genre: Family Drama

Rank: 4.0
Kapoor & Sons has been one of the most awaited releases of 2016. The movie starring Rishi Kapoor, Fawad Khan, Siddarth Malhotra, Alia Bhat, Ratna Pathak, Rajat Kapoor in the main roles, tells the tale of a dysfunctional family. Produced by Karan Johar and directed by Shakun Batra, the movie was released in theares across India on 18th March 2016.
The movie tells the tale of two brothers, Rahul (Fawad Khan) and Arjun (Siddarth Malhotra, who come home to meet their grandfather Amarjeet Kapoor (Rishi Kapoor), in the picturesque South Indian town of Conoor. While elder brother Rahul is the golden boy of the family and a successful novelist, the younger one Arjun is the under-achiever. The brothers, who share a relationship of love, seeped in a bit a rivalry and jealousy, then meet Tia Singh (Alia Bhat) and both fall for her. Then, Fawad unveils a unexpected aspect of his personality which leaves the entire family shocked.
The film beautifully highlights the fact that no one in a family is perfect, and that it is acceptance of each other's flaws and qualities that make a loving family. The story by Shakun Batra and Ayesha Devitre Dhillon is almost flawless. In addition director Shakun Batra needs to be applauded for avoiding the trap of making this family drama too melodramatic or loud. Every character is important and it is difficult to imagine the movie without them all being together. The performance of the entire star cast is exceptional as they make the audiences feel like watching the true story of real family. The music is good and is has become quite popular, especially the "Chul" song.
Overall Kapoor & Sons proves to be a good investment of time and money and IndiaCafe24 gives it a rating of 4.0 stars.
Reviewed By Meetu