Cute Kameena – Movie Review
Cute Kameena Does not Have Anything New To Offer But Is Still A Good Timepass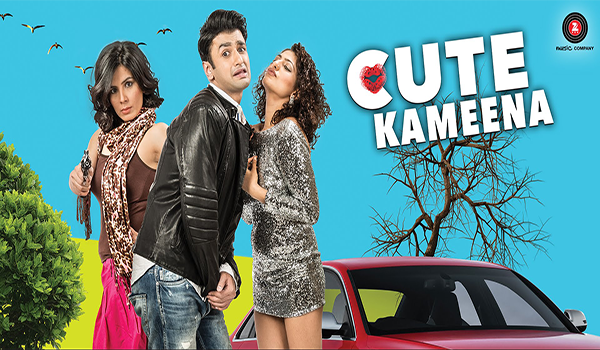 Movie: Cute Kameena

Cast:  Kirti Kulkarni, Nishanth Singh, Swanand Kirkire, Piyush Mishra, Kubra Sajit, and Benjamin Gilani

Director: AK

Genre: Romantic Comedy

Rank: 2.5
Cute Kameena is a fun film with no twists that features all newcomers in the main roles. The movie stars Kirti Kulkarni, Nishanth Singh, Swanand Kirkire, Piyush Mishra, Kubra Sajit, and Benjamin Gilani. It has been produced by Simmi Karna and SV Sakre and directed by AK. The film was released in theatres across India on 18th March 2016.
Bunty aka Anurag Tiwari (Nishanth Singh), comes to Mumbai after running away from the prospect of joining his family business of halwayees in Bhopal and getting married to a girl from the same business community. Avantika (Kirti Kulkarni) is a South Mumbai girl belonging to a Marwadi family, who is also being forced by her father to marry a Marwadi boy. Bunty meets Avantika under hilarious circumstances and falls in love with her. Although Avantika also develops feeling for the innocent Bunty, she is counfused about being in love with another boy, and seeks Bunty's help to win him over. Adding twists to this interesting love tale is Ranjeet, Bunt's Mamaji, who is a frustrated script writer. Ranjeet sees the prospect of a successful love story in Bunty's tale with Star Director/Producer Mr. Aditya Kapoor aka AK, willing to make the film based on this script.
Cute Kameena is a light romantic movie that offers good entertainment. The actors have portrayed their characters well, although their performances cannot be considered exceptional. The director has handled the script well and despite its various flaws, the movie proves to be a good time pass. Cute Kameena does not have anything new to offer, but presents a time tested love story of a small town guy falling in love with a big city girl in a rather cute and funny manner.
We at IndiaCafe24 give Cute Kameena a rating of 2.5 stars.
Reviewed By M. Nadir