Force 2 – Movie Review
The Action Packed Thriller Lacks Any Logic But Is Still Watchable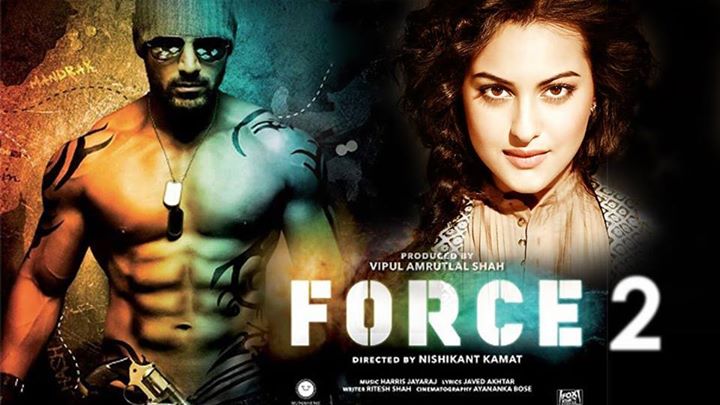 Movie: Force 2

Cast:  John Abraham, Sonakshi Sinha, Adil Hussain, Tahir Bhasin, Bjorn Freiberg

Director: Abhinay Deo

Genre: Action Thriller

Rank: 2.5 stars

Force 2 is the sequel to the sleeper hit of the same name released in 2011. The trailers of the movie promised an action packed thriller that seemed to match the thrill and pace of the prequel. The movie stars John Abraham, Sonakshi Sinha, Adil Hussain, Tahir Bhasin and Bjorn Freiberg, with John reprising the role of ACP Yashvardhan.  The movie has been directed by Abhinay Deo and has been released in theatres across the globe on 18th Nov 2016.
Daredevil and cynical police officer, ACP Yashvardhan played by John Abraham, receives a coded message from his friend working with RAW. The message contains a clue leading to the criminal responsible for the killing of several RAW agents in China. Yashvardhan becomes associated with this   high profile case of finding the traitor, along with another RAW agent and his boss, KK played by Sonakshi Sinha, who is also Yashvardhan's partner in this mission. The two need to destroy find and destroy the highly motivated criminal and the kingpin of an international terror syndicate, Shiv Sharma. The clue takes them to Budapest the operating base of Shiv played by Tahir Bhasin, where they become involved in a cat and mouse chase in a bid to save the other RAW agents.
Despite having a fine script and an equally amazing star cast, Force 2 has failed to match up to the expectations. The characters of Sonakshi and Tahir seem to have been written without any prior conceptualization or even consideration. The movie is full of clichés and except for John's action there is not much for the audiences to appreciate. The director seems to have lost control of the movie just minutes after it starts. Overall, Force 2 is watchable for audiences who go  to theaters without too many expectations and IndiaCafe24 gives it a rating of 2.0 stars.
Reviewed By Meetu