Baar Baar Dekho – Movie Review
Baar Baar Dekho Is An Emotional Love Story Having An Unusual Twist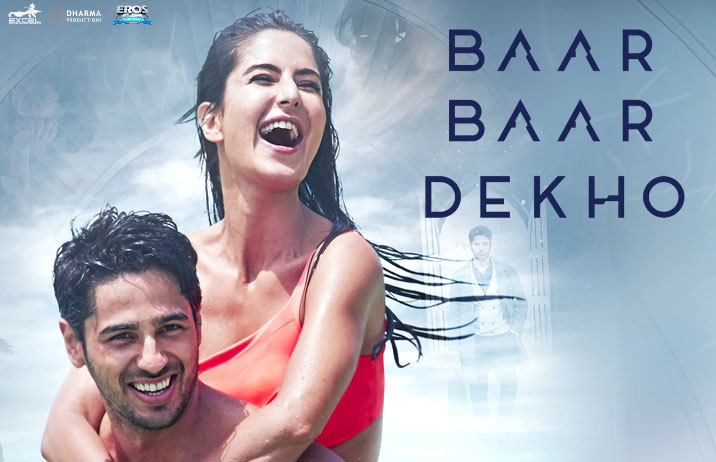 Movie: Baar Baar Dekho

Cast:  Katrina Kaif, Siddarth Malhotra, Ram Kapoor, Sarika, Sayani Gupta and Rajit Kapoor

Director: Nitya Mehra

Genre: Romantic Drama

Rank: 3.5
If one were to go by the promos, than Baar Baar Dekhois just another romantic tale. However, the good thing is that this love story comes with an unusual twist, which will definitely surprise the audiences in the theatres. The movie which stars Katrina Kaif, Siddarth Malhotra, Ram Kapoor, Sarika, Sayani Gupta and Rajit Kapoor in the lead roles has been directed by debutant director Nitya Mehra and was released in theatres across the globe on 9th Sep 2016.
Jai Verma (Siddarth Malhotra), is a brilliant mathematician, who enjoys a strong love relationship with the very beautiful artist Diya (Katrina Kaif). However, Siddarth is too much focused on his career to consider marrying Diya, who constantly dreams about becoming Mrs. Verma. So when Jai is finally faced with the question of marriage, a strange incident provides him a peak into his future life. How this affects the present life and relationship of Jai with Diya is what the rest of the movie is all about.
Baar Baar Dekho definitely has something different to offer to the audiences and the "chance to relive the same day" is at the core of the movie. Siddrath and Katrina share a sizzling on-screen chemistry and their pair look totally adorable in the movie. The supporting cast has also done a great job The music is good and hummable and adds value to the movie. Nitya Mehra deserves all the praise for keeping the movie youthful and fresh despite its unusual storyline. It is a well made film in all respects and focuses primary on the conflict that the youth today face about making the choice between love and career. Overall, Baar Baar Dekho is a good and entertaining movie to watch and IndiaCafe24 gives it a rating of 3.5 stars.
Reviewed By Meetu