Beauty With A Brain- Meet Anchor Monica Singh
Just take a look at this young lady- She is Monica……… Anchor Monica Singh. Young, Vibrant, Talented , Bold and Stunningly beautifully. She is a true example of beauty with a brain. Her hard work and strong dedication made her famous at 23. Join Us to know this pretty lady in this chit chat session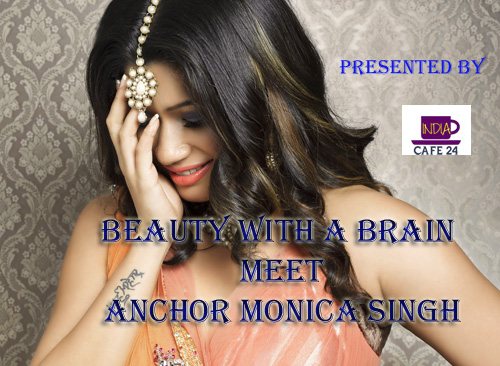 It's a proud moment for Indiacafe24.com to have you with us Monica. Monica will request you to give a short intro about you, your family and your education?
A : Well, the pleasure is all mine, I am a 23 year old, tall scorpion ordinary girl with loads of extra ordinary dream and passion and determination to make them come true. I believe in being spiritually successful and financially successful. For me being around my family is the biggest happiness. I belong to a very beautiful place called Nepal. Been raised in Defence environment since my dad is in Indian Air Force, I have always been taught to be independent in my thoughts, work and goals. My dad has always taught me to fail, because that is how you actually grow and know the taste of failure and don't want to see it again. My mom is my biggest inspiration. If ever I feel sad and upset I always look up to her struggle in life, the way she has raised me and my brother even when we belong to a middle class family we were never out off our demands and they were left unfulfilled. She is gorgeous and generous and I have her genes and my dad's naughtiness. I have completed my schooling from Coimbatore and Vadodara and Graduation from Delhi.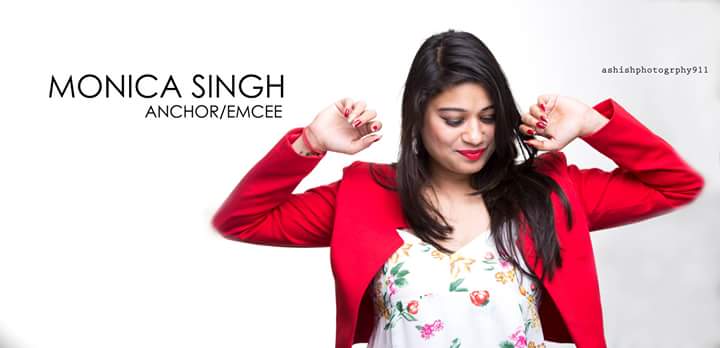 You are well known anchor- What exactly is the reason which provoked you to pursue a career as anchor?
A: Honestly, Anchoring just happened luck by chance, there was nothing I knew about it till the time I didn't reach Delhi. There use to be lots of activities around my college and I always loved to be part of it. Someone saw me there and offered me if I want to do it in a bigger way. He started giving me small promotional and mall activities in Delhi, earlier I did it for my stipend but then as the words were spreading about my talent and ability to gather and hold the crowd, little bit of social media promotion actually helped me to take it to a bigger Level and here I am writing this interview for Indicafe. No wonder,I have always loved the stage and Mic.
Establishing oneself in an entertainment world is not at all an easy task.
A: There is a lot behind all the "Glamour and Glitterati". It might look as individuals involved in an entertainment industry get to travel for free, see the world, wear amazing outfits, always get praised and have so many social media followers. Yes everything I said is just one of side of a coin, who doesn't like to be famous. But then there is a lot of struggle behind all this. They all think it is an overnights success, that is exactly it ain't. Cut throat competition with every good looking girl/boy trying to be an anchor, charging really low since for her/him they just want to get the project, it creates a lot of ruckus for us who are already there since so many years, because still there are clients who think about the charges more than quality. Everything I wear has a cost, maintaining a lifestyle has a cost. To be there on social media has a cost. Travelling back to back to different locations gives you sleepless nights and days, taking care of your health etc. But then I can bear all the pain because , I really feel connected to stage, mic and my job. I love exploring and interacting. And if you still think it is try standing in 6 inch heels for 3 hours probably you will understand it then 😉
What sort of barrier you faced to get this position in the entertainment field?
A . Cut throat Competition, creating your own image, acquiring new clients, reforming your charges, finding innovative ways to entertain the guests and audience etc etc, but then I guess all is working well in my case. Moreover, I was dealing with weight issues, since you have to look presentable and to be honest anchoring these days is much more than communication skills, but then I overcame it and I am pretty happy about it.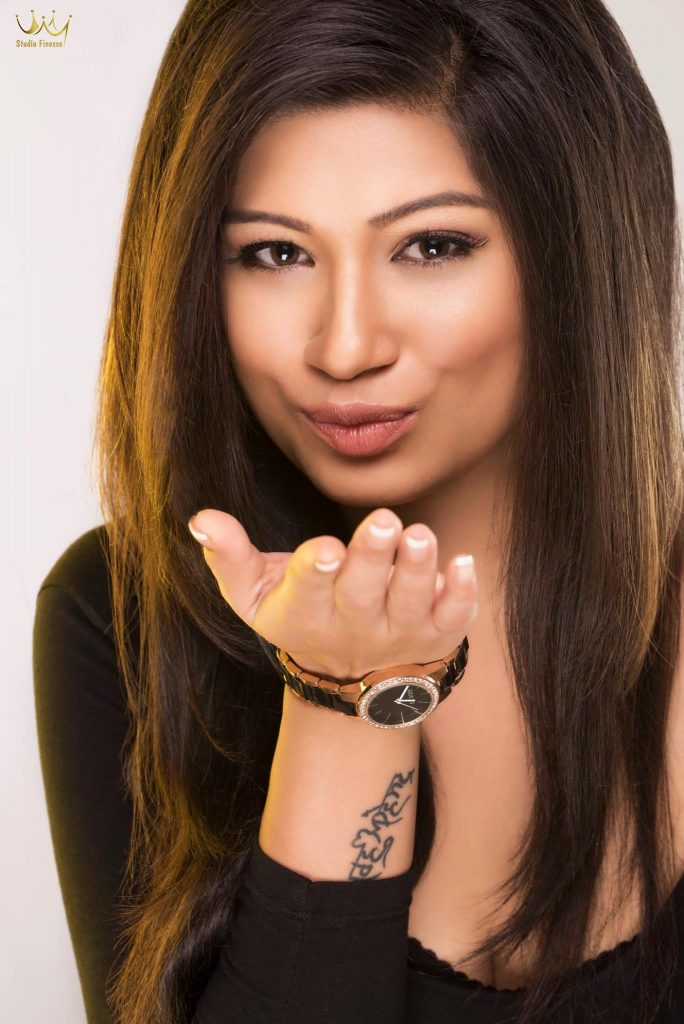 Why you selected anchoring and why not any other role?
A: Again I would want to mention that it was pure "Luck By Chance" for me. Yes I have other dreams to pursue as well and I am working towards them and will update about it soon.
Who is the one who inspired you to establish a career as anchor?
A: Initially no one but once I got in here then I started watching lot of videos so that I can learn more about it, anyone who speaks good and has the power of influencing people is my idol. Michelle Obama, Ophra Winfrey, Mandira Bedi, Kran Bedi, Smriti Irani.
You received any type of training to become an anchor?
A: I talk a lot but at the same time I make lot of sense, I have a good aura, I am confident I look good, I have a very good comic timing so I guess that was pretty good enough to be one and I try everyday to add more features towards perfection.
Who is your inspiration to enter entertainment industry?
Deepika Padukone, absolute stunner she is. The way she deals with everything is commendable. Mr. Shahrukh Khan, an inspiration. Dwayne Johnson, love that guy. Hugh Jackman, he is my biggest crush, I just dream about him Day and Night. Rounda Rousey and lot more but these are my Favorites.
What types of shows you anchored so far and which among them is most memorable for you?
I have anchored all kind of shows, and each one of the show/ event I do is important and memorable for me, but I love hosting concerts. I did Badshah concert twice in Gujarat, I think I love doing that and will do it often.
What as per you are the true qualities of a show anchor?
A: The only thing that I feel is the most important is the connect with the guests, audience and crowd. Bringing the energy of 100s in unity and bringing the house down is the biggest one, if you don't have it then your good looks, communication skills, expensive gown will not work.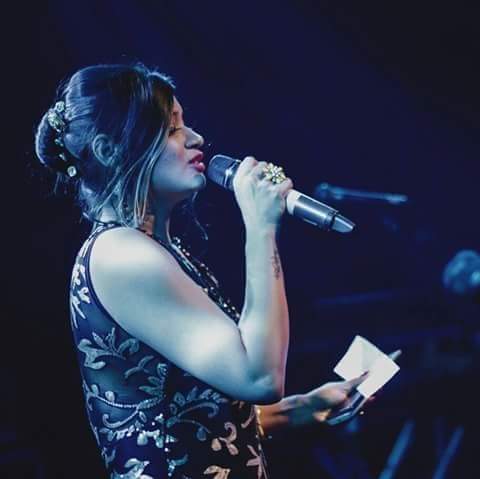 We came to know that do shows with celebrities. So share some experience about that?
A: Some experiences have really been good, when you have seen someone on screen and then one day you are sharing the stage with them is such a delightful feeling. You learn a lot from them. You realise that how modesty and humbleness is what take your celebrity status to a next level altogether. If not celebrity then you will be always remembered as a good Human Being and I think that is more important. There have been cases where celebrities were rude or may be the situation made them behave that way but then all I can say is Don't jusge until and unless you know what it feels and means to be in their shoe.
While doing shows you need to interact with people with different languages. How many languages you know?
A: I Love travelling and learning languages. I know Hindi, English, Nepali, Gujarati, Little bit of Marathi, Bengali and Tamil.
How difficult is for women in making their place in the world of entertainment which is hugely dominated by men?
I love this question, in event industry it is difficult for boys to make that cut. Clients/people prefer pretty face and peasant voice. It is one women dominated industry and I definitely love this aspect of it, but what makes it worst is competition with the same gender which definitely in major need of sisterhood and right way of conducting professional deals ( you know what I mean). But then let you Talent Speak, rest be kind, have a good heart and faith on yourself and you will see the competition as just as game on the tip of your fingers.
What else you love to do in life?
Reading Reading and Reading, something I owe my life to. I love reading and learning from books and applying it to my life. Love writing, watching movies, cooking, working out in gym, travelling solo, adventurous sports are my love, singing at Karaoke. I like almost everything and anything.
 
Where you see yourself 5 years down the line?
Monica Singh as a "Brand" !! Wait for it 🙂
Describe Monica – The anchor in 1 line?
Monica Singh, the Stage Alchemist. Explorer, Motivator & a Lot more than a Pretty Face!
All images displayed  are published with required permissions from Anchor Monica Singh