Aligarh – Movie Review
Aligarh Is A Movie That Promotes Human Rights And Democracy For All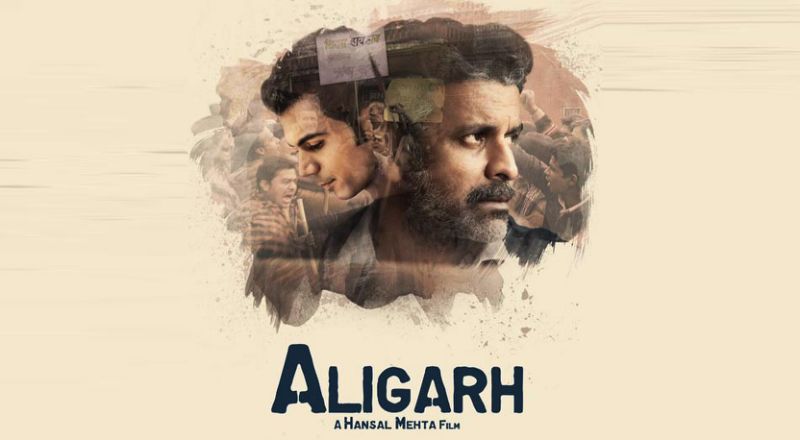 Movie: Aligarh

Cast:  Manoj Bajpai, Ashish Vidyarthi, Rajkumar Rao, Dilnaaz Irani, Sumit Gulati

Director: Hansal Mehta

Genre: Biopic, Drama

Rank: 4.5
It seems like it is the season of biopics in Bollywood as Aligarh is the second biopic to be released only a week after the extremely successful Neerja. It is based on the life of Srinivas Ramchandra Siras, a professor at the Aligarh Muslim University, and stars Manoj Bajpai, Ashish Vidyarthi, Raj Kumar Yadav and Dilnaaz Irani. The film has been directed by Hansal Mehta, who has earlier created stark and gritty movies like Citylights and Shahid. The movie was released in theatres on 26th Feb 2016.
After being promoted to the HOD of Modern Indian Languages, Professor Siras (Manoj Bajpayee) finds himself as the focus of anger and jealousy of his own colleagues. Things get out of hand when one day a journalist records the elderly Professor having consensual sex with a man. As a result the Professor faces the ire of the University management and is suspended from his duties. However, the story is picked up by Deepu (Rajkumar Yadav), who sets out to find the truth with his colleague Tashi (Sumit Gulati). As the professor knocks the doors of the court for justice, he is assisted in his struggle by a firebrand lawyer (Ashish Vidyarthi)
Aligarh is a film that is full of authenticity and emotional heft. Credit goes to director Hansal Mehta and scriptwriter Apurva Asrani for turning the injustice faced by Professor Siras into a movie that leaves the audiences thinking. Manoj Bajpayee has played the role of a lonely and ageing professor who loves his job and has few needs to the hilt. He has been able to bring out the discomfort that Siras and probably every other member of the LGBT suffers from on being labeled with some name or other.
Overall Aligarh is a hard hitting movie and IndiaCafe24 gives it a rating of 4.5 stars.
Reviewed By Meetu