Book Review- Survive To Thrive: Journey of Dr. Rajesh Soin- An Inspirational and Motivational Journey
Survive to Thrive: Journey of Dr. Rajesh Soin- An Inspirational and Motivational read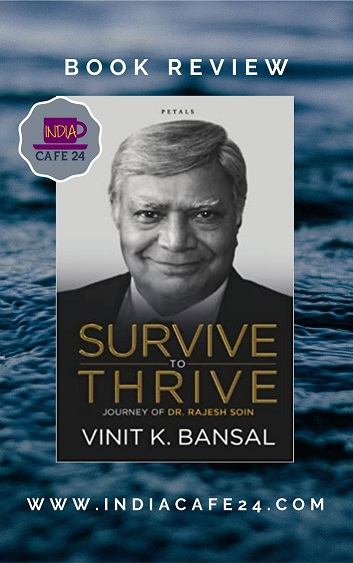 Publisher : Petals Publishers & Distributors
ISBN-10 ‏ : ‎ 8195060196
ISBN-13 ‏ : ‎ 978-8195060191
Rating: 5/5
Biographies are something that is now trending quite well in the book world. The fact is that there are inspirational people whose biographies can be motivational. Dr. Rajesh Soin is one of them. But I will not disagree that I was not that much aware of his work and journey as an entrepreneur before reading this book.
The credit goes to the author of this book Vinit K Bansal for whom I picked this book. I read a few books of his in my initial days as a blogger and am well aware of his writing style. So, it was not so difficult for me to pick this book.
What does the book narrate?
Dr.Rajesh is the founder, or you can say, the brain behind MTC (Modern Technologies Corporation). It is one of the known MNCs of the industry. His empire was not built in one day.
Countless barriers came in the life of Dr. Rajesh, and the story narrates how and in what manner he managed to make a premier place in the industry with the establishment of MTC. The overall content of the book will surely be motivating for you. It is because of the excellent writing style of the author.
What did I like about the book?
The fighting spirit of Dr. Rajesh impressed me and motivated me too.
There was an urge to look for solutions whenever in a problem. It is one such quality that helped Rajesh Ji to progress in life. I have immense respect for this man.
If there is a loss in life, consider it not to accept it as loss, rather a lesson to perform better. Dr. Rajesh taught the readers this big lesson.
Coming to the author… Vinit Bansal proved again how to keep the readers hooked till the end.
The writing style is unique, and that is what, I like about the author. The language flow is simple yet so smooth.
Final verdict:
In short, the book is quite informative and outstanding. Are you the one who is tired of repeated failures in life and forget what success is? If yes, pick this book and learn the mantra of attaining success after taking lessons from your failures.
I am thankful to the author for introducing the readers to the journey of Dr. Rajesh Soin in such an insightful manner. For me, this book is a definite 5 stars read.