Movie Review: A Thursday: A Captivating Story to Compel Introspection
Movie Review: A Thursday: A Captivating Story to Compel Introspection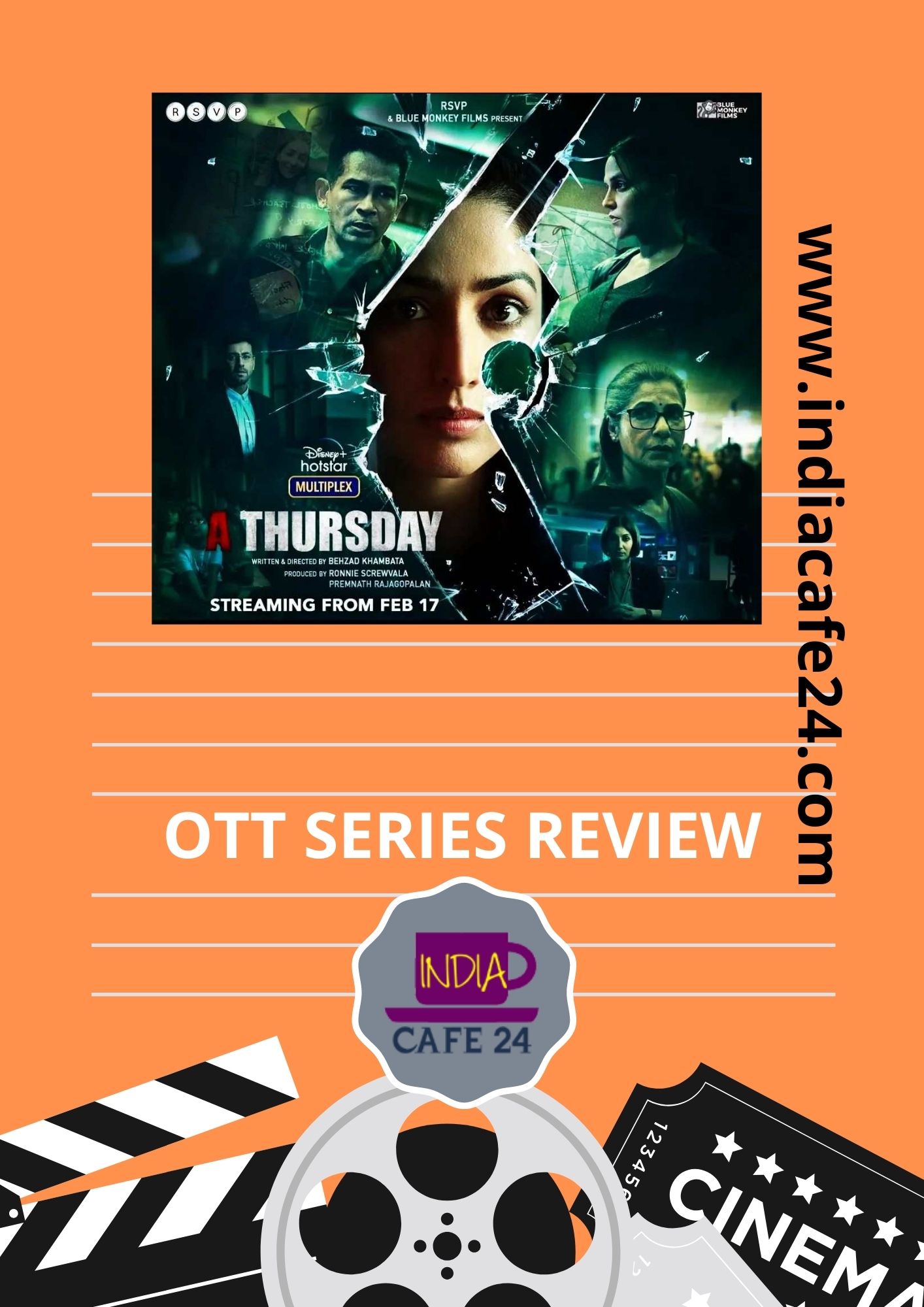 Web series: A Thursday
Cast: Yami Gautam, Neha Dhupia, Atul Kulkarni, Dimple Kapadia, Karanvir Sharma
Director: Behzad Khambata
Genre: Thriller
Ranting: 4/5
Based on a common woman's thrilling story, A Thursday can be best described as the spiritual sequel to A Wednesday. The main actors are Yami Gautam, Neha Dhupia, Atul Kulkarni, Dimple Kapadia, and Karanvir Sharma. The director of this film is Behzad Khambata, who made his debut in Bollywood directing through Blank. It got released on the OTT platform on 17 February 2022. It has a runtime of 2 hours 9 minutes. Now A Thursday steaming on Disney+ Hotstar.
Naina Jaiswal (Yami Gautam) is a playschool teacher by profession. On a fine Thursday, she calls up the police to inform them that she has taken hostage of sixteen prenursery kids. She discloses her demands one by one, varying from a large sum of money to meeting India's Prime Minister (Dimple Kapadia). ACP Catherine Alwaris (Neha Dhupia) leads the Mumbai police squad. She is towards the end of her pregnancy. Her deputy is Javed Khan (Atul Kulkarni) who is her ex-husband, who assists her in handling the case. Naina threatens the police that she will start killing the innocent kids one by one if they do not fulfill her demands. She also mentions she will do it in alphabetical order, adding to the brutality. The mass and social media immediately get involved in this incident and start anticipating the end of this negotiation.
A Thursday brings out many prevalent issues throughout the story. For instance, the director portrays how the news industry sensationalizes any incident in the name of breaking news. He also elucidates the overuse of social media in today's times and the anticipation of all citizens. The story is full of twists and turns, as it unveils in the second half. In the end, a solid social message is bound to leave the viewer's pondering over women's security. However, the movie has some technical faults that viewers may easily spot. Nonetheless, the thrilling background score and the gripping script make the movie, a must-watch. What impressed me more in this movie, is Yami's acting. Her acting was on a different level which I still date not experienced in any earlier films of her. What expressions and transitions in the change of facial articulations. I need to agree she overpowered all actors in the film. She showed her potential as an actor in this OTT release. Here is the official trailer
Furthermore, actors Neha Dhupia, and Atul Kulkarni have performed brilliantly in this film, for which IndiaCafe24 gives A Thursday 4 stars. 
Check out other Movie Reviews Here