Year 2015 Begins With The Remarkable Scaling Of The Female Protagonist Of India- Saina Nehwal
WORLD NO 1 IN WOMEN'S BADMINTON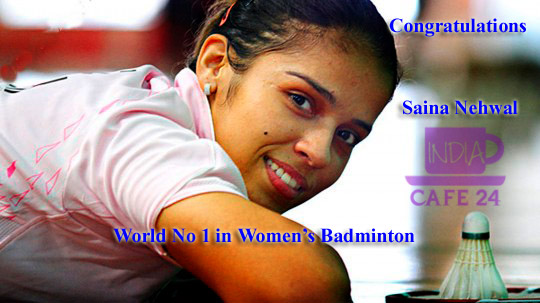 After the heart wrenching defeat of India in the hands of Aussies, it is a matter of rejoice for the Indians as Saina Nehwal ranks the number one position in the World of Women's Badminton. In Siri fort, Delhi, on Saturday, Saina become the no.1 woman shuttler representing India after Carolina Marin from Spain lost the semifinal round of Indian Open Super Series.
In an exclusive interview to the TOI, Saina was found quoting "When I joined the sport, I never thought of becoming world No. 1. It was only my mom's dream who would say, 'Saina you have to get an Olympic medal for me. That's it. Not world No. 1'. But today, I feel like 'Oh my God, world No. 1. Obviously it's huge."
To reach this very spot Saina had to fight series of injuries, years of difficult slogging and had to face many heart breaking defeats. She grew stronger and stronger with each failure and with a smashing comeback stroked the no.1 ranking creating an Indian history.
Saina trains hard under Vimal Kumar, the former Indian National Champion in Prakash Padukone Badminton Academy in Bangalore. It's been just 7 months that Saina had been training under Kumar and these months of rigorous practice of smashing strokes made her victorious. Today Saina holds the very position which Padukone has achieved 35 years ago.
Saina's achievements are not mere numbers; it is much more than that. Saina's fight was against the very country China which has been producing athlete champions like machines for years now. Thus, to be rechristened it was a match of "Saina vs China".
The champion was also found saying in an interview that "Every player dreams of being here. Li Xuerui was there for almost one and half years. We all used to see her name there. Now I hope there will be a change in the name. It's all because of the performances I have come up with. I would like to thank Vimal sir. He is putting a lot of effort and he has lost a lot of weight," she said breaking the audience into laughter.
Respect Saina