The Inspiring Journey of Rocketfood Revealed By Anurag Singh
It was the firm decision of 2 friends to create a niche in the food industry and for that they decided to launch Rocketfood. Its an Honor for us to have Anurag Singh with us who shared with us the duo's journey as  entrepreneurs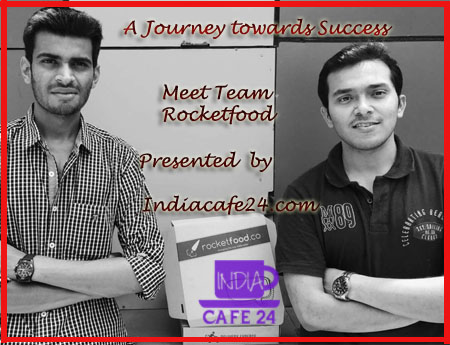 1) Welcome to the Platform of Indicafe24.com. We are happy to have you with us for this session. Before we go straight to the startup journey of Rocketfood – Will request you to introduce the talented team to our readers?
— Thank you! My childhood friend Abhineet and I started Rocketfood. Abhineet is IIIT Hyderabad dropout, he is a Kairos Fellow and has worked with Mast Kalandar, Bangalore and iStrategy Labs, Washington DC. I am a Mechanical Engineer and I have worked with OYO Rooms & Digitally Inspired Media before.
2) How and when the journey of Rocketfood ? Say something about the startup journey and concept behind this venture.
— We started in August, 2014. The concept behind Rocketfood is to change the whole experience of eating North Indian food delivered at home through our tech-enabled customer ordering, per serving concept, convenient packaging where you can eat even on the go and at the same time, keeping the backend operations lean.
3) These days the startup firms are found to get connected with some social work activities. Anywhere Rocket Food also contributes towards social work and If yes, how?
— Yes, we are trying to make a difference in our own small way. We launched 'Giving Back' campaign internally and we donate food to underprivileged kids. We also encourage our customer to reduce water consumption by serving them food in convenient packaging. Hence, they don't need to use utensils and wash them later on.
 4) Is there any story of inspiration which provoked you guys to take up this venture?
— It all started when Abhineet discussed the idea of a food-delivery service with me and I was super excited about the whole idea. I quit my job the next day and before we could realise we had already started working on the idea.
 5) Please give a brief about the USP of Rocket Food?

30 mins delivery: no North Indian cuisine player in the market can deliver on this with the same consistency as us
Our packaging (our thali comes in a pizza box http://bit.ly/rocketmeal ) – very convenient to eat gravy etc even in a moving car and utensils aren't needed as well.
Our pricing is per serving or per piece which gives more choice to customers in limited budget as well as favours individuals to order affordable meals http://bit.ly/rocketfoodmenu
Our ability to provide superior customer experience consistently as we own the whole supply chain and making the process better through technology.
6) What are specialties in the food you are serving?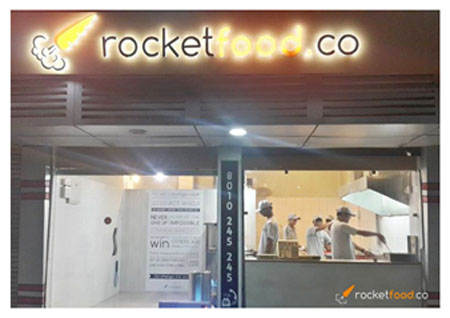 — Optimal usage of oil and spices differentiates us from most of our competitors. We have tried maintain a balance : goodness of home cooked food and taste of restaurant food so that it's fit for customers to order multiple times in a week. That's precisely the reason, 50-60% of orders are from our regular customers.
 7) Who are your targeted customers?
— Initially, when we started our targeted customers were students and working professional. Over time we realised since the whole experience of Rocketfood is so smooth, even housewives and families are opting for Rocketfood and the percentage is going up every single day.
8) For any startup business funding is an area of concern. What is the source for your capital and initially with what amount you started?
— True, budgets are always a concern but if you have financial discipline, things are not that tough either. We are bootstrapped and our initial capital was 25L.
 9) Challenges are part and parcel of any business, so what sort of challenges you faced?
— Some of the challenges we face on a regular basis are :
Cost cutting without hampering the high standards of quality we have set over the past 8 months
Ensure our operations are sound always
To be always on our toes to match the unexpected surge in demand
Innovate regularly and efficiently to ensure customers are awestruck every single time
 10) Where is the outlet of Rocket Food located and how you operate to deliver food to clients?
— We have our Central Kitchen in Indirapuram which also serves as our Delivery Center for Indirapuram, Vaishali, Vasundhara and a few sectors of Noida. We have another Delivery Center in Noida Sector 29 which caters to most of the sectors in Noida.
 11) What is the team size of Rocket Food and is there any plan to expand the team size?
— Currently we are a team of 30 people and yes, we are always on a lookout for passionate and talented people.
12) Share some WOW moments of Rocket Food.
— There have been times when people have called us to appreciate our food quality and customer experience. These are the moments which inspire us to work relentlessly every single day.
 13) What's the Mission and Vision of Rocket Food
Mission : To become a food brand that owns the supply chain and the primary mode of distribution is technology.
Vision : To become the go-to food brand. We aim to establish Rocketfood as a brand which enables you to order food from different cuisines along with our packaged food through our mobile application and buy them at supermarkets
 14) Describe Rocket Food In one line?
— We are changing the way India eats!