Where Hope Grows- Movie Review
Where Hope Grows- Another Routine Hollywood Script; Nothing Outstanding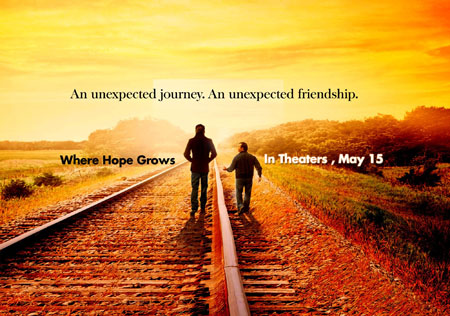 Movie- Where Hope Grows
Cast- Kristoffer Polaha, McKaley Miller, Kerr Smith, William Zabka
Director- Chris Dowling
Genre- Drama
Rank-

Indiacafe24 reviews 15th May's Hollywood release "Where Hope Grows" in Entertainment News section

"Where Hope Grows" is a Hollywood drama film written and directed by Chris Dowling. The film was released on 6th April 2014 but was released on 15th May 2015 in the United States. In USA the film was released and distributed by Roadside Attractions.
The movie is a watchable drama, nothing outstanding, and with a common script. It is a melodrama circling an ex-basketball (Kristoffer Polaha) player who has gotten into the habits of drinking like a fish. Polaha finds purpose in life and lands up in making a friend back in his home town. His new friend is a boy in his teens having Down's syndrome. The boy has a nickname, Produce and has a job in the local departmental store where Calvin runs into him.
Calvin is a single parent of a teenage daughter Katie Campbell (McKaley Miller). She in her teens makes a series of bad choices which Calvin is too tipsy to notice. Calvin is so drunk, frustrated, bitter, and cold over his lost basketball career that he hardly notices his daughter getting strayed away.
This when Produce steps in Calvin's life and change his life for good including his relationship with his daughter.
The actors pulled off their characters well; however, the story line is quite common and thus, did not have the desired result on the viewers.
If you have some 2 hours to spend over the weekend then you can watch this movie although it is better if you do not hope to get the best out of the movie.
Indiacafe24 ranks "Where Hope Grows" with 2 stars.