SaiKiran Gunda – His Journey In Entrepreneurial World
If you want to dream to make something unique in this world take inspiration from SaiKiran Gunda. His every word and his every act will surely inspire the budding entrepreneurs. He joined us to share his amazing journey so far. Check out what he shared with us……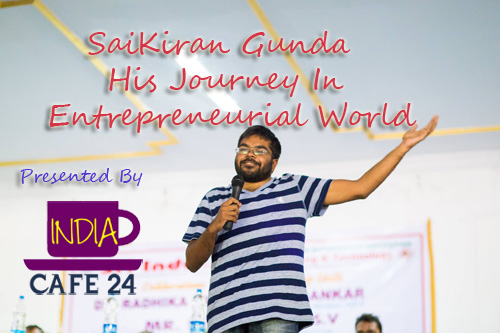 1) Welcome to Indiacafe24.com.Sai, before we take this interview forward will request you to introduce you to our readers and tell something about you and your family?
 – – – Thanks for having me on your portal, I am so excited to share my journey to your viewers. I hope my insights are helpful to all the aspiring entrepreneurs. So about me, I am SaiKiran Gunda ( yes it is Gunda 😀 ), I am the Founder and CEO of Memilog, Founder of APFAGO Softwares, Founder and CEO of Startup Cricket League. More than anything I believe I am a Thinker and Doer, I ideate upon a lot of opportunities and I also execute the ideas. I am an IT graduate from Hyderabad and Serial Entrepreneur post graduation initiated a lot of Ventures and ideas. 
2) When and how the journey of a entrepreneur started in you?
 – – – I think the journey of an entrepreneur cannot happen in a moment or by any incident, it is in the lifestyle or in the way of living. I think I have always been so keen into observations and finding the opportunities and been a thinker by which I have always found a lot of ideas to work on and been so curious to execute to make it real. In my engineering, I had super crazy, serious and problem solving ideas and worked them with a smaller teams project by project. During this time, I found I am good with executing ideas and solving problems and this has been super satisfying and also addictive. I think this has attracted me to the life for taking up Entrepreneurship as my way of life. I decided I would do a startup and I did right away in my college which was APFAGO Softwares and right after my college, started working on the idea of Memilog.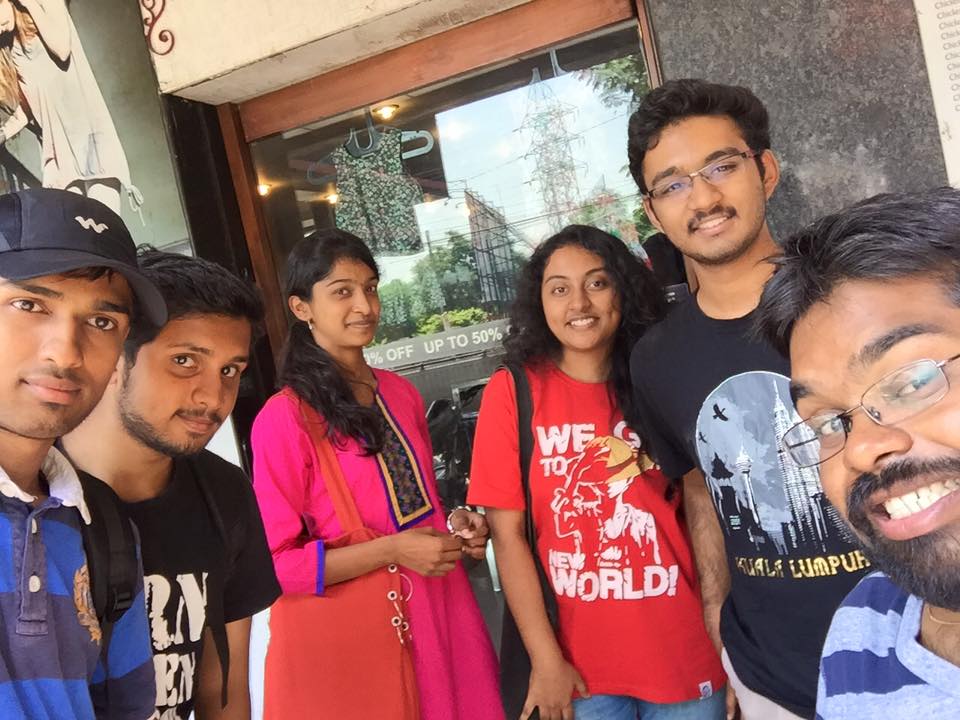 3) Don't you feel that the life of an entrepreneur bit risky in comparison to a professional with a secured job? What exactly tempted you to launch your startup?
 – – – I never think the life is complex, risky or whatever. I think life is what we love. So I have always believed anything is risky or easy. Everything is easy and everything is risky too. I just believe it is not risky when you do with your interest and passion and you are having fun. I think solving problems was easier for me as I have been doing it multiple times in college and I have learnt the process or the ways to do things. So I think it has become easy for me to start right away after my college as I already have built the levels of confidence and strategies and mindset and character required for Starting up.
4) How your family reacted when you disclose the news that you are all prepared to start your start up?
– – – I have started my first venture right when I was in college. I didnt need to tell or make my parents know about it as I was still into the College. So after my college, I wanted to start working on Memilog fulltime and keep this idea going into reality. So I have said to my parents I would want to work on my own ideas. I think I already have built enough of trust and confidence in them to make myself work on the ideas I have planned. They were super cool with the idea of my own Startup to work on and have always supported me.
5) Say something about Memilog. Whats the concept of this project and how it came to your mind?

– – – Memilog – MEMories I LOG – Memilog is an online portal for saving memories. It is an online and virtual diary where one can save their memories and their daily stories for ever. It is private, secured and faster to store and retrieve the memories. So the Memilog is made for storing the personal and private journaling online and mobile.
 The concept of Memilog has come over a time. I have always been into writing diaries from my childhood from 6th standard. I have been writing my journals since then with a lot of caution for security and mobility. I have always had a lot of problems to solve to maintain the diary writing and most of the times I have addressed them like I moved to computer docs from the traditional diaries to have unlimited space to write the stories. Then the security was the next big issue I had to solve and kind of data to store like Photos, Locations, etc. So this all needs to be addressed and Hence Memilog. 
6) Is there any specific reason behind naming it Memilog?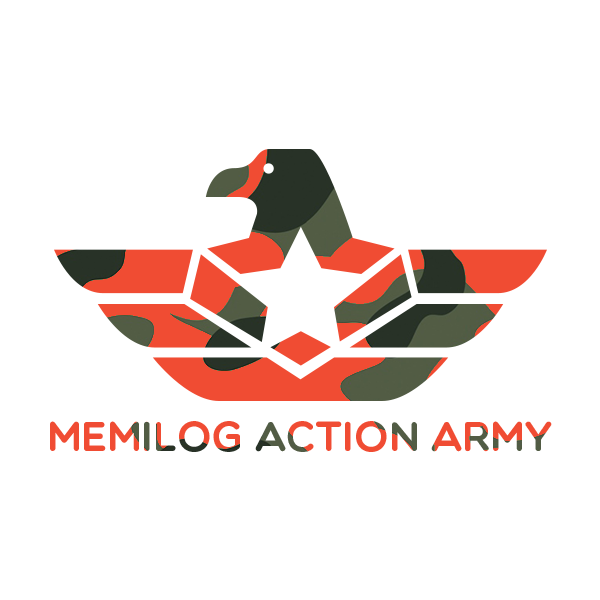 – – – Memilog. So before Memilog I have so many code names for this project. I used to call it "Memory Project" for the first time I started it. Then for sometime I called it "MemoryPal" meaning, friend of all our memories. Later I had the name "Storemem" which was pretty straight forward meaning to Store Memories and also a fragment part of Remember in it. During the time of development of this project and at the very ending stage of first phase where we were really close to production or making it live, we have to name it permanently with the availability of the domain too. I had to work on the name for 20 solid days to make the combinations and etc. I had all the words relevant written and had to match and check the names if available. So word Memilog has derived from three words. Memories and I and Log. During our development we were going through the error logs of our application and were so amazed how important the Error logs of an app is. That day I suddenly have got an idea of matching or combining the words with Log and Hence Memories and Log and since the diary is written by oneself which is I. So is MEM I LOG.
We were fortunate to get the domain too. This name really made me ring the bells in my brain to wow levels. I love this name more than any names I had before.
 7) Will insist you to introduce the talented team of Memilog?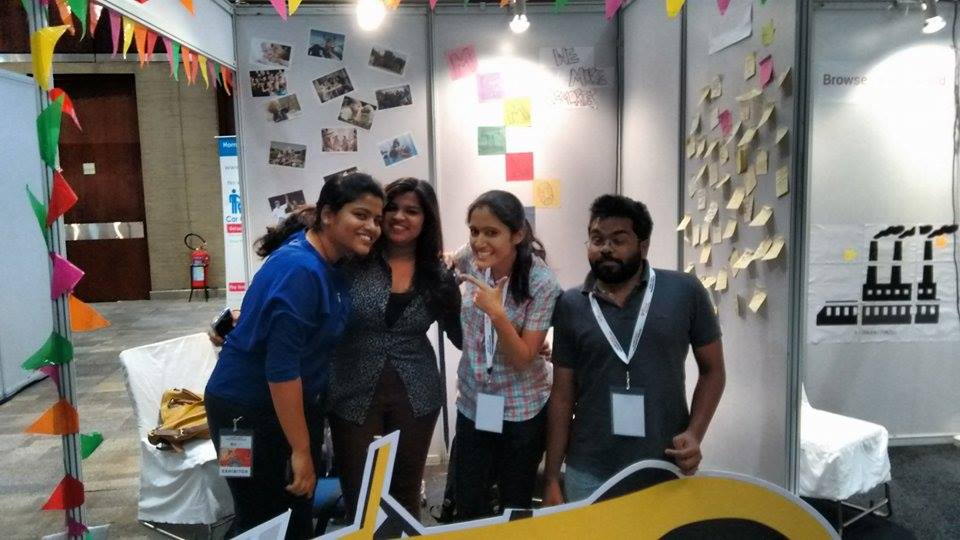 – – – Memilog and super talented Team. For Memilog, we have super amazing core team of 4 lead by Me with a designer, Pushkar Priyadarshi, a Developer with 12 years experience, Sathya Murthy and a Writer friend of mine, Samantha Pandyan and an Android Developer, Sai Mukesh. The Team is super experienced and amazingly passionate and mad about the stuff they are doing. With the core team, we always had tens of Interns from various colleges. These Interns are so mad and super crazy with energies and enthusiasm and excitement. We have names to our teams. The Core team of Memilog is called "Memilog Core Team – MCT" and the Internship program at Memilog is called "Memilog Action Army" as I believe the students are so powerful and energetic and I think it is an army with many such forces working together for one cause. We call all the interns as Soldiers. We have a super amazing website for this program, http://maa.apfago.com/
 We had more than 150 soldiers till now working with us in different times in an year. Students helped us with a lot of campaigns and events at various places.
 8) What type of response you are getting for Memilog?
– – – Responses we get for Memilog, we get a lot of feedbacks expressing the love towards our app. There are not such applications which are addressing this problem of writing diary. People love the way we have built the whole applications. We have a super system for the feedbacks and improvements from our users. They write to us with the features and ideas they have.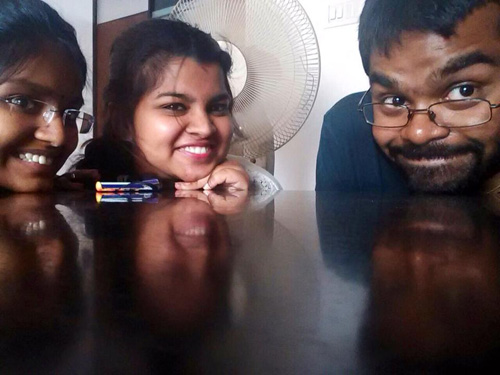 9) Funding is matter of concern for any start up. So how you managed to arrange the fund?
 – – – I think funding is kind of fuel for a journey but you gotto have a vehicle in first place to start the journey. I think we gotto start the journey with a least form of transportation which can be a bicycle so we gotto run or travel the journey with our own forces for sometime and on the way we gotto inspire and share the true energies of this journey to make the upgrade of the vehicle and then fuel. So we have run with our money, infact I believe we have been running with our mental powers, with the ideas and the power to make teams and energies of Students. I think we have been totally believed in the ideas and power of brain. It can be for marketing, networking, social media, etc. One can do alot more than what just money can do with the brain power. But money is so crucial when we reach a position of scaling up the startup and we have been in talks with investor firms about this and I believe we are so close to celebrate. 😀
 10) What else you love to do apart from professional activities?
 – – – I think I am totally into Startups and the activities of startups so much and I think and ideate a lot things and this gives me a lot satisfaction and happiness than anything. I do watch movies a lot and a lot of history based movies. I love to network and meet new people. I love to talk to students and guide them to work on their own interests. Every other thing I can do only when I am in a good flow of my works, cuz I can never have a super inner peace if I am not working on my ideas.
11) What other projects are there in your mind?
 – – – I have a lot of ideas and projects to execute. This is just a start. Now I have initiated a software services venture, APFAGO Softwares, The internet product, Memilog and the other Startup initiative called Startup Cricket League. I have been working on other idea which for now can be called "Project GUNDA X" 😉 which gonna change a lot of thing in current world and create revolution. I have many more ideas which needs to be taken out to this real world.
12) Whom you consider as the inspiration in your life and why?
– – – I think the inspiration should be coming with in. I believe in my own self and I generate a lot of motivation and inspiration from my own self to do and achieve much more. I think the energies and the motivations and for all such things we should not be related or dependent on anything external than us because that connection can be broke or disturbed or broke. I think I can be the best person to know about me and I can be the greatest person to support me and push me up. I am self obsessed. I have a super higher belief in myself.
13) Share some WOW moments of Memilog journey?
 – – – I think every single moment in Memilog journet is WOW moment. The time when I have made the portal live to the time I have got the 50,000th user. I think every campaign we did was super amazing as we have done each and every campaign with energies, beliefs and madness but not money and mainstream. I think the journey of Memilog is the story I can write and proudly say is the best one as I have done so many such things which were so unconventional with a lot of madness and craziness. EVERY MOMENT WAS WOW.
14)  Give some Guru Mantra for budding young talented start ups?
 – – – The only thing I can say about Entrepreneurship is that to do What you love and should believe in one self so much that nothing else matters and should go at the goal with clear vision and sure path. One should be so patient about the idea and should do it the way they want. There are no formulas to do anything. I have a quote to share "I think Entrepreneurship is like celebrating your birthday, every single Day". I would say an entrepreneur to compete with time. Get inspired by time as it never stops or can never look back.