Chalk N Duster – Movie Review
Chalk N Duster Is A Sweet Simple Movie That Delivers A Strong Message To Society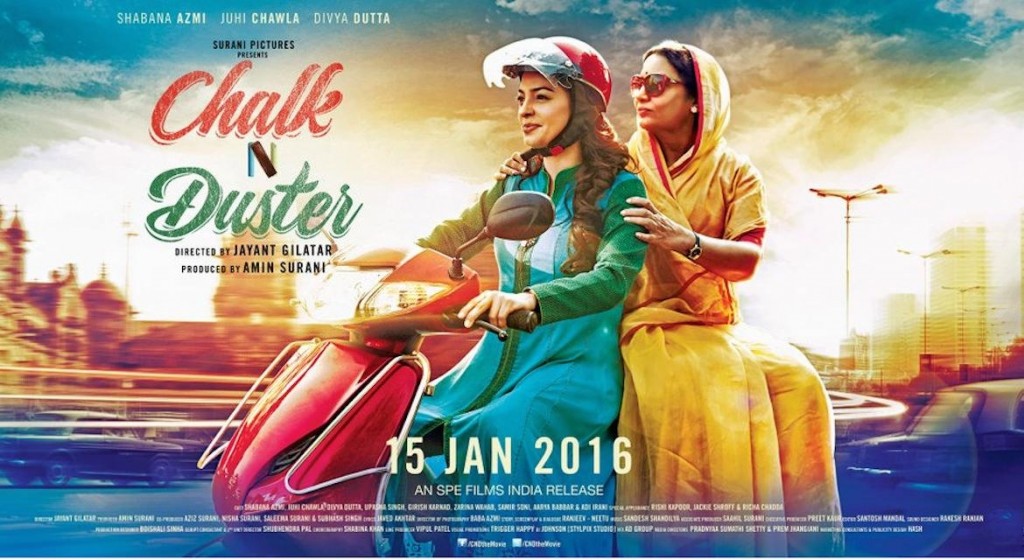 Movie: Chalk N Duster

Cast:  Shabana Azmi, Divya Dutta, Juhi Chawla, Zarina Wahab, Rishi Kapoor, Jackie Shroff, Girish Karnad, Arya Babbar, Upasna Singh, Gavie Chahal, Samir Soni, Deepali and Saheeba Khurana.

Director: Jayant Gilatar

Genre: Drama

Rank: 4.5

Chalk N Duster marks the debut of Subash Singh as a producer and the movie created a lot of buzz primarily because of its ensemble star cast. The movie features veteran stars such as Shabana Azmi, Divya Dutta, Juhi Chawla, Zarina Wahab, Rishi Kapoor, Jackie Shroff and Girish Karnad along with younger actors including, Arya Babbar, Upasna Singh, Gavie Chahal, Samir Soni, Deepali and Saheeba Khurana. Directed by Jayant Gilatar, the movie was released in theatres on 15th Jan 2016.
Chalk and Duster tells the tale of two teachers Vidya (Shabana Azmi) and Jyoti (Juhi Chawla), both of whom are sacked from their jobs for being outdated. The cunning and ambitious school Principal Kamini Gupta (Divya Dutta) is out to revamp the school and feels that Vidya and Jyoti do not fit the role of modern teachers. However, rather than accepting their termination as their fate, the two teachers join forces to seek justice and get back their jobs and their dignity. In the process, they reveal drawbacks of the constantly changing education system and the problems faced by the especially the senior ones.
Despite being an out and out commercial flick, Chalk and Duster manages to give out a strong social message in a heart touching manner. The three main actors namely, Shabana Azmi, Juhi Chawla and Divya Dutta deserve much applaud for their great performances. Even the simplest of scenes look extremely emotional and realistic adding to the beauty and strength of the movie. Even though other veteran actors have only special appearances their characters are well defined adding value to the plot.
Chalk And Duster is one movie that you must watch for your teachers. IndiaCafe24 gives it a rating of 4.5 stars.
Reviewed By Meetu