Chhota Bheem Himalayan Adventure – Movie Review
The Heroism Of Chhota Bheem Is All Set to Enthrall The Audiences On Big Screen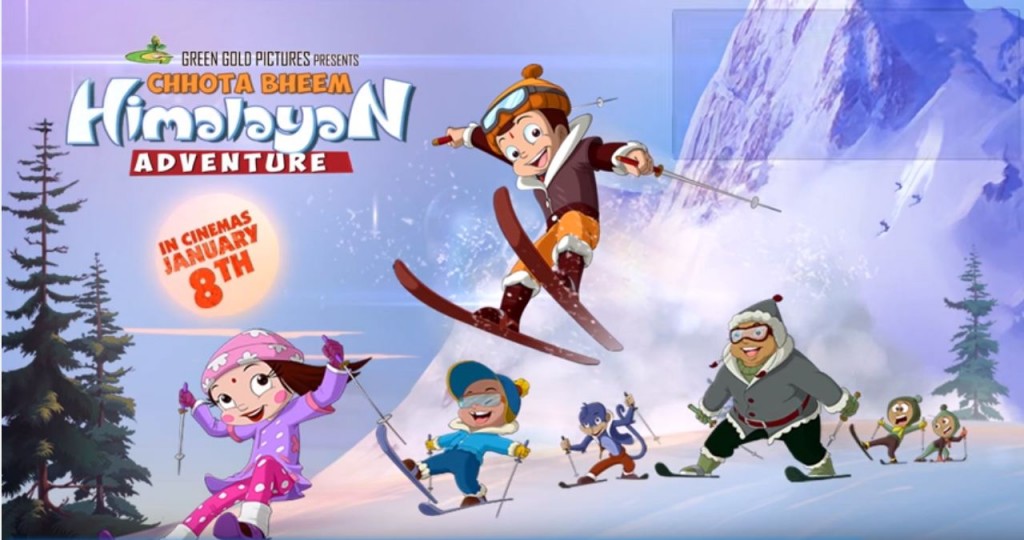 Movie: Chhota Bheem Himalayan Adventure

Cast: Rupa Bhimani, Jigna Bhardwaj, Rajesh Kava, Julie Tejwani, Kaustav Gosh and Sabina Malik

Director: Rajiv Chilaka and Rusaro B. Adorable

Genre: Comedy, Adventure, Action

Rating: 3

The thrill and fun of the famous TV show, is brought to the big screen with this animated movie directed by Rajiv Chilaka and Rusaro B. Adorable. The voice over for the characters has been done by Rupa Bhimani, Jigna Bhardwaj, Rajesh Kava, Julie Tejwani, Kaustav Gosh and Sabina Malik. The movie was released in theatres on 8th Jan 2016.
Bheem and his friends from Dholakpur, undertake a trip to Manali to enjoy the snow and the various winter sports activities. Unknown to them Manali is being terrorized by a powerful and dangerous dacoit named Hidimbak, who wants to steal all the riches and become the king. Assisting Hidimbak in attaing his nefarious goal, with the help of his magical powers, is Hidimbak's young nephew Ghatto. On reaching Manali, Bheem and his team befriend a brave soldier named Dhiru, who guides them to their father, an expert skier. Bheem and his friend master the skill of skiing and use it to fight off the villainous Hidimbak.
Although the film is targeted for kids, it provides great entertainment for the entire family. The film not only offers some of greatest lessons of life but is also full of slapstick comedy which makes it absolutely funny and interesting. The focused storyline and fast pace of narration ensures that the audiences don't get bored or feel that the movie is too preachy. It is a sincere film that has its heart in the right place and endears the audiences of different age groups.
Overall Chhota Bheem Himalayan Adventure is a good one time entertainer and Indiacafe 24 gives it a rating of 3 stars.
Reviewed By Meetu