Saranya Umakanthan- The Charismatic and Talented Author
An engineer by profession and author by passion with a sober and simple approach towards life made Saranya Umakanthan different from others. I am lucky to have an interesting chit chat session with this amazing lady. She shared many things about her life and her journey as an author.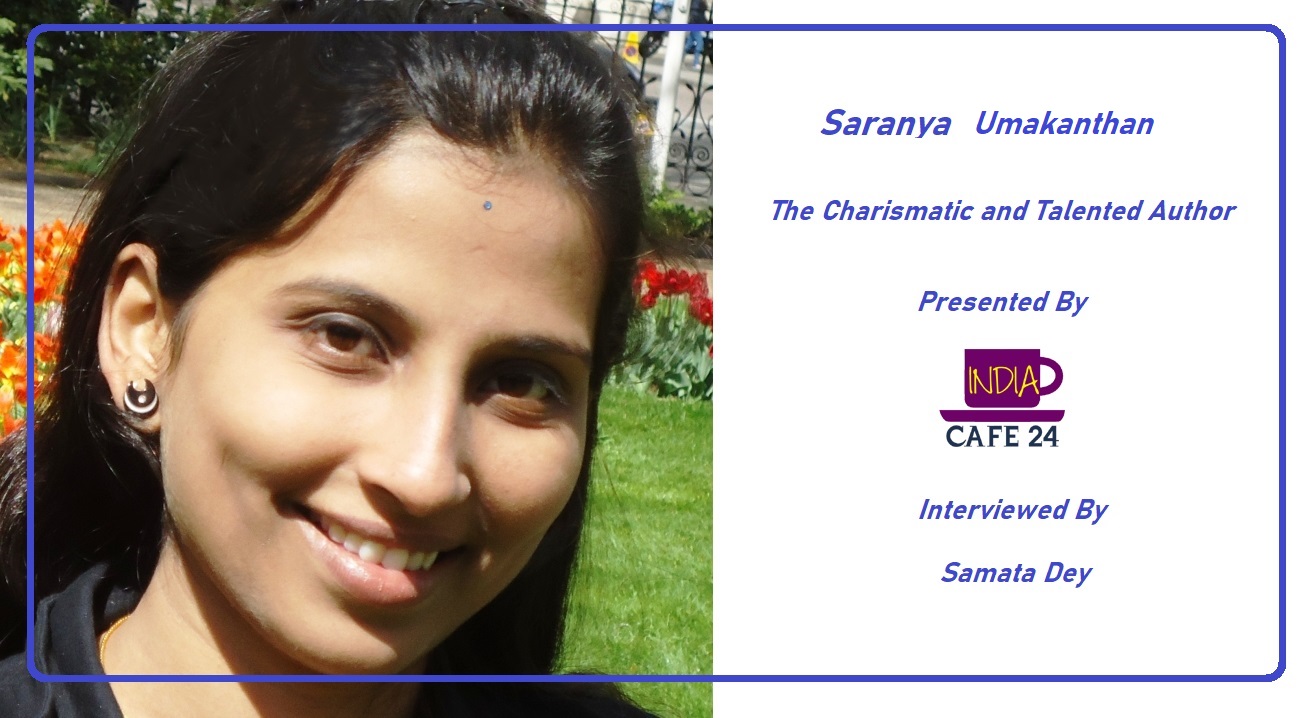 1)     Welcome, Saranya! It's a pleasure to have you on Indiacafe24.com. Our readers would surely want to have a sneak peek about you and wish to know about you. Kindly share a brief about you, your education, and your family.
A Postgraduate in Computer Science from Madurai Kamaraj University, I am a Software Engineer by profession. A dog lover at heart! I am from a small town, Virudhunagar, working at Bangalore at present.
 I have tasted success when I received gold medals from the Honourable Governor of Tamil Nadu for topping the University twice but real contentment and ultimate satisfaction took me over when I signed my first contract as an author.
I am a happy mom, who needs more than 24 hours in a day to manage a full-day Software job, a writing career, and my little toddlers. Amidst all this hustle and bustle, if I manage to get some 'me' time at the end of the day, I sit in my balcony and relax, enjoying the night sky and a cup of coffee.
I am also a happy introvert who can survive in a book-store for hours and get enchanted with stationery items like the pens/diaries/notes.
2) Which authors and their work inspired you the most?
The list is long. I love books written by Daniel Steele, Amanda Browning, Lynne Graham, and Patricia Wilson. When I was young, I used to crave for "Nancy Drew" books. Ned Nickerson was my first book-crush.  Then, there was a time when I fell for the tall & dark, Harlequin fiction heroes. Now my reading interests vary from romance to mysterious subjects like the afterlife, aliens, historical realities, and ancient mysteries.
3) Can you recall that moment when you first realized that there is an author within you? Or was it someone else who discovered the author in you?
Even from my childhood, I loved writing. I realized that there is an author within me when I enjoyed writing an emotional short-story long back and was doubly convinced when I received a prize for the same from my school. It gave me the strength to start with.
4) One Day, Life will Change is an interesting title. Tell us more about the book and your feelings when you got hold of the first copies of the book.
It is an inspirational romance, which will make you go through a multitude of emotions and feelings. It is about the protagonist Samaira, who has lost everything in her life including hope.  She questions God – "Why me?" like most of us do. Reaching her limit of endurance, she was about to give up when she meets the dashing entrepreneur, Vivian whose ideals are exactly opposite to hers. Traveling together in their journey of life, this story is about how they tackle the hardships that life throws at them.
No words to express what I felt when I saw my work as a book in my hands! It looked awesome. I loved its feel… the shape… the size. the beauty of print… the paper touch… the texture… the heavenly smell… the rustling sound, when I turned the pages. As an author, it was a mind-blowing moment for me.
5) How do you develop the plots for your books?
I jot down the ideas flashing in my mind, out of nowhere. I carry a notebook with me always. If I don't have a notebook handy, I use my mobile. Once I get a convincing plot, I start building on the other elements like the characters and the backdrop.  Once everything is set, I begin writing and connect the dots along the way. I make the scenes and the dialogues on the fly.
6) How have the readers responded to One Day, Life will Change?
It is awesome! I never expected such an overwhelming response. The first print run is sold out and we have gone for a reprint. My Insta is flooded with reviews from people who have read the book. I would like to thank all of them for taking their time to write to me. Without their support, I am nothing.
I was elated when they told me that they could feel the emotions of Vivian and Samaira. I feel as an author that is the greatest compliment, you can ever get.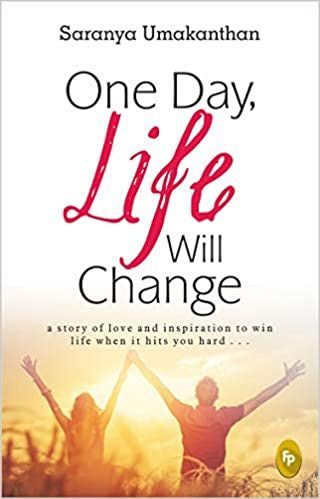 To read the review :

Click Here
7)  The conflict between the publishers and authors is very common. Have you faced such a problem while finding a publisher for your book?        
Finding a traditional publisher is tough for any debut author and it is a time-consuming process as well. I had my fair share of struggles, disappointments in finding a good publisher and I was screaming with joy, when I signed my contract with Fingerprint Publishers, one of the best in the industry.
8) Does poetry interest you? Any plans to try this genre?
It does interest me but as a reader. I don't think I can do justice to the art of writing poetry though.
9) What are your other passions in life and what else would you want to try out in the near future?
Apart from reading /writing, I love baking.  I am a foodie! The smell of freshly baked cakes and the fragrance of the paper books! I love them.  I am a gadget freak as well. Though I don't get time at present, I plan to conduct creative writing workshops in the future for kids and adults to groom and hone their writing skills.
10) Any plans to become a full-time author or maintain the current dual role of an engineer and author?
For now, I will continue to play the dual role of an engineer and author. I have other personal commitments to consider before giving up my software job. But my future plan is to become a full-time author someday.
11) Coming back to writing, what's next in the pipeline? And what genre?
My next one is a story of love, pain, hope, life & finding happiness. The genre is the same – Inspirational Romance. I have found my readers here.
12) Please share some tips for young authors who wish to make a mark in the industry with their work?
Writer's block is a myth. Don't believe it. Don't procrastinate. Most people don't realize that writing requires effort and time. If you are passionate about writing, then make it a regular habit and keep writing from your heart. Feel the emotions. Let the words flow. Don't stop and don't give up ever.
13) Define Saranya Umakanthan the author in One line?
 I am the same person, be it an author or a software engineer or in any role I play.
If you want me to define in one line, I'll say  –  Saranya is a loyal, emotional, and a straight-forward person with her own set of flaws and strength.
Interviewed By Samata Dey