One Day, Life Will Change By Saranya Umakanthan – A Book Review, #Book Marathon
One Day, Life Will Change By Saranya Umakanthan – A Book Review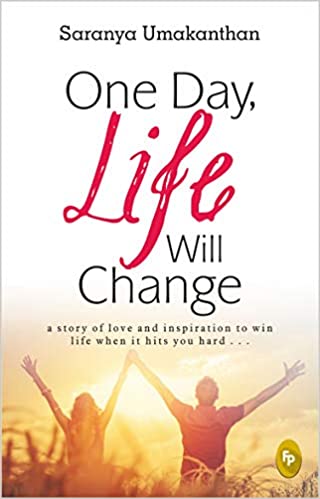 Publisher: Fingerprint! Publishing

Publication Year: 2020

ISBN-10: 9389717841

ISBN-13: 978-9389717846

Pages: 224

Rating: 4.3 on 5
I do not like romantic novels much, but there are some books from this genre, which I really cherish and  One Day, Life Will Change definitely falls in that category. Written by Saranya Umakanthan, the book presents a relatively realistic image of love. The cover page of the book is well designed and practical rather than being an onslaught of bright colors and cuddly couples. This in itself gave me reason enough to start reading the book in earnest.
Having finally freed herself from an abusive marriage, Samaira is all set to resume her old life, when tragedy strikes in the form of the death of her family in an accident. The deep sense of loss makes her feel dejected and brings her to the lowest point of her life. Then She meets Vivian, the successful and dynamic head of her company and she is almost immediately attracted to him.  Vivian is also smitten by the beauty and mysterious aura of Samaira but fails to understand why she keeps running away from love and hope. Will the relationship of Samaira and Vivian end up being just another good office romance, or will Vivian help Samaira forget her painful past and restore her trust in love and relationships?
The best way I can define the book is that it makes for a relaxing and comfortable reading experience. The book did have some editing issues, but overall it narrated the tale of a tender romance in such a beautiful manner that it touched me at various emotional levels. The strong characterization, the flawless narration, and the well-executed plot all combined to make this book truly appealing even for someone like me with little tolerance for romance novels. I wish Saranya all the best for the success of her debut novel and hope to read more of her work in the future.
Special Thanks to Fingerprint! Publishing and Prakash Books for providing a Review copy of Life Will Change By Saranya Umakanthan