Rajdeep Chowdhury – The Man With A Poetic Vision
Being poetic in this complicated world is bit difficult, but Rajdeep Chowdhury  made it possible. A techhy guy by profession and an emotional poet by heart. Rajdeep joined us to share  his story of being poetic.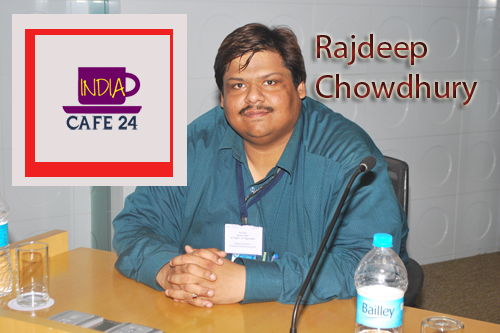 1)  Welcome to the world of indiacafe24.  Without wasting much time we will request you to introduce you to our readers who will love to know about you.
At the very inception, I would like to convey my gratitude to India Café 24 for having me in their world.
"Work until you no longer have to introduce yourself."
I feel that I have just initiated my voyage and would love to protract my creative edge always.
I am an academician by profession and am an Assistant Professor in Department of Computer Application at JIS College of Engineering, Kalyani, West Bengal.
I am presently engaged with submission of my Ph.D. thesis at University of Kalyani.
I completed my MCA from JIS College of Engineering and am an alumna of Don Bosco.
I hail from a family of academicians and creative persona and am blessed to inherit the inspired excellence of my Mother.
I have authored more than 60 research articles/papers in refereed National/International Conferences/Journals. I have been associated as Program Committee Member/Reviewer for 45 National/International Conferences all around the world and member of Editorial Boards of 18 National/International Journals all across the globe. I am recipient of numerous accolades, awards and honor by corporate bigwigs and academia.
I have an intense fervor towards academics and creativity and more so towards attainment of excellence in academics and its allied avenues with creativity at the helm.
My motto in life has been 'Expressing to the highest esteem at all instant.'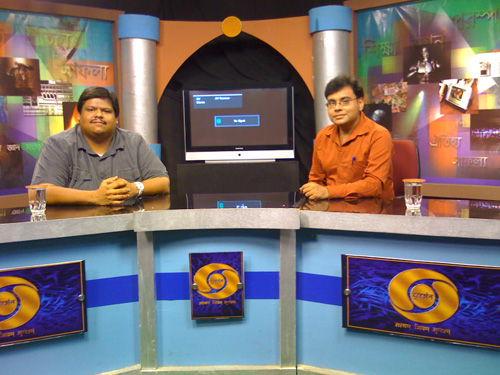 2) How you entered the world of writing and how it happened?
"Small opportunities are often the beginning of great enterprises."
 Becoming an author was always my passion and I used to pen my notions into poetic silhouette and when the opportunity arrived, I grabbed it.
Copious call for papers is received by me every day and suddenly one mail stated call for poems.
I was extremely ecstatic to have the Invitation from the organizers of 7th International Poetry Fest at Guntur, Andhra Pradesh.
I send two poems to the Fest and both got selected as well as exceedingly appreciated and stay part of an Anthology 'The Rainbow Hues.'
The initiation of publication is in course till date.
3) Rajdeep you are a complete technical guy by qualification and profession too – How come your technical brain provokes you to write poem which is definitely a part of creative world.
I have been asked the identical question by numerous individuals in the recent past.
Technology and Creativity are coalesced, as no technology would be effectively sustaining without creativity integrated and it is imperative for creativity to correlate with latest technology in proffer.
Although, I am a technical guy by qualification and profession, but I am a creative individual innate.
Creativity runs in my veins and poetry is my fervor, hence writing poems endow with unrivaled bliss.
My world of words in my world of creativity..!!
4) Say something about your poem 'Tsunami Aftermath', for which you got honored with Prestigious 5th Rabindranath Tagore Award – International – 2016. What is the background of this poem?
"Waves have surged the core of mankind, inflicting wounds with perpetual scars,
The flourish of fatality soared high, as tears tinkled amid the peeping stars." – Tsunami Aftermath
'Tsunami Aftermath' is a manifestation concerning human life; subsequently it is about human sense and susceptibility. It encompasses seven stanzas that envelop human destiny, innocence, fraternity, twinge, fright, obliteration and more than that. It is an exploration of inner consciousness of human wits. The poem is not only introspective in nature but furnishes an unfathomable foundation of poetic creativity.
The initial streak of contemplation releases concrete notion and eventually emulates the perception through Tsunami in mind.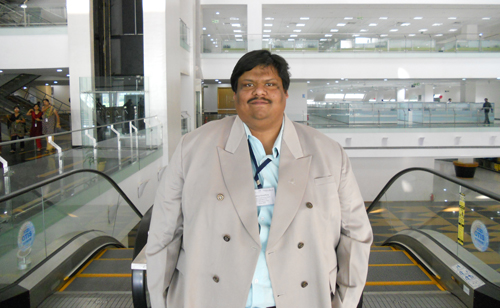 The poem impresses the intellect of humanity of these perils which lurk around us, as fraction of nature's plan and perhaps, learn to live with them accordingly. Moreover, one should admire the valiant who might have sacrificed their lives to save others; but not forgetting to console the displaced who are left with no homes to shelter their dreams but silently weeps over their bizarre fate.
In all, the attention to Tsunami as an act of God is drawn and apiece individual must be prepared to embrace it as to when it comes, so as not to be hurt beyond repair and learn to carry on with life.
The backdrop of the poem is a tale untold yet. I reveal it today to all the readers at India Café 24.
The colossal waves of Tsunami had swept many individuals and did not exclude my pen friend too.
The untimely demise of her has reserved a void in the world of creativity and the loss is so mounting that even words fall petite when penned.
I am exceedingly honored to receive the Prestigious 5th Rabindranath Tagore Award – International – 2016 amid countless beautiful creation by fellow poets and would humbly take this opportunity to share the Award with all those who participated in the International Poetry Contest and evidently with my deceased pen friend too.
5) We would like to know about the very first day when you discovered the poet in you? 
Childhood is innocent.
I unearthed the poetic visage in myself when I wrote my first poem at the age of 9.
Everyone appreciated the same and encouraged to unite with penning words.
The delight in rhyming of words is the unsurpassed feeling I possess till date.
The poem still dwells in my core and laid the basis for the poet in facade of you today.
6) Whom you consider as an inspiration in your life?
"Doubt kills more dreams than failure ever will…."
Devoid of an iota of doubt, the inspiration of my life is my Mother, Dr. Lila Chowdhury.
All through the years, my mother has been the guiding vigor behind all my success and she has been the motivational strength that has made me whatever I am today.
My mother is a retired Professor of Philosophy, creative writer and an exquisite orator.
I owe all my creative perspective to her and she still motivates me to realize novel pinnacle.
I have envisaged divinity in my mother and she has truly been like The Almighty bestowing blessings upon me despite of my wrongdoings.
7) What are your other passions in life?
The researcher in me is constantly conscious and envisions the prospective effort requisite to attain accolades and admiration. There is no winding up of exploration and research.
I am exceptionally fervent about music and the tunes I compose.
In instance for myself, I croon my tunes and pen the lyrics.
The perpetual bliss I confiscate not only makes me contented but entices me towards newer aspiration.
Passion can never expire, it can only allure and transpire through something or the other.
8) Rajdeep what as per you are the basic qualities of a good poet?
Poetry is an Individualistic manner of expressing inherent feelings, notions and emotions through an art of rhythmical composition, emphasizing to touch the wits and essence.
Fragments of Poetry according to me would be:
Personalized Observations Enriching Thoughts Redefining You
To cite a few basic qualities of a good poet, I would state that any poet needs to possess the allegiance towards originality, the urge to inscribe, the ardor to commune, a repository of vocabulary and the resolve to triumph over criticism.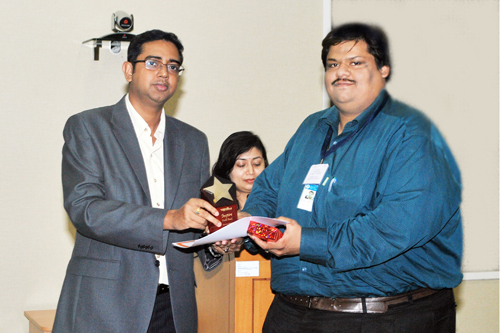 9) So far what is your biggest appreciation received from your readers?
I have received an anonymous mail few days back and I had sobbing gaze after reading it.
The writer of the mail stated that he felt apiece word of my poem 'Tsunami Aftermath' as an instant in his life, as he is one of the survivor of the Tsunami debacle.
He thanked me for the preference of expression and applauded the spirit of the creation.
The image of the debacle and him holding his elfin girl amid the ruins is heartfelt to say the least.
I would also like to share the appreciation galore in social media by the students and the assortment of precise observation from their end.
10) What is your plan five years down the line?
"The future starts today, not tomorrow."
Five years down the line is prospective and what is in store is anonymous.
Evident intention would be to be awarded with Doctoral degree for my research, persevere with innovative research, publish poetry books, contribute in literary circle and augment personal knowledge.
I have a concealed craving to obtain premier literary awards and unanimous appreciation of critics.
Distant from all these, I want to endow with utmost contentment and bliss to my mother and treasure the smile on her face.
My inspired side would not cease impetus but would ensure steady evolution towards excellence.
11) Share with us some info about your journals and recognition?
Recognition is essential.
I have authored more than 60 research articles/papers in refereed National/International Conferences/Journals all over the globe. My area of specialization is Cryptography and Data Warehouse and the amalgamation of the two topics. My research publications include IEEE, ACM, CRC Press, Taylor & Francis, Tata McGraw Hill, Bloomsbury, SAI, Thomson Reuter Indexed Journals, etc. I have delivered invited Lecture and Chaired Technical Session at International Conferences, Corporate Bigwigs as well as Television and Print Media.
I have been recipient of copious accolades, awards and honor by corporate bigwigs and academic institutions. Few notable of which being; Winner of the Prestigious 5th Rabindranath Tagore Award – International – 2016 for the Award winning poem 'Tsunami Aftermath'; Conferred with Certificate of Appreciation by Inter – Disciplinary Program in Educational Technology at Indian Institute of Technology Bombay; Included in the 2000 Outstanding Intellectuals of the 21st Century – 9th Edition, by International Biographical Centre, Cambridge, England; Recognized as Gold Partner Faculty under Inspire – The Campus Connect Faculty Partnership Model; Winner in Infosys Campus Connect Inspire – Faculty Excellence Awards 2013; Top Practitioner in Wipro Mission 10X and Archived in Mission 10X BookRack; Winner in Infosys Campus Connect Faculty Contest Series – Inspire 2012; Conferred with Certificate of Recognition for Outstanding Contribution by Infosys Limited in 2011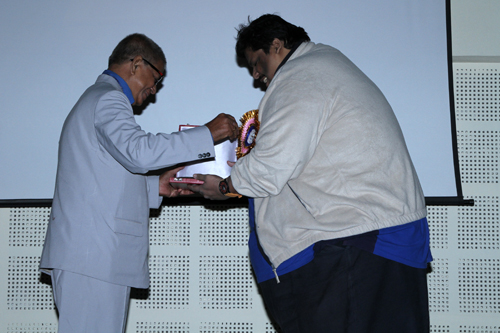 12) Who you love the most poet Rajdeep or the techie guy Rajdeep? 
I am exceedingly doting towards myself and I admire my all intrinsic facets.
Poet Rajdeep and Techie Guy Rajdeep are solitary and alike and the twin façade are allied.
Poet Rajdeep complements Techie Guy Rajdeep at all phases of existence.
The creative edge sharpens the technical prowess and vice versa.
13) How you rate yourself as an author?
Quoting couple of lines from my poem 'I Have Seen You.. I Have Felt You';
"I have come
A long way devoid of you, missing all the way"
I do not like to rate myself as an author precisely because once you rate yourself, then the yardstick gets set and scope for enhancement gets wedged.
I want my readers and viewers to rate myself and set the index undulating.
 14) Which poem of yours is your favorite: Share few lines of it to close the session in a poetic way
All my creative writing is my apparent asset but I would like to share my poem close to my heart and pertinent with the present status of humanity, namely; 'Peace on Pieces.'
Peace on Pieces
The wits are swaying but the soul is obstinate
Enticing endurance to trounce tumult
Humanity whimpers blood copiously
Respite is unfeasible to unearth
Carnage and obliteration endowing unification
Peace on pieces, vanished amid engendered mayhem
Abhorrence is the latest creed on proffer
Corroborating despair imposed upon humanity
Innocent eyes gaped munificence
Seeking fragrance of unsullied evolution
Enchanting intellect amid transpired tranquility
Embarking on expedition of peace
Pious endeavor is requisite to curb cruelty
A tender touch revivifies to combat
Apiece atrocity to rekindle optimism
Uniting the pieces of peace with compassion