Mom Turned Author- Meet Author Komal Gupta To Know Her Journey
Do you know that there is no specific time, place, or scenario which can give birth to an author? Miracles do happen and all of a sudden many within us having no connection with the literature world realize we have this talent… Yes, we can write and sometimes really well than many seasoned authors.  So why am I saying so? Well, very recently I came across a wonderful lady who realized the author within her when she conceived. Is that not very interesting. Join me to explore the journey of Author Komal Gupta.

Welcome Komal, I am really happy to have you on the platform of Indiacafe24. I insist you share a brief about you, your education, and your family.
✓Hello Samata. Thank you so much for this platform.
Well, my name is Komal Gupta. I am a freelance content writer and an author. I am a happy stay-at-home mom of a 2.5 years old boy. I am basically from Jammu and Kashmir, however currently residing in Chandigarh, since my husband works in a PSU Bank. I have done Masters in Sociology, along with B.Ed.
I have been raised up by a single parent, my mother. I lost my father long back in the year 2000. Other than this, I have an elder brother, who got married 2 years ago. I am happily married and stay with my husband and son in Chandigarh.
How writing came into your life as this profile is not something which is common to witness?
✓After my marriage, when I conceived and left my job, it was then that I realized that I actually can write and can utilize my time in writing. And here I am.
Is there any specific author or authors whose writings influenced you?
✓Honestly, no. I am neither a literature student nor have I studied, learned, or followed any particular author. I write my heart out. Whatever, whenever I feel something, I pen it down.
At what age you started writing and what was your first content?
✓When I was in 10th standard, I witnessed something in my school which impacted me in such a way that I ended up writing a long note for my father. Since my father took his own life, I, as a child, came across varied perceptions of people around me. In fact, I was verbally abused and faced a backlash from the kids in my school. It was disturbing. I stopped going to school for few days. Eventually, I was made to go to school with a strong mind and focus.
The piece that I wrote was very dear to me and personal too. I never shared it with anyone, not even with my mother. Only a few years back I showed it to my mother and brother.
Is there someone in your family with a writing knack who encouraged you in writing?
✓A big NO. I cannot actually remember if anyone around me writes. It is not at all hereditary, not passed on to me from my parents or anyone in the family.
You are a stay-at-home mom of a little boy of 2.5 years. How do you manage mum's job and writing together?
✓The most commonly asked question. We all know that motherhood is a tiring and round the clock 24*7 job. But at the same time, it is rewarding too. I love staying at home with my son. I have witnessed all his 'first-ever' till now. Mothers are the jack of all trades and multi-taskers. We eventually learn to manage all the roles.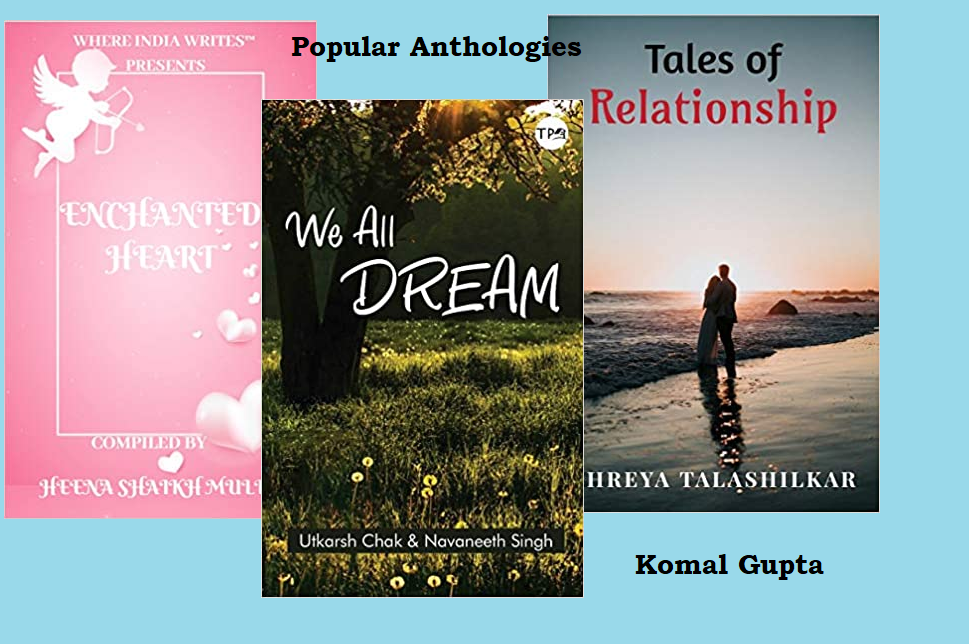 You contributed to many Digital Magazines. Can you say how different is magazine writing from story or book writing?
✓Oh yes, these are different things altogether. Magazine writing is very to the point, I mean we have to restrict ourselves according to the word limit and the space provided. For a book, it is up to us how we wish to express ourselves.
Poetry is quite a different form of writing where emotion plays a major role. What are the different shades of emotion which encouraged you to write poems?
✓Having myself gone through more than my share of ups and downs, I have a perspective towards the society that is born out of my own experiences. I believe in showing the mirror to the Society on the issues plaguing it. I believe in creating awareness about the wrong practices of society. My belief is that only by highlighting the wrong practices of the society, more and more people can be made aware of the ill practices which have got embedded in their system over the years without them even realizing it. I emphasize writing in an elementary accessible style, where readers can connect with my words.
You contributed to almost 40 anthologies and that is commanding. Which one is the first anthology can you recall?
✓Honestly, this is weird. The first anthology that I was a part of, is not yet published. But that was a lesson learned. It was 'Shades of Ink'. But there was no stopping after that. I have been a part of various record anthologies and this feels amazing.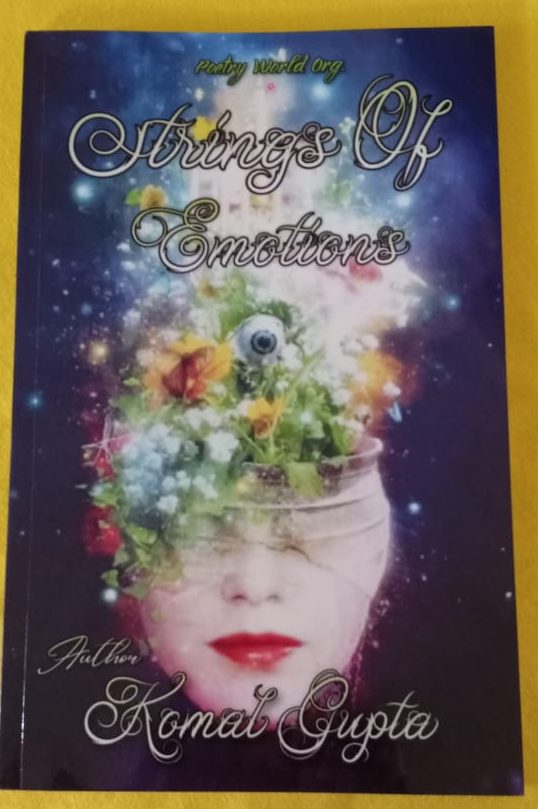 Strings Of Emotions- Is your solo work and how you felt when it got released?
✓I remember telling my husband that I want to publish a book for myself, to feel satisfied and contented. I got an opportunity to publish my solo book 'Strings Of Emotions' and believe me, I was out of words when I held my book in my hand. It was beautiful.
Describe the content of this book? Who was the publisher?
✓My solo book 'Strings Of Emotions' is a collection of monologues, open letters and poetry. I have shared a number of personal experiences through this book, which I believe, everyone can relate to.
It was through Instagram only that I got to know about various publication houses. But then, we need to consider our budget also. I finally worked with Poetry World Organisation (PWO
What type of reviews have you received for your solo book? Plz, quote one of them which you found motivational?
✓It received all the love and support from the buyers of the book. It was an overwhelming experience, to be honest. All of them motivated me in one or another way. I got a 4.5-star rating on Amazon, which was above my expectations.
Do you feel the glamour or royalty of being an author diminishes when you are a co-author?
✓Can't agree more on this. As far as experience is concerned, it is a good opportunity to be a co-author. However, it can only add up to the number of books you have co-authored in.
The conflict between the publishers and authors is very common. Have you faced such problems while finding a publisher for your book?
✓I relied on Instagram only. I searched everything there, about the publishers, the packages and everything. When I decided on the Publishing house, then came their packages. The conflict is there for sure. But then, adding something up and neglecting something, the book was finally published.
What are your other passions in life?
✓I love dancing. It just calms my soul. Passion was always to write something that can enlighten even a single person.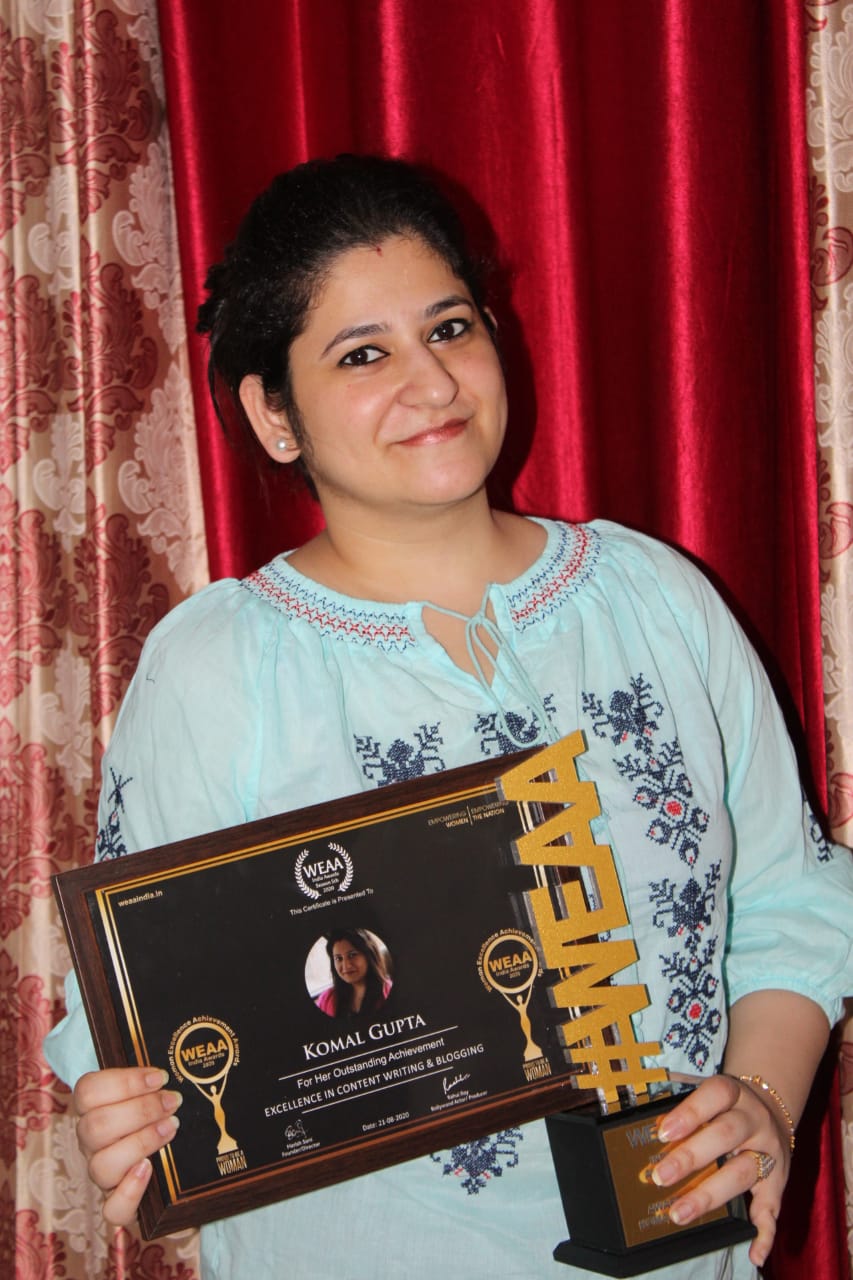 Say something about other major achievements and recognitions in your life?
✓I am a recipient of WEAA INDIA Awards 2020 for Excellence in Content Writing and Blogging and FSIA The Real Super Woman 2020 for Content Writing.
What are your future plans- what else? What do you want to do?
✓Never thought of the future. But yes, if given a chance and if the circumstances are favorable, then I would like to open a Playway School. Fingers crossed ????
What next in the pipeline in books and of what genre?
✓I am already working on my second solo book. I believe I should not disclose about this project, at least till the time I submit the manuscript. Stay connected to know about it.
Any tip for the struggling authors?
✓I am, myself struggling in this field. It is my contentment that I have got my solo book published, but nowadays, there is a struggle in this field too. So, stay focused and never ever stop writing.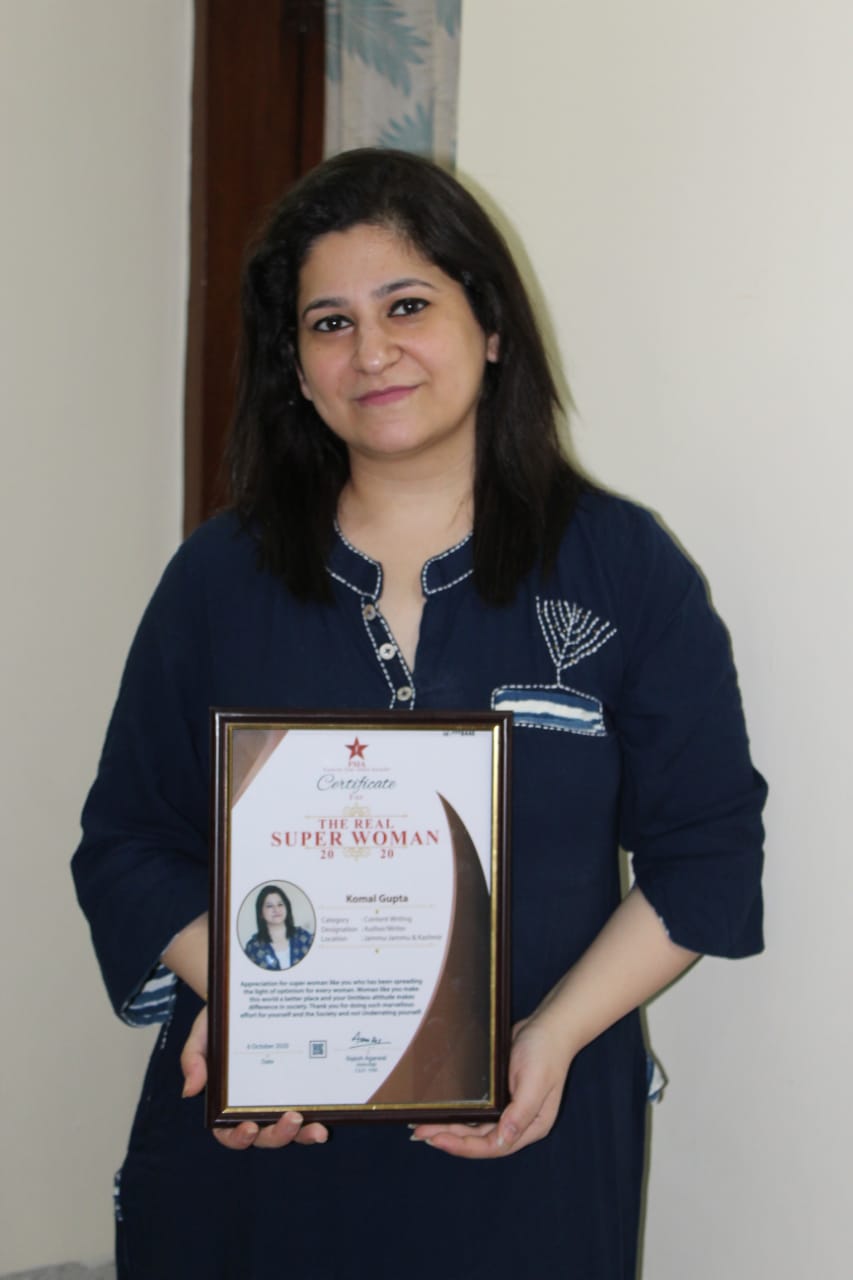 What qualities you believe are a must for any budding author?
✓Learning and reading is the key to success for any author. It is not necessary that you have your favorites, but reading books is a must. You can definitely develop your own style of writing and expressing, once you know how to write and express.
Define Komal the author in one line?
✓Komal is a happy stay-at-home mom, fulfilling her dream of writing her heart out in an elementary accessible style.
Participating in Outsetbooks Book Marathon