Meet Prachi Garg – A Writer, Traveler, And An Entrepreneur
On the auspicious day of Basant panchami, we are glad to introduce our readers a very talented ( Better to say multi talented) woman of India Prachi Garg. She is a Writer, Traveler, And An Entrepreneur too. She joined us in this session to share her experience so far. Take a look at what she said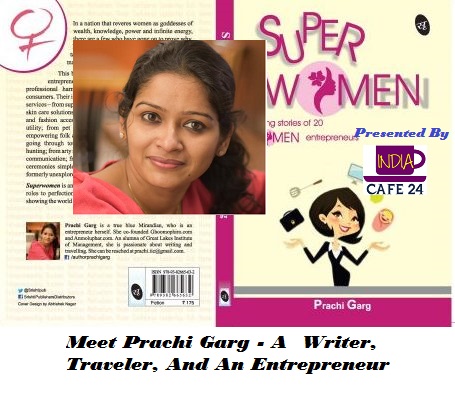 1) Welcome Prachi. It a pleasure to have you on this platform of Indiacafe24.com. Our readers would surely want to have a sneak peak on your background. Kindly share a brief about you, your education and your family.
Prachi Garg is a  writer, traveler, and an entrepreneur.
I come from a small place called Bulandshahr which is 80 kms away from Delhi NCR. I have 2 younger siblings, my sister is working as a senior media planner with one of the MNCs and my brother is presently studying B.TECH from Hong Kong university. Coming from a publisher's house, guess the writing was always in my genes. I completed my graduation from Miranda House in computer science and later pursued MBA from Great Lakes Institute of Management, Chennai.
2) Which Indian authors inspired you the most?
Sudha Murthi
3) Novels and especially the genre of romance is ruling the market, in such market demands you introduce Superwoman- An anthology of Biographies…. Was is not a risky attempt?
It was indeed a risky attempt, especially when large number of audience is not very much interested in reading Non-Fiction. But my special thanks to Srishti Publishers for putting their faith in the concept and ready to publish it.
4)  What did you think about romantic Novel and its popularity in market? Which genre is your favorite and why?
Honestly, I am not great fan of romantic novels. My fav genre is non-fiction especially entrepreneurial stories or real life incidents.
5)  What protocol you followed when you picked these 20 dynamic women entrepreneur?
Major protocol was that the age, when they started their business, should lie between 20 to 30 years, as according to me, for a  women, this is very crucial time for any female to think about herself. The societal pressure is so high that thinking about her own dreams doesn't go well with everyone around. I wanted to potray the stories of those, who dared to dream and thought out of the box. Also, I ensured that women doing business from different genres are covered here. If you notice superwomen has women entrepreneurs from social service domain, to services to products and the business they are into are very unique.
6) We came to know that you are not only an amazing writer but also an entrepreneur too? So share something about your  project www.ghoomophiro.com.
At Ghoomophiro.com, we curate corporate team events and women solo events as per the requirements. Besides this, we also help various tourism boards in reaching out to the right audience. Recently, we have been awarded by MP Tourism Board as their best friend in social media.
7) You are an independent women, so we would like to know as per you how important it is to become financially independent women in this century?
I think, being financially independent, gives a women confidence to be more decisive. In fact, inorder to deal with uncertainities of life, it is indeed important for both genders to be financially independent.
8) Who is the one who for the first time noticed the spark in you to become an author?
I feel my father has been the key motivator to me. I remember my early childhood days, when he used to encourage me to write my opinions on everything and send them to different newspapers for "letter o editor" columns. I still have those copies, where all of them were published.
9) We know it will be a difficult question to answer for you but still we would like to know who among the 20 selected entrepreneurs is more inspirational for you other than rest 19 and why?
I think, it would be Richa Singh from yourdost for coming up with a platform, where-in people can discuss their problems without being judged.. The whole concept is amazing as it talks about mental wellness.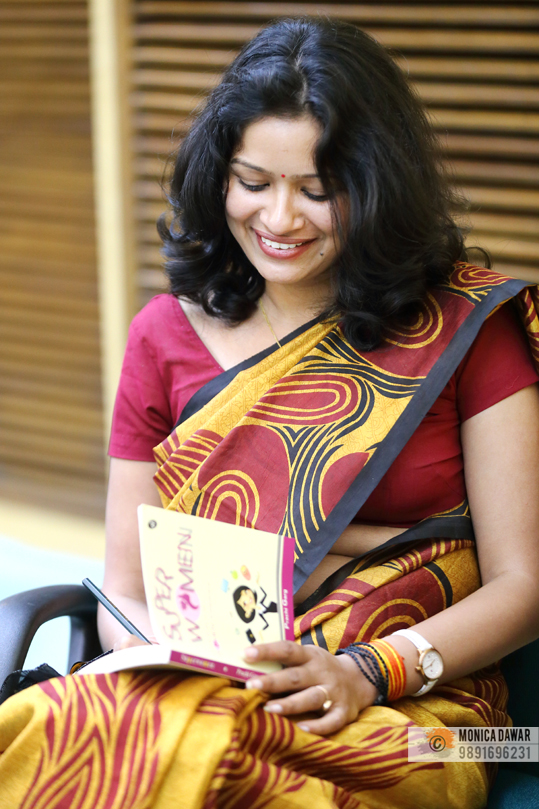 10) As per you what we can learn from these amazing 20 ladies ruling the entrepreneurial world?
You need to step up for what you want. There is unlimited potential, just that do not limit yourself.
11) When you send proposal to these entrepreneurs how proactively they accepted your request?
Few accepted, Few rejected. In fact I made the list of 30, out of which finally 20 stories could come up.
 12)  The conflict between the publishers and authors is very common. Have you faced such problem while finding publisher for your books?
I don't think so.. My journey with Srishti publishers have been very smooth and my second book Supercouples is also coming up by them only. I hope Arup from Srishti also resonates same 😉
13) When you first realized that you can too be an author?
Never.. Writing book was part of my bucketlist and just happened.
14) What are your other passions in life?
I love travelling and this is why ghoomophiro happened.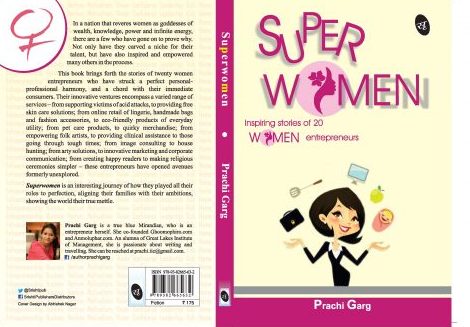 15) What are your future plans – ?
To expand Ghoomophiro and share my experiences as author and entrepreneur
16)  What next in pipeline  and of what genre?
Supercouples, which shall be out somewhere by Feb. Genre is Entrepreneurship again.
17) Define Prachi the Author Cum entrepreneur in 1 line the author in One line?
A girl with dreams in her eyes, who work hard to achieve them.