Keerthi Yella- The Author Who penned Self-Help Book With Magical Touch Of Humour
Interacting with people from various fields is now a passion for me and authors hold a special place in my heart. So far I have read several books on the self-help  genre and only a selected few managed to grab my attention and yes, the talented author Keerthi Yella is definitely one among them. I consider myself fortunate enough to get the chance to interact with this amazing lady and I accept she and her book inspired me.  Continue reading to know what she shared about her journey.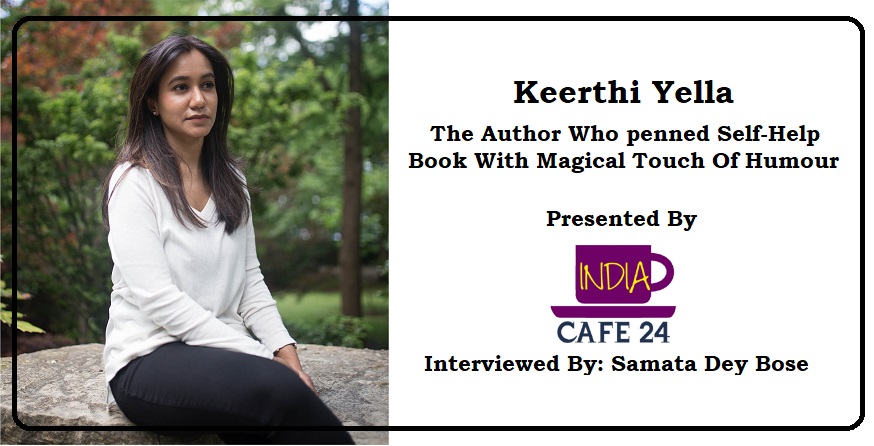 1) Welcome, Keerthi! It's a pleasure to have you on Indiacafe24.com. Our readers would want to have a sneak peek about you and wish to know more about you. Kindly share a brief about you, your education and your family.
Thank you, Samata for having me and it is my pleasure too, to be on Indiacafe24.com. I am from Hyderabad and I am an Electronics and Communication Engineering graduate and I am affiliated with the IT field for almost a decade. After having lived in the US for almost a decade, I am currently back in Hyderabad with my family
2) Which authors and their work inspired you the most?
For this particular book, none have inspired me. But in general I like Jane Austen, Leo Tolstoy, P.G. Wodehouse.
3) Can you recall that moment when you first realized that there is an author within you? Or was it someone else who discovered the author in you?
Over the past decade, I had stories and writing ideas come to me very easily without any effort. I was adamant though not to be an author. I was happy with my career the way it was, as I had interesting projects and roles to play at my work place. But I just could not ignore the concept for this book and ended up becoming an author
4) Ten things your Skinny friends don't tell you is a really interesting title. Tell us more about the book and your feelings when you got hold of the first copies of the book.
The book initially talks about weight loss, but it is more about practical techniques than recommending any particular diet. Towards the end, the book goes beyond the concept of weight loss towards body positivity and mindful eating; thus ensuring the book to be a self-help on healthy living and wellness. And it is all done in a humorous tone so that the reader is engaged from the beginning till the end.
The book got delayed because of the Covid-19 situation. So holding the first copy of the book after a long wait has been very satisfying.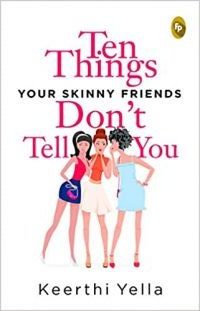 Book Review : Click Here
5) How have the readers responded to Ten things your Skinny friends don't tell you?
The readers and the bloggers have loved the book. But what surprised me and truly made me very happy was the love the journalists showered on the book. They wrote to me or told me personally how much they enjoyed reading the book.
6) The conflict between the publishers and authors is very common. Have you faced such a problem while finding a publisher for your book?
The book has been incredibly lucky in that segment. As I started submitting, I quickly received interest from publishers. I took the first offer and ended the search process soon. Coming back to conflict between publishers and authors, I was not even aware of it! Good that I was not aware of it, because my fear would have been a waste of time and emotions. My editor was very supportive throughout the whole process. And also all the teams at FingerPrint! Publishing- design, marketing, and even the management have been supportive.
7) Does poetry interest you? Any plans to try this genre?
Only the poetry of very high quality interests me. The poetry that is popular now a days is the Instagram poetry, and only a handful of accounts give justice to the name 'poetry' or 'prose', and only those accounts interest me a bit. Right now, I do not have any plans to be in that genre.
8) What are your other passions in life and what else would you want to try out in the near future?
I like to read. Again, that is an interest and not a passion. Currently, I don't have any passions and I would like it to stay that way.
9) Any plans to become a full-time author or maintain the current dual role of a IT professional and author?
I am okay becoming a full-time author. I am okay to maintain the dual role of an IT professional and an author.
10) Coming back to writing, what's next in the pipeline? And what genre?
Currently, I am not writing anything. But if I do, there are high chances for it to be a non-fiction again.
11) Please share some tips for young authors who wish to make a mark in the industry with their work?
I cannot share any tips as an author as I did not take any from any other author. But if I have to give a heads up before they write or publish, I would tell them to have a lot of patience.
12) Define Keerthi Yella the author in One line?
If I had a fully functioning narcissistic side, I would have reiterated the words Indiacafe24 used for me: courageous and confident. Because I am on a deficit on that side, I will say: Purposeful, creative, and humorous.