CHIT CHAT SESSION WITH AUTHOR S V VIGNESH
One of the youngest authors in the Indian writing industry is  S V Vignesh. He showed that he is talented with his very first novel which he penned down at a very early age. We made an attempt to understand how the experience was for him from a student to an author. Check out what he shared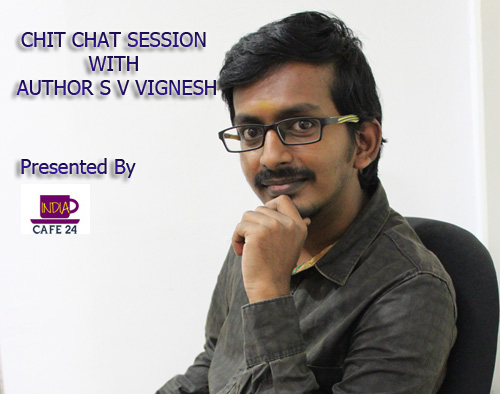 It is a pleasure to have you on this platform of Indiacafe24.com. Our readers would surely want to have a sneak peak on your background.
Thanks you Indiacafe24.com for your support.
I was born and brought up in Salem,Tamil Nadu. I have completed my Computer Science and Engineering in 2013. Now working in an IT firm in Chennai for the past 2 and a half years.
While I was studying 8th standard in Holy cross, Salem I used to prepare greeting cards on my friend's birthday and write my own birthday messages in it. After that in my 10th standard in Sugam school, Salem I started writing stories. By exploring one of my dreams, I wrote a short story 'Thrill near a mill' where I was able to feel a good encouragement from my classmates that created an interest to write novels. After completing my 12th standard in Malco Vidyalaya, Mettur I started and completed 'Adventures of Dollar Right'. From which I was trying again and again to reach out to the publishers to publish this one. My hard work didn't go for a vain. Finally 2016 was the luckiest year for me from 2009. Thanks to Authorspress.
You started your journey in such a genre ( Adventure ) which is just not uncommon but very rare to. Why its Adventure and not romance?
I started to write a story with three friends and later I ended up in adding adventures to it. Romance is coming up next in my own style.
Do you have any connection with Adventure world in your personal life?
I have went for few trekking in some nearby and dangerous hills. Nothing much.
 What did you think about Adventure Novel and its popularity in market?
Adventure is really a very good genre. Though romance is ruling the current world there very less market for adventure But adventure always holds it's own way of dealing things. Adventure has a good market with the age under 15.
How you got addicted towards writing world?
As I said earlier  I came to this to explore a dream but I ended up exploring my creativity. Yes. Writing is the biggest addiction I ever had. It is a wonderful feeling to feel things in your own way.
Say something about your experience while penning down the story at early age
I used to turn on the tv and put some music and start to write. Music helps us to be in track without losing it. When I completed the story I felt like I have achieved something in life.

Very recently your novel Adventures of Dollar Right hard copy got published. So how you are feeling ? What sort of reviews you are getting?
I'm happy that I have made my parents to feel proud. I'm getting very good response and it gives me the same level of encouragement that I received from my friends 9 years back.
Which character of your Novel is your favorite and why?
I would opt to Myl. The favorite character of mine as a writer and as well as a reader. l pulled up Dollar Right from the edge of his life.
How you reacted when you saw your first copy of  debut Novel Adventure of Dollar Right?
Can't express moment. Nostalgia.
The conflict between the publishers and authors is very common. Have you faced such problem while finding publisher for your book?
Not really. There was no conflict with any of them.
When you first realized that you have the spark of becoming an author?
In my 10th standard when my friends encouraged me I felt like I'm capable of doing something. I would like to name few of them. Parthiban, Swathi, Sabarna Sri, Kamalakannan, Gomathi and the others.
What are your other passions in life?
I want to be a teacher to develop some young talents in young minds.
What are your future plans?
I have completed the first draft of my next novel 'Romantic Rhythms' and I have some polishing works to be done. After that I have few other ideas to being another one. Hope it will be motivational.
What next in pipeline  and of what genre?
Romantic Rhythms – Romance genre
Define Vignesh SV the author in One line?
An author whom you can always depend to have some sort of suspense in his novels.