The SA RE GA MA PA 2016 Winner Is Kushal Paul
The season of SA RE GA MA PA 2016 came to an end and closed with an awesome finally night in Goa.  Kushal Paul the very talented and just a 17 yr old boy from Kolkata bagged this year's title. The Gala finally at Goa was hosted brilliantly by Aditya Narayan. The top 5 finalist of the season of the season was Kushal Paul, Sachin Kumar (2nd), Jugpreet Bajwa (3rd), Rupali Jagga (4th) and Jyotica Tangri (5th). All 5 of them where just too brilliant and can come out as real gems of Indian music industry in coming time.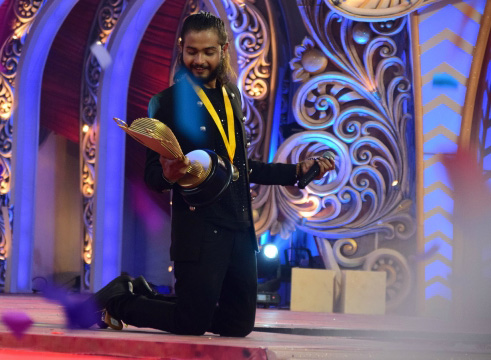 Brand new Elite i20 Hyundai and the winner's trophy was given to Kushal and a medal each to all the 5 finalist of the season. Kushal was a part of team Pritam. As declared by the host on the eve of finale that there was a gap of almost 4.5 lakhs vote between Kushal and Sachin (1st Runner up).
The young rock star and his versatile voice managed to grab the attention not only of the mentors but whole of India. Being presentable is also a key feature for any singer these days to attract the audience and trust us Kushal proved that it's hard to take eyes off from him when he is performing live on stage.
Kushal was tagged as the king of swag. On the finale night he performed Bang Bang and Badtameez Dil with very sensational Benny Dayal and impressed the crowd completely. We are happy to see that some really young talents are stepping in the Indian music industry and we expect that Kushal will keep entertaining his fans just like the way he did in SA RE GA MA PA 2016.
Not to forget that the other 4 finalists gave tremendous competition to the winner. It was the musical war searching for the best. We believe all 4 finalists apart from Kushal will also continue their musical journey and we all want to hear them too.
Congratulations Kushal Paul For an amazing win