Author Prachand Praveer -A barefoot man on the journey to the moon, who is afraid of lunar eclipse.
In my journey as an interviewer, I came across many authors with immense talent and quality. After a very long time, recently I came to know about Author Prachand Praveer. He is a simple yet cool man displaying absolute authority on what he is saying. There are so many books by him, and each one of them is on different subjects or, we can call different genres. While talking with him, I found him to be a man with an ocean full of knowledge in his kitty. I am glad that I got this opportunity to interview him.

Welcome to this platform of Indiacafe24.com Mr. Prachand Praveer. Before we begin the session, request you to give a brief about you and your family?
Thank you for your kind welcome. I was born and raised in Munger, Bihar. My father was a bank officer, and my mother was a schoolteacher. My siblings are engineers by professional qualification. I too, did my B Tech from IIT Delhi. Post my undergraduate studies I have been working in NCR as analytics professional.
You started your writing journey with a Novella….. So how did that happen?
In two words: Leisure and boredom. I was taught to respect time during my education. A sincere undergraduate study demands meticulous use of time. During my work life, I found time during weekends, and I happened to read Don Quixote. The book had so much impact on my sensibilities then. I decided to give a tribute to the modern classic, that is how Alpahari Grihtyagi happened.
 What I noticed is that you write in Hindi, and that I liked. We noticed a tendency among young authors to start their journey with English writing without even giving a try to writing in their mother tongue. What can be the reason behind the same as per you?
Well, I am no exception. I too started to write in English. My book Bhootnath Meets Bhairavi (2017) could have been my first book, had it found a publisher in 2008-09. Some of my teachers and guides suggested to express myself in my mother tongue. Once I started writing in Hindi, I reflected that it was a sheer waste of time to write in a foreign language where I had to struggle in learning the language and keeping the originality intact. In fact, barring few examples (such as of Vladimir Nabokov who was Russian and wrote in English), all respectable literary works have been expressed in the mother tongue of the writer.
Novella, Alpāhārī Gṛhatyāgī: IIT se pahle was your first work…. How was the response of the readers about that book?
Over the period, this book has won accolades from very senior critics. However, many regular critics termed the book as popular and quite close to the pulp fiction genre. One of the key undeniable facts is, that book influenced many young aspiring writers as an influence for them to write in Hindi. I believe such positive impact is encouraging. Still, considering the large number of Hindi readers, the book is yet to be read by masses.
Your first published work was in 2010, and after that, there was a gap of almost 6 years for your next work to get published. Why such a long gap? Was that for research work for your next book?
I tried to find publishers for my books. In fact, Jaana Nahi Dil se Door was supposed to be released in 2013. But a big Hindi publisher wanted to release 'Kal Ki Baat' prior to JNDSD. To suit their marketing strategy, I requested Harper Collins to reschedule the release of JNDSD. Unfortunately, Kal Ki Baat could not come out then and JNDSD was already rescheduled and was further postponed as per publishers' other constraints. By the time, Abhinav Cinema was ready and could be released before JNDSD.
The truth is, publishing a book takes time. Publishers have long schedule for release and usually editors are not always available.
Prachand Ji, now I will ask a slightly different question. What as per you is the minimum time required to write a book?
A good book should take time. I cannot quantify as it would depend upon the subject matter and the length of the manuscript. There are a few important points one should keep in mind such as finding a good publisher, ensuring a good copy editor, a careful and empathetic editor and ample time to read the proofs (at least a minimum of 10 times). What I mean to say is, the once the manuscript is ready, the final book will take much longer than the first draft creation. The revision and its final representation are very crucial. Also, during the revision, there are many lingual issues one should be very careful of.
What should be the time gap needed to pen down the next book by any author after one?
Satyajit Ray once reflected about cinematic works that a director is constantly thinking about his current work while working, else he is dreaming about next work. I think many artists would echo the same. In short, the time gap depends upon the writer. I am not aware of any such formula.
These days we can see authors coming up with back-to-back books almost in a 6 months gap… Is writing turned so easy these days? What's your view on this?
I don't think I am qualified enough to comment on this. Potentially there could be some people who can write a lot good in the limited time. Sometime people are not able to write for years. Time is the final arbiter in terms of acceptance of the book's importance in the society. My comments and views would be superficial and inaccurate on any such general observation. In the end, the output is what is important for the society. It does not matter the time spent behind it, or research done behind it. Generally, it is expected that spending considerable time positively impact the overall execution. But in the literature, there could be any kind of bohemian talents who may go beyond such general tendencies, so it is difficult to comment.
Abhinava Cinemā – The title of the book is very interesting. It was your 2nd book. How does such a concept come into your mind? What level of research do you, for shaping the book?
Abhinav Cinema is an introduction to the masterpieces in the world cinema in the light of Rasa theory of Indian classical aesthetics. When I was in college, I hardly knew about the great works of world cinema. There was no formal book for such introduction either. The book started as the series of essays which were written on the suggestion of friends who thought such informative article will enable seekers of good cinema. The research behind the book is primarily the guidance of my teacher Professor Sanil V at IIT Delhi and Dr Navjeevan Rastogi of Lucknow University, well-known scholar of Kashmir Shaivism.
You got the above book translated into English and republished this year… was that for reaching more readers across the globe?
Abhinav Cinema got full praises from Late Vishnu Khare, who was known for his brutal criticism. Also, some senior cinema scholars such Rakesh Manjul and Vinod Bhardwaj praised my book for its innovative approach. But the book was limited to Hindi readers where there are very few courses for Cinema Studies. I think the idea is to reach out to Indian readers who cannot read Hindi rather than catering to the readers across the globe. In fact, in west there are very good courses for cinema studies. In India, we hardly promote or cater to the indigenous thinking and its sincere discourse.
You wrote many books, but I want to ask about 2 books especially…Uttarāyaṇa and Dakṣiṇāyana — the two Hindi short story collections based on the twelve zodiac signs. You started with IIT, then cinema, and then astrology. Are you an astrologer sir, and I am keen to know as I am one.
Across all cultures, viewing night sky and studying movement of constellations have been inseparable part of daily lives and rituals. Primarily the time keeping is dependent on movement of sun, moon, and the constellations which on the zodiac line (the path of sun and moon in the sky). It is a common error that we immediately attribute any such astronomical awareness with the astrology. The stories deal with the myths and other ideas related to the zodiac sign, but the theme is to understand how and why certain ideas are related to human philosophical take on their lives. For me, watching a night sky full of stars is enigmatic.
You read in detail about the characteristics of each Zodiac sign before penning the stories, or how exactly you worked on the plot?
I believe a basic education of astronomy and ancient methods of time keeping should be taught to school children. Regarding my stories, I would recommend reading them first because those stories do not deal zodiac signs as you see in the popular culture. For example, my celebrated story 'Makar' (Capricorn) deals with the philosophical idea of language quoting the great Indian classical philosophers such as Bhartrihari, Dinnaga, Kumarila Bhatta, Prabhakar Mishra and modern philosopher late Yashdev Shalya. Similarly, the story Kark (Cancer) deals with the idea of unrequited love.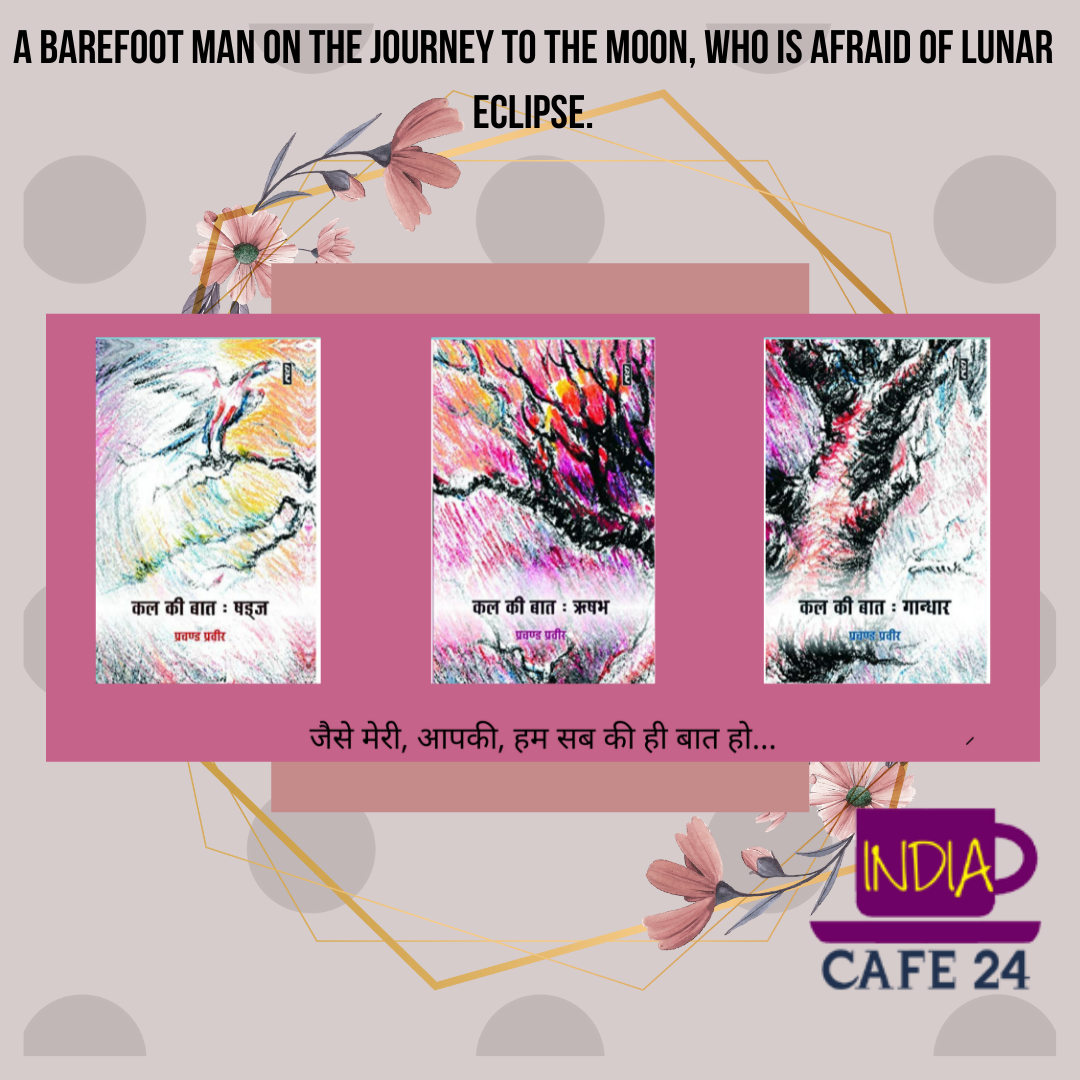 Coming down to the recent release of 2021- Kal Ki Baat, short story collections, published in three volumes – Shadj, Rishabh, and Gandhar in the year 2021. Please give a sneak peek of the subject of the trio books. The name sounds like the Indian Classical Ragas.
The name refers to the sargam, the notes of Indian classical music. The first note Sa or Shadj literarily means 'giving rise to six'. Once a singer sets the first note, the second note Re or Rishabh, the third note Ga or Gandhar, are automatically fixed. These stories are a humorous take on our everyday lives. I primarily wrote these stories for my friends and colleagues, who speak Hindi but prefer not to read very literary books in their mother tongue. I fictionalized many familiar incidents and shared with them. Some of them took an interest, and some did not. Those who took interest, are not avid readers but prefer short narratives, encouraged me to continue this series.
You have walked a long way since 2010 in the published literary world. How is your experience so far?
I believe I am still an amateur. Let us remind ourselves that around 40 crore people speak in Hindi. I believe any Hindi writer having less than 3-4 crores readers/ audience has virtually no impact on the society. And sadly, no Hindi writer has been able to reach even 4 lakhs readers in the recent times.
  Hindi literary situation is very detached from the society at large. Also, mass media gives preference to the audio-visual demonstration much more than intellectual or written serious discourses where adherence to the truth is lesser compromised. I attended two literary festivals and soon realized that Hindi writers are like the corporate social responsibility to the organizers. Moreover, literature festivals have no hope for any quality discourse. It is as hopeless as Hindi academia who hardly cares for and capable of reaching out to the masses.
What changes have you observed among the poets and authors of your time and the recent budding poets and authors?
I can name few of my editor friends who can provide an authentic answer to your questions as they consciously watch the development in literature across journals and in the academic discourse. In poets, I believe some of my friends have remarkable talent, but they have not been nurtured carefully. It is easy to write few good poems or stories, but that small output does not entitle anyone to be claimed as a poet or a writer. In fact, we should wait for at least 15-20 years before terming any person as a person of letters. On the other side, it is true that we do not have a patronage for Hindi literature. There is no Man Booker Prize for Hindi. Also, we must notice the complete absence of unbiased unpolitical framework of authentic literary criticism in Hindi. These shortcomings will not help the recent budding talent in the long term.
What is the next project in your pipeline?
I am working on a series of stories based on the thirteen principal Upanishads. Five stories, written by me, each based on a different principal Upanishad, have been published in reputed Hindi literary journals such as Samalochan, Tadbhav, and Pahal. It may take a couple of years to complete them. Upanishads have been revered as the key source of all kinds of philosophical thoughts prevalent in India. Their highly poetic nature makes them difficult to understand, nonetheless they leave space for a modern interpretation.
Prachand Ji, what are your other passions in life?
I like to listen to the classical Hindi film music. I enjoy songs of Kundan Lal Saigal and Rafi Saheb. Also, great lyricists such as Shailendra, Bharat Vyas, Rajendra Kishan and Shakeel Badayuni have penned remarkable songs. I like to explore world cinema and I am of opinion that basic education of Cinema studies should be sincerely promoted as part of parenting and teaching so as humanity can be saved from the prevalent non-sensical stuff on TV channels and OTT.
Who remained your inspiration in the literary world?
There are many. Just to name a few – Hans Christian Andersen, Fyodor Dostoevsky, Guy de Maupassant, Jorge Luis Borges, Franz Kafka, Leo Tolstoy and Jaishankar Prasad.
Any suggestions for the budding authors?
Read classics. Without a proper root a plant can never become a tree. Any Indian who is interested in literature must read – Valmiki Ramayana, Mahabharata (original text in 100,000 verses), Kalidasa's works (at least these four books: Kumārasambhavam, Abhijñānaśākuntalam, Raghuvaṃśa, Meghadūta), Tulsidas's Ramcharitamanas, works of Meer Taqi Meer and Mirza Ghalib.
Define Prachand Praveer, the author, in One line?
A barefoot man on the journey to the moon, who is afraid of lunar eclipse.