Author, musician and yoga practitioner- The Multifaceted Writer -Vasudev Murthy
"Author, musician and yoga practitioner who has been published across genres by Bloomsbury, Poisoned Pen Press, HarperCollins, EditoraVestigio (the Portuguese language edition of Sherlock Holmes in Japan), Sage, Rupa and LiFi, Vasudev Murthy, is back with Yoga Sutra Simplified – A Searching Adventure With Patanjali (Jaico Books) that releases on 15th November 2022."
I am fortunate to have him here for a wonderful session which helped me know him beyond an author.
Welcome to the platform of Indiacafe24. Mr. Vasudev, please share a brief about you, your education, and your family.
Thank you for speaking with me.
I live in Bangalore with my family and several dogs. I am a management consultant and am also a violinist, yoga practitioner and animal rights activist. I have just started on a new journey learning the mridangam, a percussion instrument.
Writing is an art. How did this art form get introduced in your life? Can you remember that moment?
Yes, I think it was an essay I was asked to write in Class 5 which got me excited. But it was not a surprise too, because my mother used to surround all of us with books and reading and writing became natural activities for us.
Classical music- As far I understand as I used to learn classical music in my higher school days it's the base of every form of music. How far I am correct?
That's correct. Without an understanding of the theory of music and lots of practical experience, you can't even create coherent, meaningful music.
Which is your favorite Raaga and when did you start your lessons of Violin? Are you practicing music professionally now?
It is not possible to properly answer the question of a favourite raag. It is mood and circumstance driven. Nevertheless, I do enjoy Malkauns, Bihag and Darbari. Everyone loves Bhairavi because there's so much we can do with it.
I started learning when I was 8 years old.
No, I am not a professional violinist but I practice practically every day.
Got to know that your books span from Indian classical music to crime fiction, humor, and business management. How you manage to write on variety of genres?
Well, it just so happens that I am interested in many things and I seem to be always busy writing. If you are passionate about many subjects, you can write without making a fuss about it! I think this interest comes because I do Yoga practice every single day.
You latest book is Yoga Sutra Simplified – A Searching Adventure with Patanjali- share a bit about this book. And also, why you decided to pen it down?
The Yogasutras of Patanjali is a great foundational text of Indian culture and philosophy. There have been several wonderful interpretations of this great classic by scholars but most are a bit difficult to read. This book attempts to simplify the Yogasutras by using simple language so that more people can access the great wisdom within it.
It has graphics, contemporary language and an appendix where the original Yogasutras in Devanagari are placed.
The 8 limbs of Yoga are also described, including the asanas, or the popular physical aspect.
How is Yoga is connected with our mind? Can Yoga help in managing our mental health and if yes how?
Yoga is completely related to the mind. In fact, the first line of the Yogasutras says that "Yoga is the stilling of the mind". Patanjali described the five types of stimulations of the mind and then recommends a structured 8 step method that helps the mind calm down. If you try to follow the 8 -steps, you mental health will automatically improve.
Is there any connection of Yoga with spirituality as meditation is an aspect present in both.
Yes, indeed. The central aspect is – Union with the Ultimate Reality via samadhi, which is the eighth limb of Yoga. We prepare for meditation with the first 5 limbs of Yoga (Yama, Niyama, Asana, Pranayama and Pratyahara) and then become ready for sustained meditation through Dharana and Dhyana.
Please explain a bit about Patanjali's 196 power-packed sutras.
The sutras are divided into four parts – Samadhi Pada, Sadhana Pada, Vibhuti Pada and Kaivalya Pada. The structure is outstanding. It starts with explaining what samadhi is, then talks about how to get there and then what kinds of challenges you will face. Finally, it describes the ultimate state of samadhi is beautiful detail.
They were probably composed about 2500 years ago and described wonderful concepts like Karma, the Gunas, Kleshas and so on. It is beautifully intellectually stimulating!
Is there any scope or possibility that in near future we will get to read more works of you on Yoga?
Its possible, but I cannot say specifically at this time.
Is there any special moment in your life that inspired you to take up writing as a medium of expression for you?
Yes, I was very affected by some animal welfare issues at one time and wrote my first book about it. It was never published. It so happened that I was also listening to some beautiful classical music around the same time and managed to write about that too. The book on classical music was published.
Writing as I said earlier is pure art… how do you manage to get time to dedicate to writing from your busy schedule?
There is an illusion that a writer spends hours every day writing. That's not true. Productivity varies greatly. I write when I feel the drive to do so. That's just a small fraction of time that's available to do so many things!
You are also an animal rights activist… what exactly is your area of work in this segment?
Animal welfare laws of India, training people, coordinating rescues and rehabilitation.
You are now running a consulting firm In Bangalore and was born in Delhi… can you differentiate the work culture or people culture of these 2 cities.
Both are enjoyable. I am at home in both places. The people in Bangalore tend to be milder, which may be the effect of weather. Delhi has its own energy and people are on the go a bit more perhaps!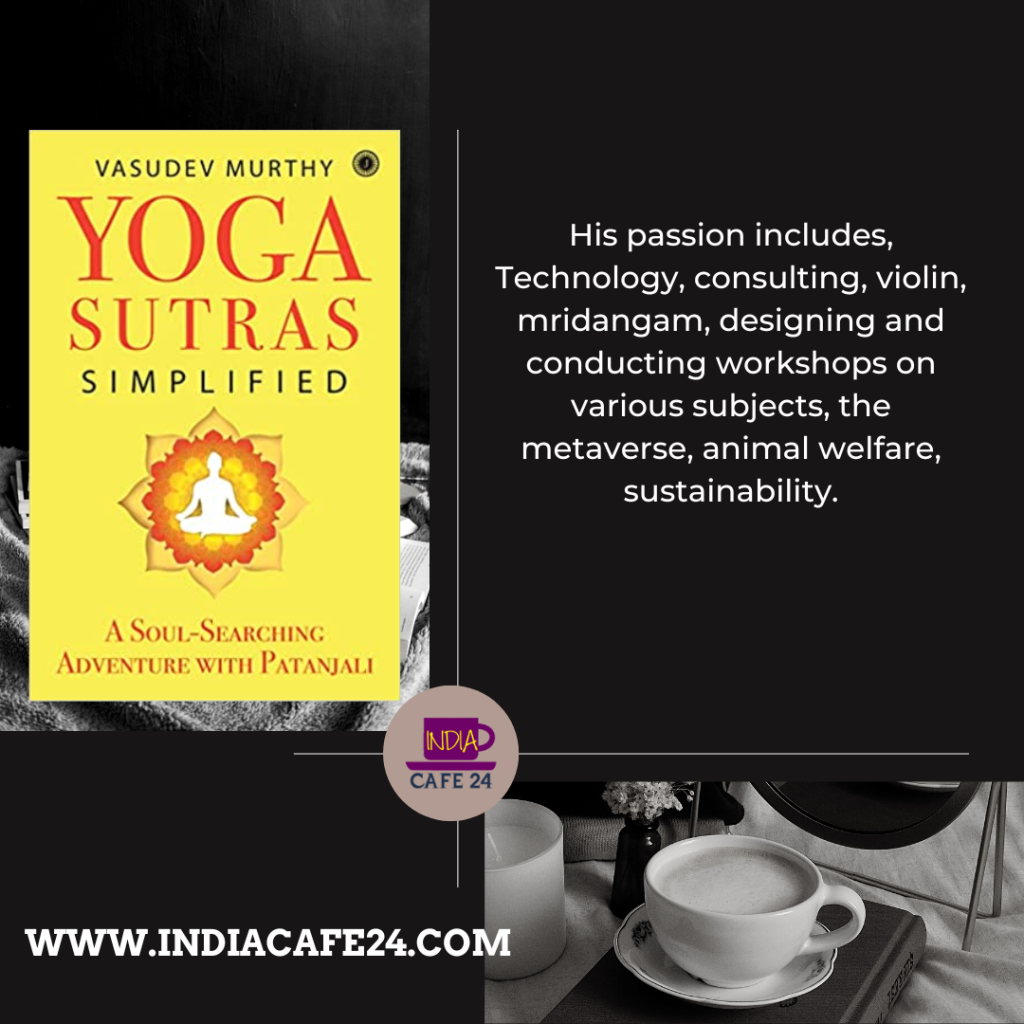 Who is the best critique of your work?
The reader who writes to me telling me what he liked or didn't like. Ultimately their opinion matters.
What are the other passions in your life?
Technology, consulting, violin, mridangam, designing and conducting workshops on various subjects, the metaverse, animal welfare, sustainability.
What else is in the pipeline for the readers from your end?
Not ready to discuss that yet!
Any Suggestion for budding authors?
Spend more time reading. When you do that, writing becomes easy.
Define Vasudev Murthy as author in one line
Writing is meditation.
This post is a part of Book Marathon by Outset Books