Author Himanshu Bhatia- The Journey from IIT To The World Of Literature
Love for literature is something very common to see in people from various fields these days. But a handful of them can pen down beautiful stories that can entertain and amuse book lovers. This time I am glad to introduce one of the debutant authors Himanshu Bhatia whose first novel " Just Missed" impressed me well. Check out the chit chat session I had with Himanshu.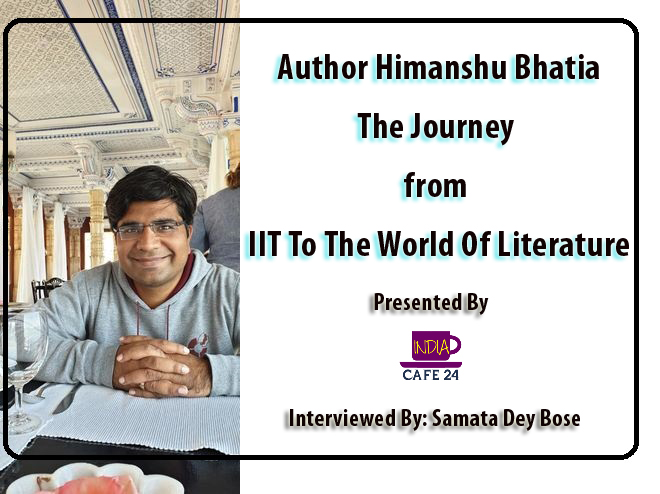 1) Welcome, Himanshu! It's a pleasure to have you on this platform of Indiacafe24.com. Our readers would want to have a sneak peek about you … kindly share a brief about you, your education, and your family.
I was born & brought up in New Delhi and did my schooling from there. I went to the northeastern state of Assam for my graduation and received my B.Tech. degree in Mathematics and Computing from IIT Guwahati. I worked for around six years in the corporate world before I took a break for my MBA from IIM Indore. Currently, I am based in New Delhi and work as an Actuary with a life insurance company. I stay with my parents and wife.
2) Which authors and their work inspired you the most?
I take inspiration from everything I read. I last read "Looking for Alaska" by John Green and loved it.
3) Engineering from the prestigious IIT followed by an MBA from 'the' IIM … how did the connection with Literature happen?
To be honest, since my childhood days, my heart was close to chess, art & music. My summer vacations spent at Bal Bhavan (New Delhi) encouraged and helped me evolve my creative side.
My literary journey started in 2013 when I moved to the lively city of Mumbai, where the rains & awesome weather inspired me to write poetry. My experiments with poetry and the appreciation from friends & family finally tempted me to pen down my debut novel Just Missed.
4) Tell us more about Just Missed! It's your debut novel and in the Romance genre … is it a real-life story or completely fictional? ????
I would say it's broadly fictional though I have taken a little inspiration from my life and the people around me.
5) I have reviewed the book and 'the best thing about the book is its simple storyline narrated in a simple flowy language that is easy to understand'. How did you develop the plot for Just Missed?
I wanted to write a story that belonged to real people, a story that had relatable characters from and among ourselves, the characters which were imperfect like all of us. These thoughts paved the foundation for the plot of "Just Missed".
6) Can you recall that moment when you first realized that there is an author within you? Or was it someone else who discovered the author in you?
As shared earlier, my experiments with poetry and the appreciation from friends & family tempted me to pen down my debut novel.

Read the review here: Click
7) How have the readers responded to Just Missed?
By God's grace, the response has been great. The readers love the characters of the book specially Shivam and Siddharth. The best part is that they can relate to the characters. While, few are impressed by the romantic quotient of Shivam, others have fallen for the ambitious Sid. Many of the readers were concerned about Sid and wanted to read what happens to him in the sequel!
8) Is there something that you feel, you need to improve in your next project?
I guess I am in the learning phase as an author and I try to work with the feedback my readers give me. I will surely try to improvise on things, like character arc, narration, and multiple points of view in the upcoming projects.
9) How difficult is it for an author to reach the potential book lovers having an interest in a particular genre of a book?
It is indeed a task! With so many books being published, it's quite difficult to project your book as a distinguished offering, reach the readers and tempt them to pick your book. Also, the Corona situation has made the offline distribution of the book difficult. However, Social media and word-of-mouth are the two pillars that can help authors in this task.
10)  The conflict between the publishers and authors is very common. Have you faced such a problem while finding a publisher for your book?
The publishing process isn't that simple and is a mission in itself. The most difficult bit is to find a good publisher! I guess I have been lucky to resolve the conflicts or I would rather call these "minor issues" with my publisher fairly well and quickly as a team!
11) Does poetry interest you? Any plans to try this genre?
My literary journey started with Hindi poetry. I like to express my characters through poems in my writing as I have done in this book also. So, yes I can try this genre in the future.
12) What are your other passions in life and what else would you want to try out soon?
I love traveling and would love to cover as many destinations in India and abroad as I can.
I want to live a part of my life for others and spread smiles all around. I am thinking to start something that would contribute to society and the larger good.
13) Any plans to become a full-time author or maintain the current dual role of a Corporate Honcho and Author?
I wish I could become a full-time Author who gets to travel the world and write daily! I wish I had that kind of bank balance that could fund that! Till I get somewhere close to that, I need to work in the corporate and earn! For a makeshift arrangement, I am planning to take breaks between the job changes and go on the jobless trips as Shivam did in my debut novel – "Just Missed".
14) Coming back to writing, what's next in the pipeline? And what genre?
Oh Yes, I am working on two books actually. One is a realistic tale from the Corporate world dedicated to the horrible bosses & their poor slaves. The book captures the nuances of the Corporate World and the Corona times as well. Interestingly, two months post I wrote about the protagonist of the book "Atharv" contracting Coronavirus, I myself got tested positive for Covid-19.
The second book is a romantic fiction set in India & the USA, dedicated to my MBA!
15) Please share some tips for young authors who wish to make a mark in the industry with their work?
The real mantra from my side for young authors would be "write from your heart" and "be patient".
16) Define Himanshu Bhatia the Engineer cum Author in One line?
Creative, fun-loving, and an avid traveler with a penchant for writing.