A Direct And Frank Session With Poet Dinesh Gupta
Dinesh Gupta- A young bright Hindi poet of Indian proved that language is not a bar to reach the heart of people through poetry. In his recent session with Indiacafe24.com he shared his feelings frankly. Take a look………………………………………….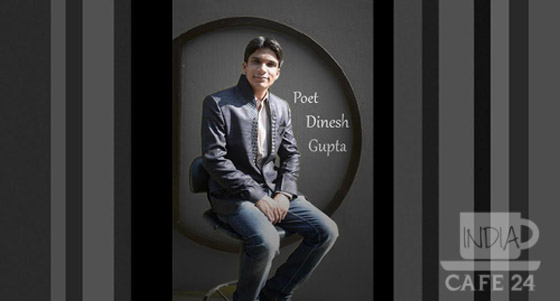 1)  Dinesh, You are already a leading poet of India- How was the journey so far for you?

I am not sure whether I am a leading Poet or just a beginner but I am sure about one thing that I am able to touch heart of every single reader who got chance to read my poetry. I think there is still a long way to go to touch millions of hearts. Journey was quite tough with full of disappointment due to rejections and failures at every stage. One thing that gave me courage to fight back is tremendous response I am getting from my Facebook readers every day.
 Jab Bhi Behad Tutkar Bikharta Hun Main
Dugna Hokar Nikharta Hun Main………….
2) What are the sensitive qualities which you feel need to be there to give birth to a poet?
I think writing Poetry and Writing Literature is 2 different things. Literature is something which require extensive knowledge of language and subject, however poetry can be just expressing feelings in simple words with maintaining charm and rhythm of Poetry.
According to me:
           "Apni Chetna Aur Anubhuti Ki Abhivyakti Bhar Hai Kavita!"
3) Which genre of poetry attracts you the most?
I hardly write by taking pen and paper in hand. Whatever comes to my mind after observing surrounding things closely and If I can get correct word to express my feeling at the moment, poetry comes out immediately. Still Romance & Desh-Prem attracts me more.
4) Whom you consider as an inspiration in your life?
On the one hand I am highly inspired by celebrity Poet Dr Kumar Vishwas, on the other hand I am self-inspired after realizing creativity inside me.
5) When people appreciate your work how you feel?
I feel tremendous. I think this is the most important thing for any artist to have on top of everything else.

6) Who is so far your Biggest Critics?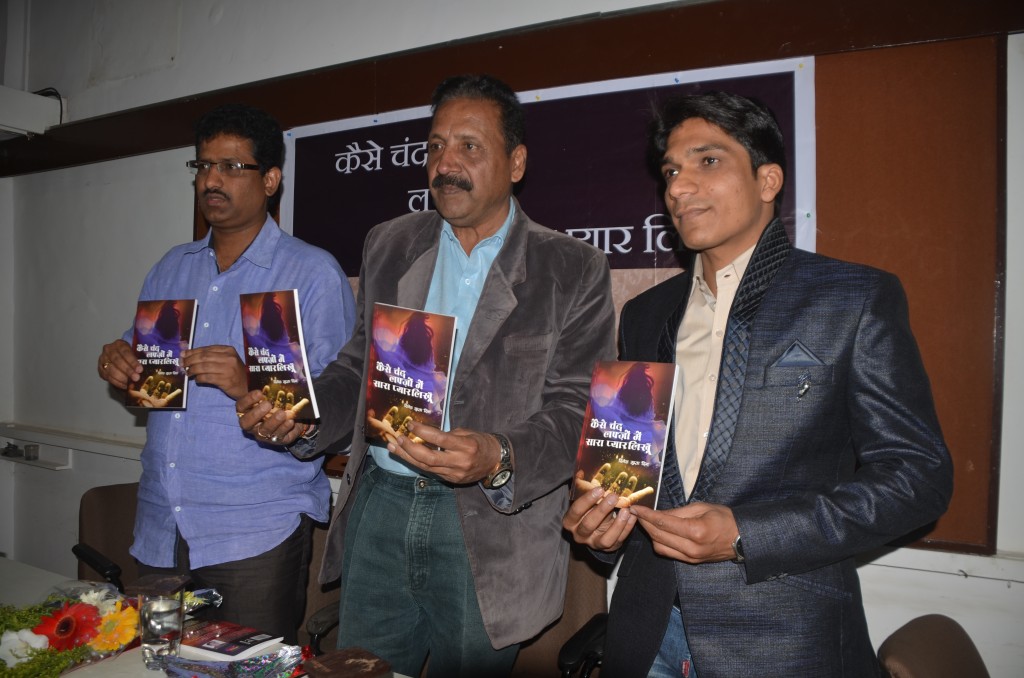 I don't want to take names but few of Reviewers says "Tumhari Kavityen Time Paas Shayri Hai, Inme Sahitya Jaisa Kuch Bhi Nahi Hai".
7) Recognition and Awards matter a lot in life of every person- What are the major awards and recognitions you received?
I did not received much award from recognized literature forum but My Poetry got prizes in many competition organized by magazines. For me what matter more is Reader's feedback rather than awards.
8) Which Identity of yours, you love the most- Engineer Dinesh or Poet Dinesh?

"Engineering is My Profession but Poetry is My Passion". Shabd Meri Ragon Men Khun Bankar Daudte Hain Aur Kavita Meri Nason Men Benhti Hai"
I like more Poet inside me on top on engineer.
9) In spite of being an engineer by qualification you are popular as a poet- What reaction you get in part from your parents?
I think Hindi Poetry is still at the place where people don't appreciate much if you are only poet as success at commercial level is not much in this field. There was same reaction from them as well.
10) Which poem written by you is your Favorite?
"Kaise Chand Lafzon Men Saara Pyar Likhun" & "Diya Antim Aas Ka [Ek Sipahi Ki Shahadat Ke Antim Kshn"]
11) Which is your favorite genre of poetry?

Usually I write on any random topic which affect me deeply but Romance & DeshPrem are favorite one.
12) How the theme behind any poem develops in your mind.

As I said above I hardly write any poem by taking pen and paper in hand. I feel deeply about things surrounding me like difference in poor & rich kid, corruption, Crime on women in society etc. and if I can get correct word to express my joy, anger or sadness it reflects in my Poetry.
14) Say something about your life beyond poetry?
Poetry was interest in initial days but now it's passion for me. These days my life is just moving around 3 P'S, Profession, Passion & Personal.
15) In one line describe Dinesh Gupta- The poet?
       I am Poet of Emotion.
                       "Jo Kuch Bhi Jehan Men Ubhrega, Vo Sab Kuch Kagaj Par Utrega"