Passion and Ashwini Together Presents Creativity
Making creative floral pattern decoration and other creative figures using cold porcelain was her passion. She  gave her passion the wings of professionalism and now she is the one who helps others to learn this art. Join us to meet the very talented artist Ashwini.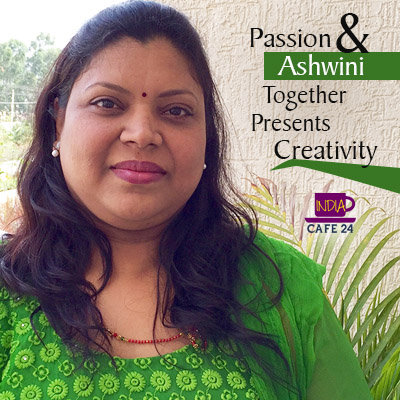 Welcome to the platform of Indiacafe24.com. We are happy to have a passionate artist with us in this session. Ashwini please share with our readers about your background and family?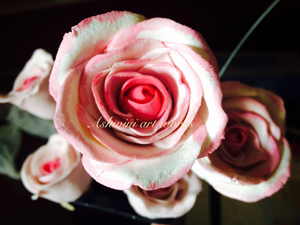 A: First, let me thank you for the encouraging words and providing me an opportunity to share my experience.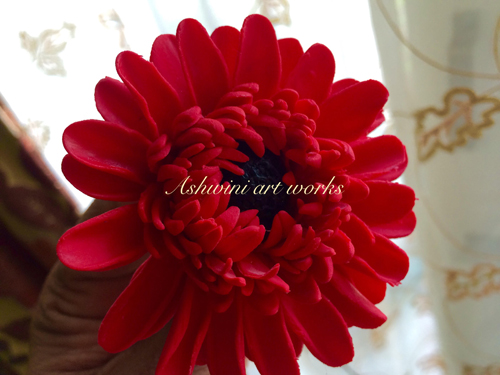 I am from Hubli, Karnataka and settled in Bangalore now. In my childhood we lived in a chawl (line houses), where art and creativity was part and parcel of regular life by way of making rangoli, diyas, lanterns for Diwali and knitting sweaters for babies. So art was not something new for me. My passion for art started with my mother's creativity and her knowledge on art.
When you first realized the fact that you are actually a creative person?
A: As I mentioned earlier, it was not something new which I learnt. It was an ongoing process and my passion for art and creativity increased day by day because of my surrounding environment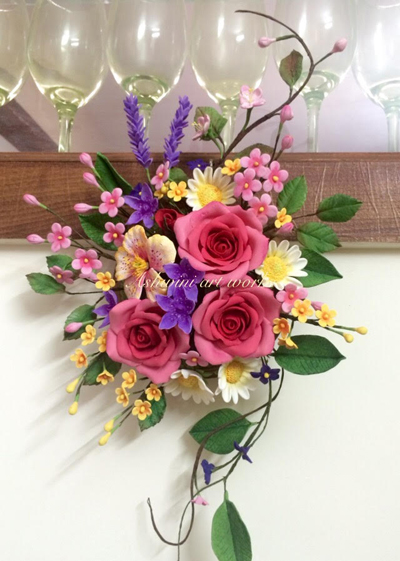 Are you professionally trained in this art form? Where from you learned this creative art?
A: I kept on making flowers using cloth & paper from college days. When I tried creating artificial waterfalls, I used m-seal to make flowers and trees for waterfalls.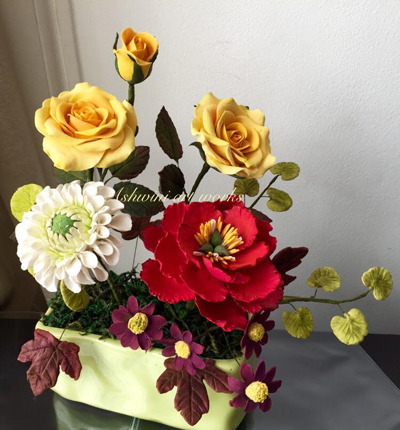 On my husband's job assignment we shifted to Europe for some time. When we were in Paris, first time I saw the clay and tried to make some small flowers and designed an arrangement. The arrangement came out very well and was appreciated by all my friends there. When we moved to Germany, there I gathered more knowledge on clay art from a German friend. Thus my clay art journey started
Ashwini Art work – Your dream project, when you planned to launch it and why? What are the areas on which this project is working?
A: I kept on making different type of flowers using clay. For each of my art work I started receiving appreciation from family and friends. Then my husband suggested me to take it up to the next level. When we were thinking in this direction, my elder brother, who is an IT professional, created a website – 'Ashwini Art Works' which was a total surprise for me.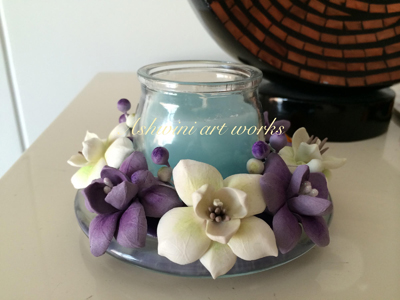 This motivated me to take my art work to the next level of expansion. My husband's sister, who is an executive in a corporate, gave an idea of making different type of arrangements which can be used as corporate gifts.
From then onwards I started with full fledged classes in Bangalore and taking orders.
Who is the one who actually inspires you in finding different designs for your creativity?
A: I am a nature lover. And nature inspires me in every way of creativity
How is the feeling when people appreciate your work?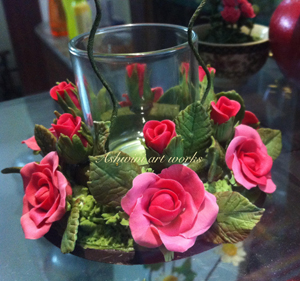 A: Appreciation always sets an higher expectation, which motivate us to learn more and do better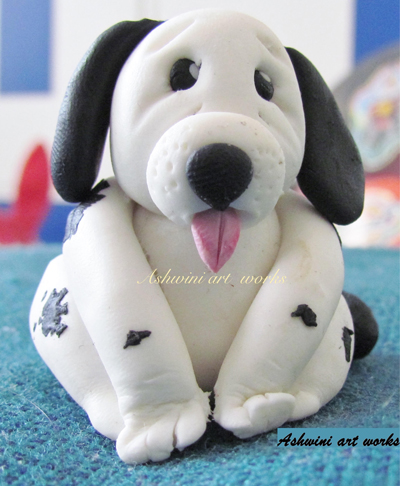 How successful is your creativity commercially?
A: I am experiencing a steady growth. Initially I was taking classes only in Bangalore. Then through social media, I started getting requests from cities like Mumbai and Pune. When I was thinking of conducting classes out of Bangalore, my elder brother, who is a business development head by profession, helped me by providing 'n' number of ideas to conduct the classes in these cities. As I keep receiving requests from cities like, Delhi, Hyderabad, Chennai, etc… I am working towards addressing such requirements on regular basis.
The task is not easy to establish any art form in the mind of creative people, so what sort of obstructions you faced in your path to grow?
A: The creative person always understands the art and efforts put by the artist. By the grace of god I haven't faced much of obstructions or difficulty in the path I travelled. For a creative person appreciation and criticism goes hand in hand. So, criticism as well as appreciation, always motivates me to do better. I thank all my family and friends for their support and encouragement. I couldn't have reached here without the overwhelming support of my husband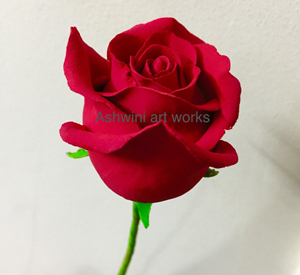 Do you think that Indian people are ready to pay the right price for the work of an artist? Or there is a specific niche of people who are ready to pay?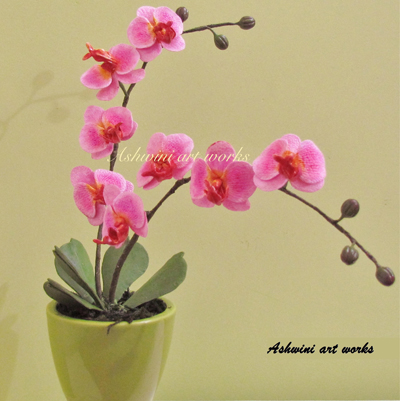 A: On a lighter note, we Indians always like to bargain J… but, yes, there are people who understand and respect the art, recognize the efforts needed and also willing to pay
What materials you are using in your artist work?
A: The main raw material is 'Polymer air dry clay (cold porcelain)'. The other materials like wires, wet & dry colors are also used
What are the different ranges of products you are having in your collection?
A: I don't have definite range of products. It always depends on the requirement/demand.
What are the parameters you keep in mind while setting the price of your individual art work?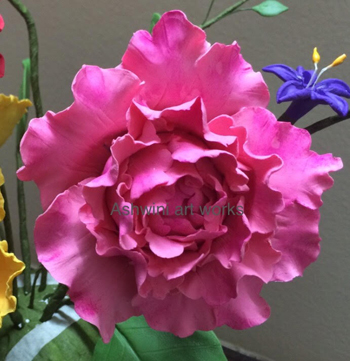 A: Different flowers require different level of effort. Thus, the price depends on the type of flower and the complexity involved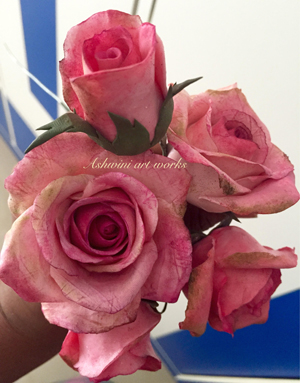 As we came to know that you are conducting workshops – So what sort of response you are getting?
A: I am getting good and encouraging response so far…thanks to the social media which provides great platform and visibility for such efforts.
What is the basic curriculum in your workshops?
A: Different types of flower making which ranges from 3 to 5 types of flowers and an arrangement. Making flowers using cutters, tools and veiners is an easier task. But highlight of my curriculum/workshop is that, I teach the flower making with tools and also without using the tools.
I have another curriculum for clay toy making.
I have also started conducting workshops for 'Gum paste flowers' which are used to decorate the cakes
If anyone requests you for a customized design using your art style can you do?
A: Yes.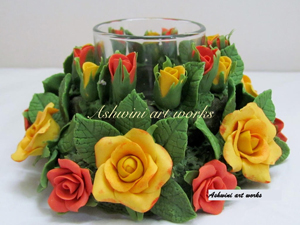 What are your other passions in life?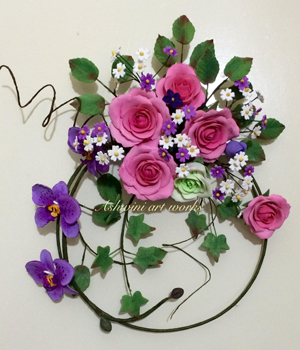 A: Music is my another greatest passion. I am trained in singing and also conduct classes occasionally. My husband is also a good singer and in most of the social gatherings we perform musical duets.
For placing order for your products where clients should contact you?
A: Please visit my website www.ashwiniartworks.com where you will find the contact details
Which is so far your best creation?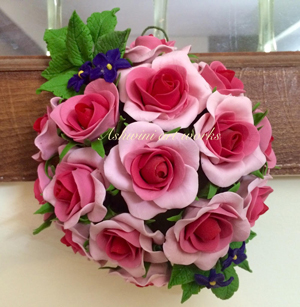 A: One of the best
Define Ashwini the artist in one line?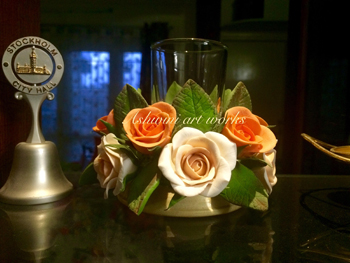 A: A nature lover who sees nature through art and creativity
Photo Credit: AshwiniArtworks