Drishyam- Movie Review
Nishikant Kamat Displays His Talent To Turn The Remake Of A Successful Movie Into a Gripping Thriller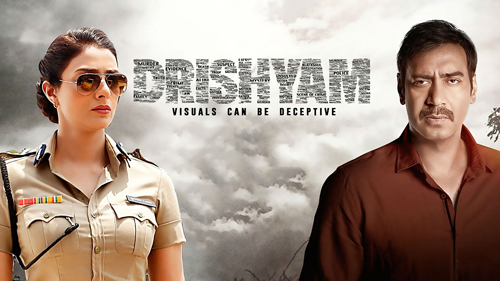 Movie: Drishyam
Cast: Tabu, Ajay Devgan, Shriya Saran, Mrinal Jadhav, Ishita Dutta, Rajat Kapoor and Kamlesh Sawant
Director: Nishikant Kamat
 Genre: Thriller
Rank:

Nishikant Kamat is well known for making movies with a serious subject matter and Drishyam is an extension of the same. The film starring Tabu, Ajay Devgan, Shriya Saran, Mrinal Jadhav, Ishita Dutta, Rajat Kapoor and Kamlesh Sawant is a remake of a popular Malayalam movie of the same name. The film released in theaters on 31st July 2015.
Drishyam tells the tale of Vijay Salgaonkar  played by Ajay Devgun, a fourth standard drop-out, who was living a happy and peaceful life in Goa, with his family consisting of beautiful wife Nandini played by Shriya Saran and two lovely daughters Anu played by Ishita Dutta and Anju played by Mrinal Jadhav. But his blissful life is disrupted when teenaged Anu runs into spoiled brat Sameer Deshmukh casted by Risabh Chaddha), the son of IG Meera Deshmukh AkaTabu, at an inter-school nature camp. Once back home, Sameer tries to take advantage of Anju by showing her the video he captured of her in a shower at the camp. During the ensuing discussion something totally unexpected happens changing the entire life of the Salgaonkar family and forcing them face the wrath of Meera Deshmukh and her entire police force.
Drishyam is an exceptional movie not only because of its unique storyline but also because of the manner in which Nishikant Kamat has maintained its originality despite the film already having been made in tow other languages. The entire star cast has given a brilliant performance which adds to the thrill of this movie with a nail biting finish. The viewers just can't shift from their seats from the very first scene up to the engaging climax, which once again proves Nishikant Kammat's potential a director.
Overall, the movie is a truly terrific in every sense and hence a must watch which is why IndiaCafe24 gives Drishyam a rating of 4 stars.
Reviewed By Meetu