Raksha Bandhan Ritual
Learning The Correct Way Of Performing Raksha Bandhan Ritual
Even though Raksha Bandhan is primarily celebrated to commemorate the great bond of love shared by a brother and a sister, the festival also hold mush religious significance. The festival is about protecting the good aspects of life from the influence of evil. Like every other major Hindu festival, there is a general set of rituals to be performed on this day which is described as follows.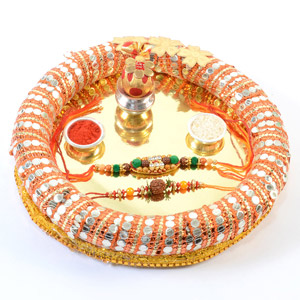 The girls get up early in the morning on this day and after taking a bath, offer special prayers to God for blessing their home and their brothers with health, prosperity and happiness. Then they prepare the Rakhi Thali in which they place a small diya, some rice mixed with vermillion or turmeric, some sweets and the rakhi which they are to tie on their brother's wrist.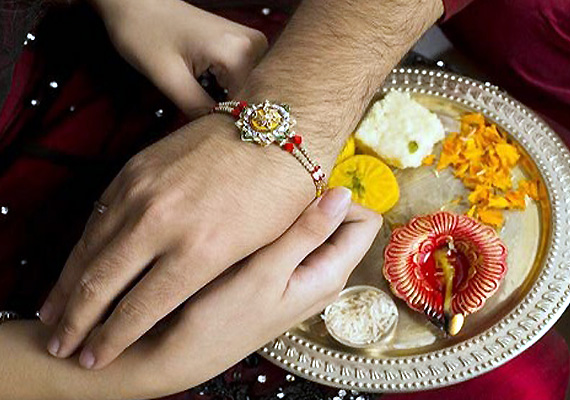 After this they prepare the seat where their brother will sit while getting the rakhi tied. For this they place a low wooden stool called choki on the floor that is cleaned beforehand. The sisters then arrange a simple rangoli on all four sides of the choki and sprinkle some rice and water on the choki itself. Once this ritual has been performed they ask their brother to sit on this special seat.
After being seated, the sisters pick up the rakhi thali and light the diya placed in it. Then they perform an aarti of their brother, praying once again for their happiness and well being from the Gods. After the aarti, the sisters apply the tilak of rice mixed in vermillion on their brother's forehead. They then go on to tie the rakhi on their brother's right wrist after which they make him eat the sweet. At the end of this ritual, the brother presents his sister with the gift brought specially for the occasion as a token of his love and care and the sister humbly accepts the gift from her brother.