My Favorite 5 Products to Manage My Curls – Ft Curlvana Ultimate Curl Kit
My Favorite 5 Products to Manage My Curls – Ft Curlvana Ultimate Curl Kit
Good curly hair days can be achieved by giving correct care and using the right products. I have curly hair and at times it becomes very difficult to manage the frizziness and dry texture. So, I preferably use mild products for my hair that are free of toxic chemicals such as parabens, silicones, and sulfates. I use a dedicated curl care line comprising of shampoo and conditioner for curly hair.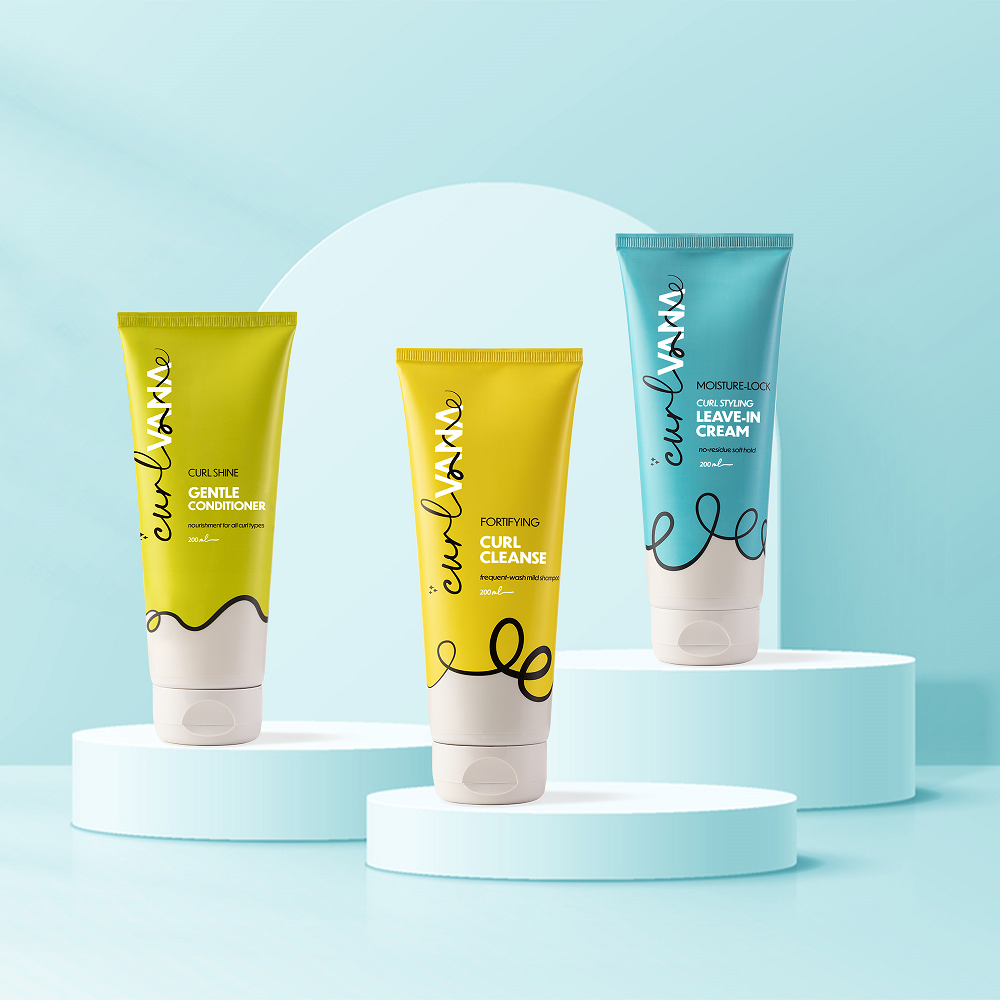 Generally, I detangle my hair before every wash. This usually reduces most of the hair fall during hair wash. I always choose a shampoo that has moisturizing ingredients so that the hair cuticles don't dry up after every wash.
This also ensures the protection of hair from environmental damage and pollution. When I started using Curlvana products I noticed an improvement in my hair texture and it has become one of my recent favorites. The following are the steps that I follow regularly during my curly hair care routine
Step 1: Curlvana Fortifying Curl Cleanser
I use the Curlvana fortifying curl cleanser which is one of the best shampoos for curly hair it is gentle enough for regular hair wash, so I use it twice or thrice a week. I found the shampoo to be the ideal choice for my curls because I observed it did not dry out my hair after washing. I love the fact that it is free from harmful chemicals and prevents breakage. This is one of the best products for Indian Curly Hair.
The Curlvana fortifying curl cleanser leaves my hair super clean, and soft. It cleanses sebum, and product buildup while not does not stripping my hair's hydration levels. You would be amazed to know that this shampoo is designed for various weather conditions and is also vegan.
Step 2: Curlvana Curl Shine Gentle Conditioner
After using the Curlvana fortifying curl cleanser I condition my hair using the shine gentle conditioner. I personally love this conditioner because it is cruelty-free with no parabens, petroleum oils, and sulphates. The Conditioner neither has added colors nor artificial fragrances.
Ever since I started using the curl shine gentle conditioner from Curlvana, I could see that my curls looked shiny and felt bouncier.
This eco-friendly conditioner is very lightweight and does not damage my curls. It is loaded with natural goodness and contains black castor oil, vitamin B5, fermented rice water, geranium EO, and more hair loving ingredients that define and detangle my hair easily in a single go. It is undeniably one of the best curl products.
Step 3: Curlvana Moisture Lock Curl Styling Leave-in Cream
The texture of my hair is ultra-dry and dull, so I always need a styling product to set my curls in place. I found Curlvana Moisture Lock Curl Styling Leave-in Cream to be the best choice. After using this product, I could see that my hair has become super silky, soft, and bouncy with perfectly defined ringlets. Since the leave-in cream is cruelty-free, I am using it without any guilt. The results are tremendous and I love the well-coiled curls. It is one of the best curl defining products for all curl types.
I usually use the Curlvana moisture lock curl styling leave-in washing and conditioning and conditioning my hair. I apply it on the wet hair and start scrunching. The cream is super smooth and it does the job and adding bouncy effect to my curls. The Moisture-lock curl styling leave in cream, is a blend of hydrating ingredients like hyaluronic acid, Jamaican black castor oil, aloe vera, and fermented rice water.
Step 4: Curlvana Curl-Defining Styling Gel
I like my curls to stay intact all through the day and the Curlvana styling gel just does its job perfectly giving me defined, long-lasting curls. Do you know, it can be also used as men's curly hair style product? I did try it on my brother as well 😊
This gel is specially formulated to define the curls while battling the frizz. I apply the styling gel on wet hair and air dry it so that the curls stay in place for a long time. My hair feels super soft after using it.
Curlvana Curl-Defining Styling Gel is cruelty-free and does not cause any damage to my hair. In addition to it, the curl-defining styling gel detangles my hair in a jiffy without having to struggle much. It is value for money and is worth buying. I would surely say it is one of the best curly hair styling products.
Step 5: Curlvana Deep Nourish Double Cream Hair Mask
If you are a curly girl like me, then this deep nourish double cream hair mask is ideal to protect your hair from dryness and frizz. It works wonders on my hair. I use this hair mask once a week to deeply nourish my curls. It is CG friendly and gives a smooth appearance to my hair. It has a creamy consistency which deeply nourishes the hair. I would highly recommend this for someone who struggles with unmanageable curls. This mask makes my curl smooth and softens my coarse hair.
How to manage curly hair in humid weather?
Curly hair is a pain to style specially during the summers when humidity is super high. However, I have picked up a few styling tricks over the years, which I am going to share here.
Do not wash your hair very often. Stick to washing the hair once or twice a week with the Curlvana fortifying curl cleanser. Washing the hair frequently can overtly dry the hair.
Sulfates in shampoos and conditioners might make hair frizzy and can also lead to breakage of hair. So, I always choose products with safe ingredients. I found the hair care range by Curlvana to be excellent in this regard.
Using the wrong type of comb might break the hair tips and increase hair fall. Always ensure not to use a fine-sized comb; use a wide-toothed wooden comb.
Never every comb wet curly hair, as it can cause breakage.
Always air dry your hair to prevent hair fall. This will also help to retain the moisture in your hair and prevent fizziness.
After washing the hair, use a microfiber towel and try not to twist the hair around it. This ensures less breakage.
Curlvana has come up with some of the best curly hair products in India. I found the price to be reasonable and I love the fact that the range is free from nasty chemicals and is super gentle on the curls.